The FX 6350 is one of the latest additions to budget gaming chips by AMD, with the special edition including the Wraith Cooler for near-silent operation. It has 6 cores, providing it with a high multi-tasking potential. This CPU operates at a stock clock speed of 3.90 GHz, 1.10 GHz faster than an average desktop processor. If that isn't enough power, the FX-6350 has been tested by AMD to handle a maximum overclocked speed up to 4.20 GHz. The technical spec are as follows:
No. of Cores
6
Processor Model
FX-6350
Compatible Socket
AM3+
Clock Speed
3.9 GHz
Max Turbo Speed
4.2 GHz
Power Consumption
125W
Cache Memory Details
L2 – 6MB

L3 – 8MB
Though AMD have been a little quiet about their CPU releases recently, it's easy to see their hard at work improving their previous CPUs. The aim here seems to be to offer a solution to achieve higher clock speeds at a low cost and lower temperatures, and FX 6350 seems to hit the nail on that. Providing a clock speed of 3.9 GHz (over 3.5  GHz of the previous model), it is definitely an upgrade. And all at a cost of about INR 9000/-.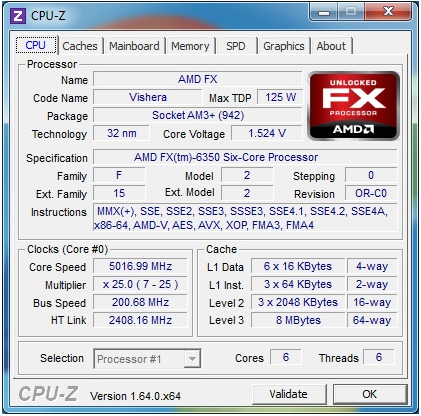 Although this CPU isn't exactly made for overclocking or extreme high graphics gaming, it offers more than decent performance. And when you talk about a budget rig, stock performance is what actually counts. Increasing the number of cores enables the FX 6350 to provide better multi-threaded performance.
As seen from the Geekbench benchmarks, the processor can be said to have an average performance. However, when compared to processors with a similar price tag, it certainly performs better, making it a good investment. However, if you do plan to overclock, we suggest otherwise.
Talking about the Wraith Cooler, stock heatsinks often don't sound that great under load, and they usually turn in thermal performance that's best described as "good enough." Even affordable third-party coolers offer a big step up in cooling and acoustic performance. AMD seems to be aware of this problem, and seems to solve it with the Wraith Cooler. It looks great, and has an LED backlit AMD logo, which seems hidden as long as the cooler is off. For a stock cooler, the Wraith sounds pretty good (meaning it doesn't sound so much). To handle a processor temperature topped at 69 C, the Wraith Cooler worked at about 1320 RPM, less than half of its roughly 3000-RPM rated maximum. Not bad, right?
Compared to its counterpart Intel chips, the AMD FX-6350 may hinder your graphics performance (considering same GPUs), but when you take in cost as the factor, it's much more feasible to bundle it up with a better GPU than it is with the Intel processor, giving it a little edge.
For more news and reviews, keep checking back at Gaming Central.