Based on the recent Kaveri architecture, the AMD A8-7600 APU aims to bring CPU and GPU closer than ever, now that they are already merged into one die. Take a look at the specifications before we dive into the actual review.
| | |
| --- | --- |
| Number of Cores |   4 |
| Processor Number | A8-7600 |
| Compatible Processor Socket | Socket FM2+ |
| Clock Speed | 3.1 GHz |
| Max Turbo Speed | 3.8 GHz |
| Thermal Design Power | 65 W |
| Cache Memory Details | L2 – 4 x 1 MB |
| | |
| --- | --- |
| Thermal Design Power | 65 W |
| Cache Memory Details | L2 – 4 x 1 MB |
| | |
| --- | --- |
| Intergrated Graphics type | Radeon R7 Series Graphics |
| Frequency | 720 MHz |
It is a quad core CPU performing at a clock speed of 3.1 GHz and max turbo speed of 3.8 GHz. For a mid range APU, the A8-7600 has a decent performance. As per the 3D Mark 11 scores for a similar price range, this APU actually fares far better than most of the other CPUs/APUs.
The products in the Kaveri line are the first chips that can offer HSA (Heterogenous Systems Architecture) compatibility. That means the CPU and GPU share a common memory space instead of passing data strictly through shared caches. In that sense, these are the first "true" Accelerated Processing Units (APUs).
What makes the APUs even cooler is that AMD seems to have outdone Intel to an impressive degree in terms of gaming. In 3DMark 11's Performance preset, the AMD A8-7600 puts up a score of 2,080 points. In the 2011-era game Batman: Arkham City at 1,600 x 900, Medium Details, with DX11 enabled, the A8-7600 managed a steady 31 fps compared to 19 fps and 20 fps for the AMD 6500T and Intel Core i3-4330, respectively. That puts the A8-7600 at somewhere between 50 to 60% faster than the 6500T's GPU performance.
The A8-7600 seems to offer a great experience even though the performance for both single and multi-threaded operations is not above average (when compared to high end CPUs). However, for the price tag it offers, it is hard to complain about the performance when AMD's competitors will provide you the same level at a higher cost.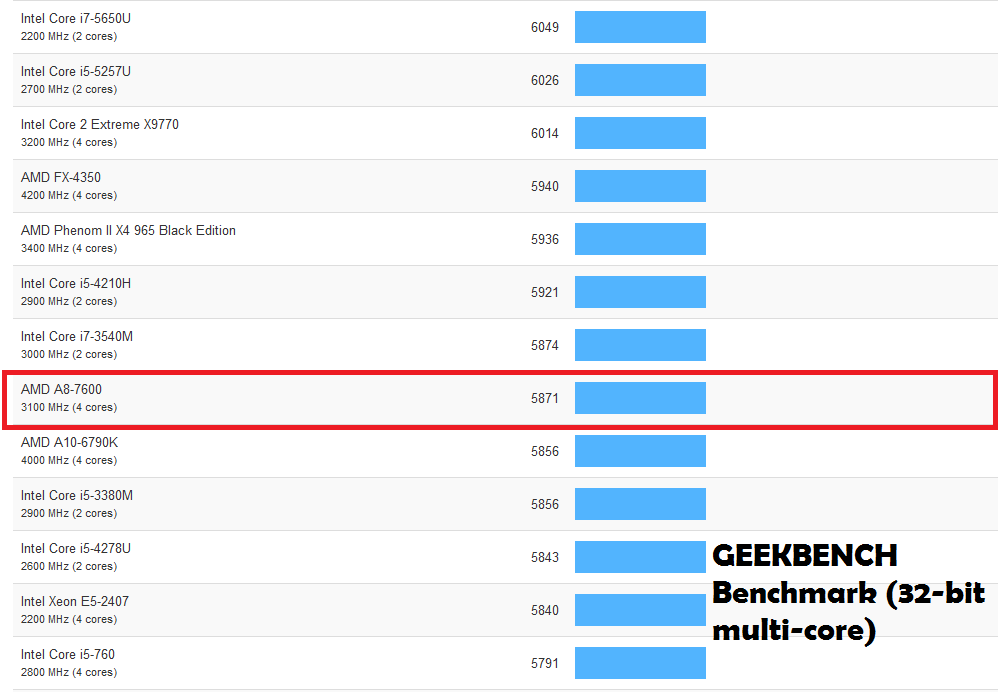 The Verdict? AMD A6-7600 is a great processor that offers at par performance at a price that won't hurt your pockets at all. The integrated graphics are not half-bad and the HSA actually makes the APU stand out from the crowd.
For more news and reviews, keep checking back at Gaming Central.