After sheer disappointment due to the Marvel Ultimate Alliance ports, fans finally have something to look forward to. As Activision and Marvel Games promised, the first free DLC is on its way, not to mention the fact that the patch for PC has been released.
The PC shall focus on a lot of issues, including:
Controller mapping improvements that address both Xbox One and Xbox 360 buttons, triggers, and a problem specifically with the A button
General improvements to audio and fixes for the crackling sounds
Improvements to player invitations for Marvel Ultimate Alliance
UI updates and fixes for desync/disconnection issues when playing online
The DLC is supposed to be out in the next few weeks for Ultimate Alliance on all three platforms (PlayStation 4, Xbox One, PC). The update will be completely free of cost, and the additional characters are already included in Marvel Ultimate Alliance 2. 
Fans had been looking forward to the games as they are a great expression of the comics, so it's not surprising that the botched gameplay in the ports let them down. They cost about $40 each or $60 when purchased as a bundle. Unfortunately, there were hardly any improvements apart from slightly improved graphics and . In the case of the PC port, there were major issues with visuals and control mappings. On the other hand, the Xbox One versions skipped out on the achievements entirely. Moreover, the Xbox 360 exclusive characters for Marvel Ultimate Alliance were missing as well. What made it even worse was the fact that the Xbox description said that players could play as the Hulk, which was a completely false claim, as he was available in a bundle with Cyclops, Nightcrawler and Hawkeye as a DLC.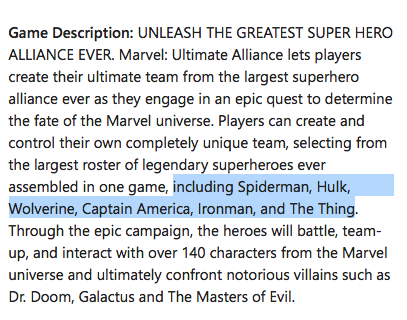 Though these issues shouldn't have existed in the first place, it's good to see that Activision and Marvel Games are ensuring that they're getting a timely fix. And not much can be said on whether this is Activision's own doing or it's because Marvel decided to step in, but fans can rest assured that they favourite franchise is not going to dust.
For more news and reviews, keep checking back at Gaming Central.