Disclaimer: Gaming Central does not vouch for the accuracy of any of these benchmarks. They were leaked online and were deleted soon after. However, a YouTuber by the name of Alex was able to quickly upload these on his channel. 
The AMD Radeon RX 480 is available in two variants, a 4 GB and 8 GB . Powered by 2304 cores, this card is capable of gameplay at very high resolutions and VR as well. The memory on the Radeon RX 480 graphics card is clocked at 8 GB/s which gives us a total of 256 GB/s bandwidth on the graphics board along a 256-bit wide bus interface. Here are the specifications as given by TechPowerup.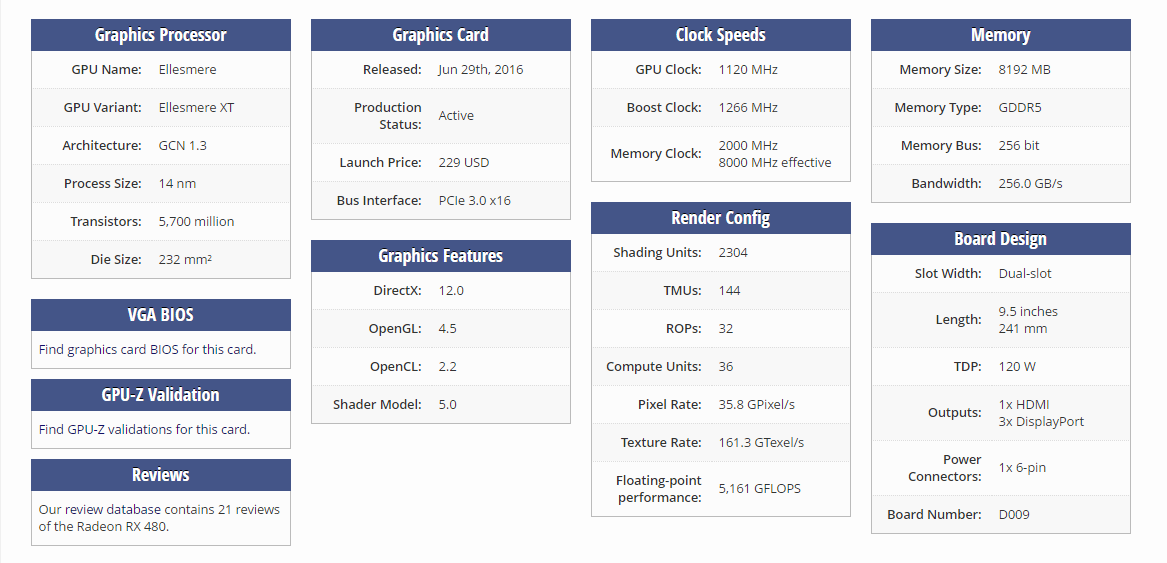 With these amazing specifications, it's hard not to expect an equally amazing performance. And for a price tag of $200, the RX480 is a beast. Without further ado, let's dive into leaked gaming benchmarks we saw.
GTA V:
The RX 480 performs quite well for GTA V, even with advanced graphics settings all cranked up to the highest setting. The GPU gives a minimum FPS of 37 and goes up well up to 100 FPS. All this when paired with an i5-6400.
Doom:
The latest sensation in first person shooters, DOOM has old and new fans on their toes alike. And it only gets better with the RX 480. The framerate varies over a wide range, from 120+ at its peak to about 57 at the lowest. But the average framerate is able to provide a more than playable experience without any stuttering.
Witcher 3:
The framerate rarely dips below 60 FPS, even when most of the settings are set to ultra. The badly optimized Hairworks turned off, obviously. The lowest we saw was 55-56, and even that was for barely a second. So nothing to worry about there as well.
Overwatch:
Overwatch is the new kid on the street giving everyone a for their money. The RX 480 averages a framerate of over 100 FPS with everything running on Ultra settings, giving us that smooth, satisfying experience of shooting your enemies to hell.
The Verdict? AMD's RX 480 is bang on buck. It's affordable, offers high end performance and will cater to all your gaming needs, whether you're a casual gamer or a fanatic who loves running those graphic intensive titles. The GPU is available in two variants:
4 GB variant – INR 22,990+ local taxes 
8 GB variant – INR 26,990+ local taxes
Can you believe that? A performance equivalent, if not better than the Fury and GTX 980, and easy on your pockets as well. Get your hands on it before its too late. Seriously. We're on our way there right now.
For more news and reviews, keep checking back at Gaming Central.