May was another great month for video games, and even though the barrage of AAA titles has slowed down, we still have a good mix of both Indie and AAA titles to keep us all happily occupied. so here are the top 10 games of the month for May 2017.
Prey
In Prey, you awaken aboard Talos I, a space station orbiting the moon in the year 2032. You are the key subject of an experiment meant to alter humanity forever – but things have gone terribly wrong. The space station has been overrun by hostile aliens and you are now being hunted. As you dig into the dark secrets of Talos I and your own past, you must survive using the tools found on the station — your wits, weapons, and mind-bending abilities. The fate of the Talos I and everyone aboard is in your hands.
Rime
A land of discovery stretches out before you. Explore the beautiful yet rugged world of RiME, a single-player puzzle adventure. In RiME, you play as a young boy who has awakened on a mysterious island after a torrential storm. You see wild animals, long-forgotten ruins and a massive tower that beckons you to come closer. Armed with your wits and a will to overcome—and the guidance of a helpful fox—you must explore the enigmatic island, reach the tower's peak, and unlock its closely guarded secrets.
The Surge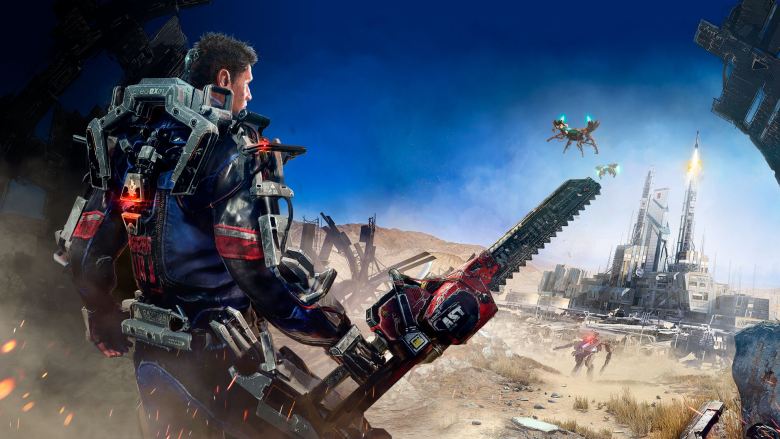 A catastrophic event has knocked you out during the first day on the job… you wake up equipped with a heavy-grade exoskeleton, in a destroyed section of the complex. Robots gone haywire, insane augmented co-workers and rogue AI – everything wants you dead.
Defy deadly enemies and huge bosses in tight, visceral melee combat. Target and slice specific limbs off your foes, with a next-gen loot system where you loot what you dismember. Equip, upgrade and craft new weapons and armors sliced from enemies, and make yourself stronger through a fresh take on leveling-up.
NBA Playgrounds
Classic NBA arcade action is back! Take your "A" game to the playground and beat the best in high-flying 2-on-2 basketball action. Practice your skills offline, play with up to three others on your PC, or take your talents online to posterize your opponents with acrobatic jams and ridiculous displays of skill.
GNOG
From acclaimed indie studio KO_OP and in association with beloved game-making initiative Double Fine Presents, GNOG is a 3D puzzle game set in a tactile world of toys and secrets. Point, click, grab, poke, spin, pull, and play with uniquely charming monster heads, and explore the hidden worlds inside them from your couch, or face-to-face in stunning PlayStation®VR. Filled with eye-catching designs, playful interactions, and a rich, reactive soundtrack, the hand-crafted heads come to life in your hands!
Inspired by real-world toy designs, every GNOG head is a miniature world to discover. Grab a bookcase and spin it to reveal a hidden pile of coins, slide levers to navigate a damaged ship through outer space, crank a wheel to cook a stew on the stove – each playful interaction generates lively feedback and surprising consequences. Set to a relaxing and dynamic soundtrack that evolves with each level, the surreal worlds and joyful puzzles of GNOG will have you turning heads!
Portal Knights
Take down the evil that has invaded the worlds of Portal Knights in this action-RPG sandbox game! Travel between randomly generated worlds and meet new characters. Level up your character and battle monsters unleashed by The Fracture. Explore each world and mine resources required to craft unique and powerful items. Rebuild the worlds in ever-changing landscapes. Restore peace to the world by defeating the Portal Guardians and becoming the ultimate Portal Knight!
Steel Division: Normandy 44
Steel Division: Normandy 44 is a Tactical Real-Time Strategy (RTS) game, developed by Eugen Systems, the creators of titles like Wargame and R.U.S.E. This new game puts players in command of detailed, historically accurate tanks, troops, and vehicles at the height of World War II. Players can measure their tactical skills against several opponents in big multiplayer battles or against enemies in a challenging single-player campaign. Steel Division: Normandy 44 allows players to take control over legendary military divisions from six different countries, such as the American 101st Airborne, the German armored 21st Panzer or the 3rd Canadian Division, during the invasion of Normandy in 1944.
Strafe
STRAFE is a roguelike first-person shooter pushing the limits of computer-generated photorealism and hardcore sci-fi action into unimaginable territory.
Tokyo 42
Tokyo 42 is a hyper-stylish isometric open-world shooter. Framed for a murder you didn't commit, you'll delve into a world of assassins, deadly corporate intrigue and…tactical cats. Spin the camera to see every angle of this beautifully hand-crafted micro Tokyo, as you discover a huge range of weapons, secrets and stories. Skilful shooting, bullet physics, sneaky stealth and crowd simulation all play a role in this ultra-colourful kinetic frenzy.
Injustice 2
Power up and build the ultimate version of your favourite DC legends in Injustice 2. With every match you'll earn gear to equip, customise and evolve your roster. Picking up where Injustice left off, Batman struggles against Superman's regime, as a new threat appears that will put Earth's very existence at risk. Choose from the biggest DC Universe roster ever and battle across iconic locations in epic-scale battles.
Honorable Mentions
Impact Winter
TumbleSeed
Dreamfall Chapters: The Longest Journey
World To The West
Endless Space 2