Thermaltake has been pushing some really interesting products in their Level 10 series. Today we are taking a look at the Level 10 M Advanced Gaming Mouse by Thermaltake.
If you didn't already know, Level 10 is a collaboration between Thermaltake and BMW, where they come up with these unique and really cool looking designs.
And the mouse that we have today is a 16000 DPI mouse with 6 configurable buttons. You have the standard left and right buttons which are fairly big. Speaking of big, the Level 10 M Advanced is actually a pretty big mouse, and may not be for you of you have smaller hands.
However, if you do have smaller hands, you might want to check out our review of Ventuq X Gaming Mouse (review in progress), which is again by Thermaltake.
Coming back to the Level 10 M, It's also a bit heavier than the average gaming mouse. While I kinda like a heavier mouse, since I get a better feel of control over it, it would have been nice if they had given the option of adjustable weights.
Watch the Video Review here:
Back to the buttons, the scrolling wheel has a good grip on it, and gives proper feedback while scrolling. On the left, there are three buttons. A and B are by default set to back and forward, and you can customize it to your preference. The third button with the lightning symbol on it, serves two purposes. Simply clicking it down changes the color of the light between blue, green, yellow, white and red. I like green. The same button when tilted up or down changes the DPI, with an indicator on the right mouse button.
One of the complaints with the previous version of the Level 10 M Mouse was the lack of finger support for both the thumb and the ring finger, and that has been taken care of in the Advanced version.
You can also adjust the hand rest to a degree. Though it might not seem like much, it does make a big difference. Also the vent on the hand rest might seem gimmicky at first, but trust me, as someone whose palms get sweaty very easily while playing games, the vents do make a difference.
Overall, the Level 10 M Advanced is a really great gaming mouse. I've been playing on it for a few weeks, and am really impressed by it. And it also looks really cool. You can see some of the wiring on the sides, the lights are spread across, and the material feels premium.
Mouse Specs: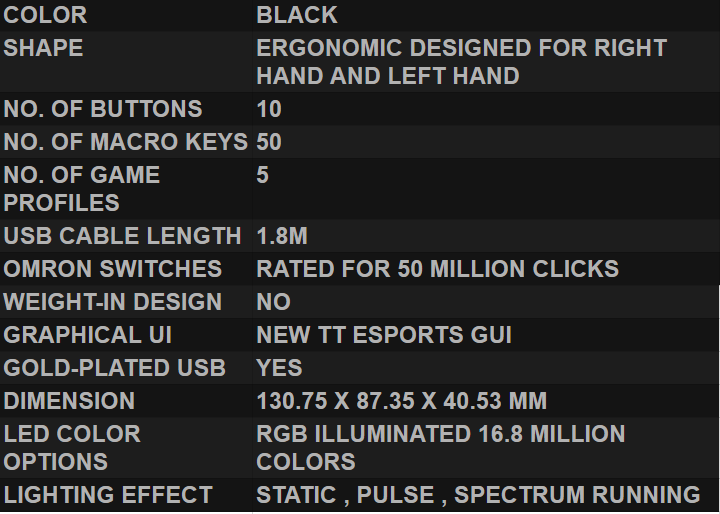 Sensor Specs:

Price: Rs. 5500 (Approx)
And for more news and reviews, keep checking back at Gaming Central.