The Asia's largest computer exhibition COMPUTEX TAIPEI 2016 opens from 31st May to 4th June. Today, the winners of the honorable COMPUTEX Best Choice Awards are finally revealed. MSI GS63 STEALTH PRO GAMING Notebook and MSI Z170A XPOWER GAMING TITANIUM EDITION Motherboard proudly stood out from over 374 competitions and won the Best Choice Golden Award & Best Choice Award, once again confirming MSI's world leading position in Gaming & Overclocking. COMPUTEX Best Choice Award has been focused on Functionality, Innovation and Market Potential as the principal judging guideline. ecognized for MSI's remarkable creation and outstanding design, the MSI GS63 STEALTH PRO GAMING Notebook receives the Best Choice Golden Award in the Gaming & Entertainment category, and the MSI Z170A XPOWER GAMING TITANIUM EDITION Motherboard receives the Best Choice Award in the Computer & System category.
"MSI has been pushing the boundaries of technology over the years, going all out to deliver products that meet the needs of global gamers. Take the Virtual Reality (VR) for example, MSI is the first and the only brand in the market now being certified by HTC, Intel, and NVIDIA for VR technology. Every detail on MSI products is designed by experienced R&D, and tested by professional gamers. Today, MSI's effort in developing gaming and overclocking has received such high praises and positive reviews from COMPUTEX Best Choice Award, It is definitely a great honor toward MSI's technical innovation and design capabilities. In the future, MSI will firmly stand by the principle of breakthrough in design, and the pursuit of excellence, in order to bring the best product and experience to all gamers." Eric Kuo, MSI Vice President of Global Sales & Marketing proudly said.
MSI GS63 STEALTH PRO GAMING Notebook
GS63 STEALTH PRO GAMING Notebook manages to put a revolutionary ID design, powerful cooling system, exclusive gaming features, and extreme computing performance, all in a chassis only 17.7mm thin. GS63 STEALTH PRO GAMING Notebook adopts Mg-Li alloy, a material often used in aircraft/ spacecraft application, in its chassis design, making it 44% stiffer than an aluminum-only chassis and is the world's lightest gaming notebook, weighing just 1.89kg.
MSI Z170A XPOWER GAMING TITANIUM EDITION Motherboard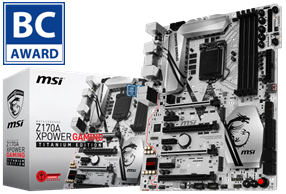 Z170A XPOWER GAMING TITANIUM EDITION Motherboard is designed with OC & Gaming DNA. This exceptional motherboard features an all new OC Dashboard and an independent panel for overclockers to tune settings. With its exclusive Game Boost one-second overclocking, a CPU performance increase up to 5GHz is made possible! The new DDR4 Boost uses fully isolated circuitry to ensure memory signals staying pure for maximum performance and stability. Reinforced PCI slots with Steel Armor are forged to support the heaviest multi-graphics cards and protect the PCI-Express signals against electromagnetic interference for a stutter-free gaming experience and higher GPU overclocking.
For more information about MSI's complete line of award winning products, please visit www.msi.com
And for more news and reviews, keep checking back at Gaming Central.