March 2022: US-headquartered Superstar Xchange, in collaboration with Tezos India and TZ APAC, is all set to launch Bollywood industry's first-ever NFT (Non-Fungible Token) ahead of the theatrical release of the highly anticipated upcoming Hindi Film 'Jhund' – which stars megastar Amitabh Bachchan in the lead role, playing sports teacher Vijay Barse on-screen — who took his slum soccer team to represent India in the Homeless World Cup held in Paris in 2015. Superstar Xchange is an up-and-coming NFT marketplace co-founded by Andrew Sternlight and Savita Raj Hiremath; it is a platform that dedicates itself to publishing NFTs on the Indian film industry and plans to expand into other parts of the Asian film markets in the near future.
Inspired by a true story, the upcoming biographical Bollywood film 'Jhund' tells the story of sports teacher Vijay Barse, who is shown to be on the verge of retirement in the movie. Just when he decides to hang up his boots and enjoy family time, he identifies a group of slum-dwelling kids playing football who are also involved in petty crimes, drugs, and theft. He eventually ends up giving them formal training in the sport, i.e. soccer. Internationally celebrated actor Amitabh Bachchan essays the role of Vijay Barse in 'Jhund', which is scheduled to release worldwide on 4th March 2022 in theatres. To launch the NFTs of the movie 'Jhund', Superstar Xchange partnered with Tezos India and TZ APAC, and has also recently won a grant from Tezos Foundation – who is another key backer of the company.
Savita Raj Hiremath, Founder of Superstar Xchange, says, "We are super excited and honoured to launch premium NFTs on Superstar Xchange for a big-ticket movie like Jhund starring the legendary Amitabh Bachchan. Given that film NFTs range from old to new films, both innovation and creativity are critical for this domain; and furthermore, the concept and uniqueness of a digital asset make NFTs stand out as an art form. Being a part of the Indian Film Industry, the advertising business, and interacting with creative and innovative people from these industries for over 25 years, I believe I will be able to do justice to the emerging NFT space by adding value with the unique and artistic pieces on our platform. Also, this is a great investment opportunity for the collectors and buyers who appreciate art in all forms, as well as for the fans to have a collective of their favourite films. The USP and challenge for the Superstar Xchange platform is to maintain the balance between both business and art, and we are certain that we will be able to succeed in doing that while reaching new heights and making us stand apart from the rest in the NFT space."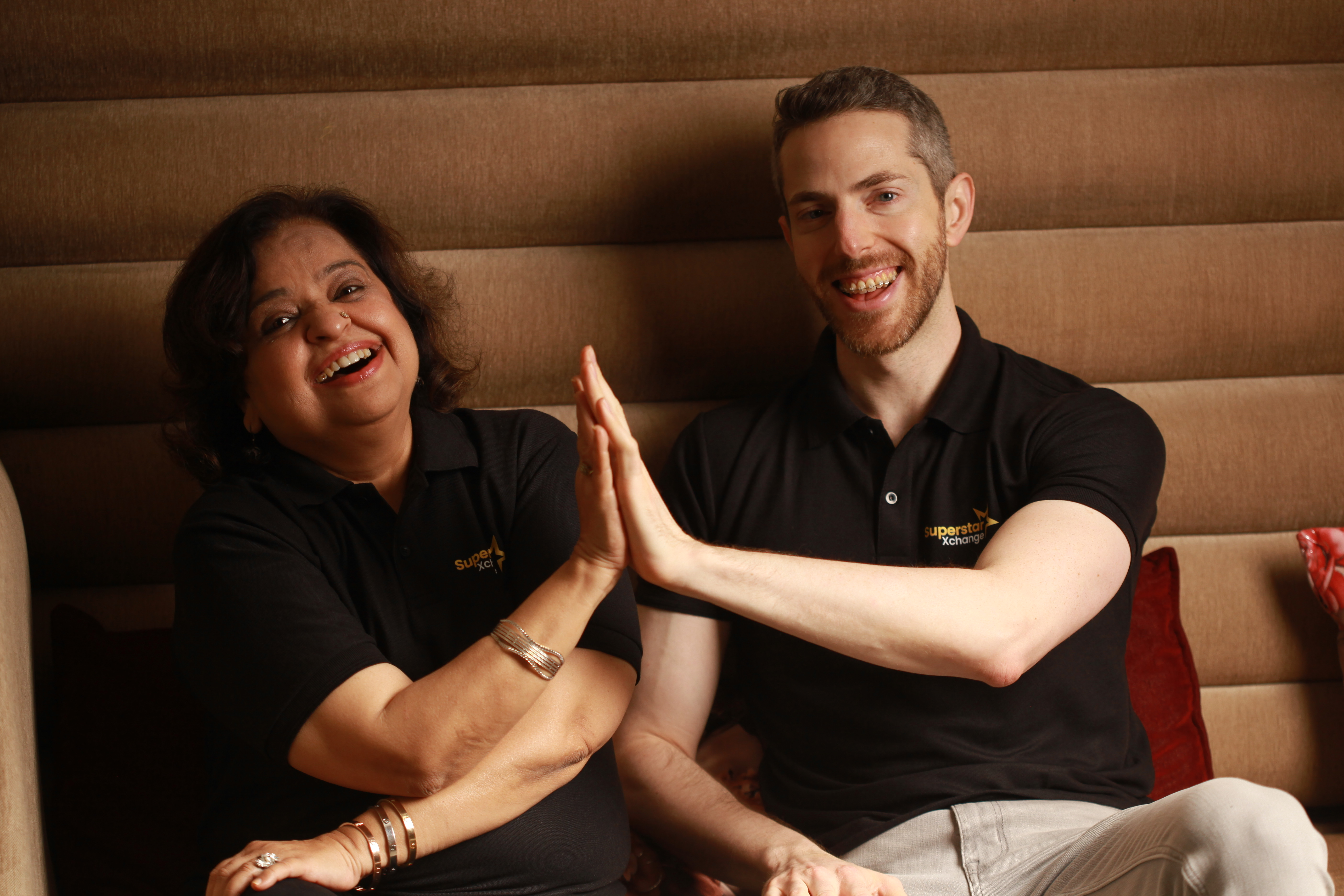 Andrew Sternlight, Co-Founder, Superstar Xchange adds, "Through Superstar Xchange, we are crafting new opportunities for fans to connect with, even to participate in, the inspiring stories that stir our imaginations and shape our lives. From an investment perspective, we expect our new creative digital asset class to offer its collectors strong, diversified returns."
Om Malviya, President, Tezos India says, "We are delighted and proud to join hands as a supporting partner with Superstar Xchange for the 'Jhund' NFT project.  We truly believe that green NFTs with low carbon footprint are the future, and Tezos is the leader in this space. Being the leading force in terms of promoting the Tezos ecosystem in India, we at Tezos India foresee a huge potential for Tezos-based NFTs in the Indian film industry in the years to come."
How can one mint NFTs on Superstar Xchange?
Superstar Xchange will mint and create sales using the subset of the NFTs minted.
When a user registers on Superstar Xchange, they create a Tezos account (wallet) which will be handled at the Backend
The Buying process is simple; the buyer will enter their credit/debit card details, and after making a successful payment, Superstar Xchange will transfer the minted NFT to the buyer's wallet.
Superstar XChange is on a mission to help movie fans and enthusiasts own a piece of their favourite movies, and aspires to be the first and largest NFT platform for film collectibles and film memorabilia in India. For their upcoming project for the Bollywood movie 'Jhund', they will be dropping 2 NFTs representing two unique posters from this movie on 3rd and 4th March 2022 respectively; the worldwide NFT drops will happen on Superstar Xchange's official website on both the days at 5 PM IST. Each of the buyers of these 2 NFTs will own a piece of the movie via unique and exclusive movie posters, and these NFTs can then be traded in the secondary market and/or also be "flexed" on social media platforms.
Watch out for the worldwide drop of the two exciting NFTs on 3rd and 4th March on the Superstar Xchange website, from where you can collect and mint the NFTs!
For more updates on the NFT launch of 'Jhund', you can even join the Discord community: https://discord.gg/crfvjh3A5G
About Tezos
Tezos is an open-source platform that addresses key barriers facing blockchain adoption for assets and applications backed by a global community of validators, researchers, and builders. By design, Tezos embraces long-term upgradability, open participation, collaboration, and smart contract safety.
About Tezos India
Tezos India is an organisation supporting the Tezos ecosystem in the Indian sub-continent and is a grantee of Tezos Foundation. As innovation in the blockchain space advances in India, Tezos India constantly strives to address key barriers facing blockchain adoption to date in India: developer adoption, education & training, and ecosystem development. Tezos is a self-upgradable blockchain that enables forkless upgrades with its on-chain governance system, improving accessibility and longevity for solutions built and utilized by the Tezos community.
About TZ APAC
TZ APAC Pte. Ltd. ("TZ APAC") is the leading Asia-based blockchain adoption entity supporting the Tezos ecosystem. It designs value-added blockchain transformation strategies for enterprises and creators with a bottom-up approach, working closely with blockchain experts and other stakeholders in the Tezos ecosystem. TZ APAC is supported by the Tezos Foundation and is headquartered in Singapore.
About Superstar Xchange
Superstar Xchange is an early-stage Media-Tech company based on the shores of San Francisco, US. They plan to provide a platform to cater to the needs of the Indian Entertainment Industry including Bollywood, and soon all of the Asian Film Market. They will be doing so by enabling studios to digitally monetize their properties via NFTs.
https://www.superstarxchange.com/
About the Founders of Superstar Xchange:
Andrew Sternlight is a Harvard MBA graduate; he got The Juris Doctor Program degree from Yale Law School and worked as Chief of Staff to Ray Dalio at Bridgewater Associates (largest Hedge fund in the world). He has been in the business for a long time and has experience as a strategic advisor, transformation leader, and attorney in the asset management industry.
Savita Raj Hiremath is an Indian film producer who has worked predominantly in the Indian Film Industry and has launched one of India's most successful films like "Khosla ka Ghosla", which was a path-breaking cinema and showed the way forward to Good Content Cinema