Gaming on a PC has its pros and cons, and one major con is that it lacks portability, as the desktop can be heavy and cumbersome. The Vortex MSI tries to deal with that problem, fitting an entire gaming rig inside a console-like chassis, which is both compact and lightweight. But does it end up compromising on the performance? Let's find out.
Tech Specs
CPU
Intel i7-7700K
Chipset
Z170
GPU
GeForce GTX 1080 8GB GDDR5X
Memory
8 GB DDR4
Storage
256GB SSD + 1TB HDD
LAN
2 x Killer Gb LAN
Wireless LAN & Bluetooth
Killer ac Wi-Fi + Bluetooth v.4.1
Audio Jack
1 x Mic-in
1 x Headphone-out
1 x TOSLINK SPDIF Out
USB
2 x Type-C
4 x Type-A USB 3.0
Display
2 x HDMI, 2 x Mini DisplayPort
Power
Embedded 450W 80 Plus Gold Certification PSU
Dimensions
202.5 x 191.7 x 278.0 mm
Weight (w/Battery)
4.0 kg
Design
The MSI Vortex G65VR 7RF is a sexy little beast. Completely departing from the conventional desktop design, it packs its powerful specs inside a largely cylindrical body, similar to the Mac Pro launched by Apple back in 2013. But, with the Vortex comes a great gaming experience. All the components inside come with a custom design, and on the top is a single large fan, just below the grill. It does a pretty great job, considering the system runs cool, and it doesn't make any more noise than the average desktop.
The Vortex dons the bright backlit MSI Dragon logo on the front, with an LED strip right next to it. Another LED strip passes through the middle of the top of the system, where you also find the grills that cover the fan. These RGB LED strips are customizable and can be set to glow according to your liking. Following the curves and moving to the backside, you can find a whole array of different ports for connectivity. There are two 3.5 mm jacks for mic and headphones, along with four USB 3.0 ports, two HDMI ports and two LAN ports. The Matrix technology enables the Vortex to connect upto 6 screens working in 4K @ 60Hz. Move below this panel towards the bottom, and you can find two mini DisplayPorts accompanied by two USB Type-C ports. Further below is the power connector. All you need to do is plug in the included power cable and you're good to go.
Performance and Benchmarks
The Intel i7-7700K and the GTX 1080 at its heart, the Vortex promises to be a beast. Even with the compact form factor, it performs impressively, providing desktop performance in a console frame. However, this does not make it better than a full desktop with similar specs, as there can be a small difference in the performance. But with the high cost of the Vortex, it makes a lot of difference. Let's take a look at the numbers, shall we?
To test the system's performance we tested the following games (in both DX 11 and DX 12 for those available), with AA and VSync off, and other settings left at the highest preset (Ultra/Very High/Crazy)
Ashes of Singularity (Crazy preset, DX 11 VS DX 12)
Ashes of the Singularity CPU Test (Crazy Preset, DX 12)
Deus Ex: Mankind Divided (Ultra Preset, DX 11 VS DX 12)
Rise of the Tomb Raider (Very High Preset, DX 11 VS DX 12)
The Witcher 3: Wild Hunt (Ultra Preset, DX 11)
DOOM (Ultra preset, Vulkan)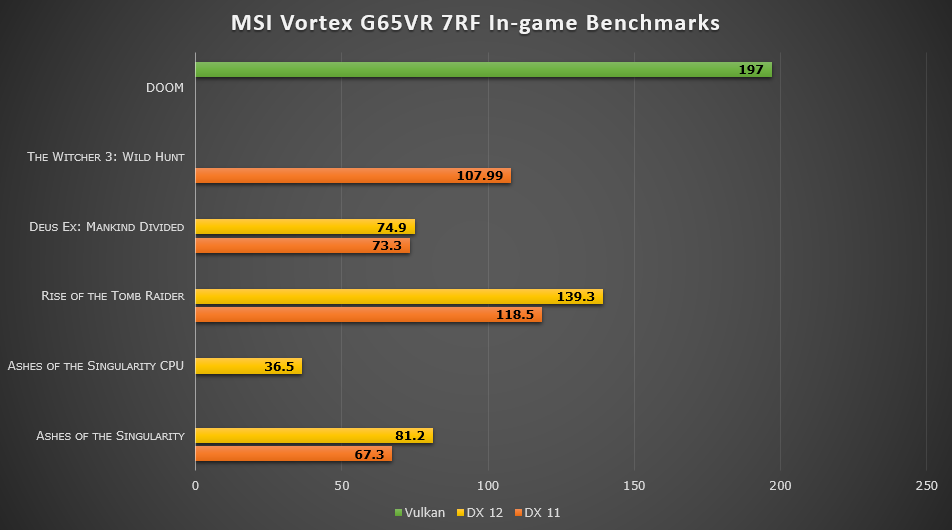 The Vortex offers impressive performance across the board, with well above playable framerates in all the games. As expected, the performance is better in DX 12, meaning that the system is able to make much better use of the latest API. The compact body performs great when it comes to thermals and noise as well. Peak power consumption observed is close to about 310 W under heavy loads, and max temperature under sustained heavy usage was observed to be 88 C. The desktop barely makes any discernible sound when running on idle, and under high loads you may hear the fans spinning loudly, though it's not worse compared to the average gaming PC.
The Verdict
The MSI Vortex G65VR 7RF is quite incredible, both under the hood and over it, but at a price of INR 2,64,990 (Amazon), it is a tough sell. It looks amazing, and plays amazing too, but you can get a full sized desktop with the same specs at a much lower price. Mind you, though, it won't be as compact and lightweight as the Vortex. Not to mention, 6 displays at 4K 60 Hz in the matrix mode. These perks come at a hefty price, but if you have the money to spare, then why not?
Register with us for the best in gaming, and join us for video game discussions on our forums.