A gaming laptop can either give you good performance or portability, but not both – this has been a major problem for a long time. But not anymore. The MSI GS63VR Stealth Pro packs quite a punch, with a GTX 1060 in a 17.7mm thick panel, making it one of the slimmest 10-series laptops in the world.
Specifications
| | |
| --- | --- |
| CPU | 2.6-GHz Intel Core i7-6700HQ processor |
| Operating System | Windows 10 Home |
| RAM | 16GB |
| RAM Upgradable to | 32GB |
| Hard Drive Size | 128GB |
| Hard Drive Type | M.2 SSD |
| Secondary Hard Drive Size | 1TB |
| Secondary Hard Drive Speed | 5,400 |
| Secondary Hard Drive Type | SATA Hard Drive |
| Display Size | 15.6 |
| Native Resolution | 1920×1080 |
| Optical Drive | None |
| Graphics Card | Nvidia GeForce GTX 1060 GPU |
| Video Memory | 6 GB |
| Wi-Fi | 802.11ac |
| Wi-Fi Model | Killer N1535 Combo 2*2 ac |
| Bluetooth | Bluetooth 4.1 |
| Touchpad Size | 4.0 x 2.7 inches |
| Ports (excluding USB) | Mini DisplayPort, Gigabit Ethernet, Microphone,  Headphone, HDMI 2.0, Thunderbolt |
| USB Ports | 4 (3 x USB 3.0, 1 x USB 2.0) |
| Warranty/Support | Two-year limited warranty |
| Size | 14.9 x 9.8 x 0.69 inches |
| Weight | 4.2 pounds |
The MSI GS63VR 6RF Stealth Pro comes with the latest 2.6 GHz i7-6700 HQ processor along with the Geforce GTX 1060 6GB GPU. It also has 16 GB of DDR4 RAM which can easily be expanded up to 32 GB. There's a 128 GB M.2 SSD for loading and booting up your OS while a secondary 1 TB hard disk drive is provided to take care of all your storage needs. The display comes in two options: a Full HD 1920 x 1080 screen or a High def 4K panel.  Our review unit was the Full HD model.
Design
In terms of design and form factor, I think that the GS63VR Stealth Pro is a masterpiece. Somehow, MSI has managed to fit an incredible amount of power and ports in laptop that weighs about 4.2 pounds, i.e, a little less than 2 kgs. YES, that's right. Gone are the days where you had to sacrifice portability for performance. The GS63VR is currently one of the slimmest gaming laptops in the market, only about 17.7 mm (0.69 inches) thick. By comparison, it makes the Alienware 15 (2016) looks a chunky piece of hardware.
The slim form factor doesn't mean that the design has been compromised by any means. The whole laptop body has a black, brushed-aluminium finish, though that comes at a cost. It is very easy to leave fingerprints and imprints on the laptop, so be wary of that. On the lid, there is the signature backlit red and white MSI Dragon logo. Opening the laptop, you're greeted by the same black aluminium interiors as the previous Stealth models. There are a few slight changes, of course. An orange power light takes spot in the middle of the top placed vent, while the touchpad touchpad has a sexy red chrome lining. In between the top vent and the touchpad sits the SteelSeries keyboard, with 16.8 million colours Full RGB backlight in a recessed panel.
The MSI GS63VR 6RF Stealth Pro comes with a horde of ports, which is quite impressive for its size. On the left side, you'll find three USB 3.0 ports, an SD Card Reader, a Gigabit Ethernet port and two 3.5 mm jacks for headphones and mic. Go over to the right side, and you'll find a Mini DisplayPort, a Full HDMI port, one USB 2.0 port and one Thunderbolt Type-C port. The power button is also provided on the right side instead of the top. The bottom of the laptop has the same finish as the rest of it, but is lined with textured, soft felt material, giving it another level of premium look and feel.
The laptop's Full HD 1920 x 1080 display is quite impressive as well, producing highly vivid and crisp colours. The default display setting seems to be set to favour warm colours in our review model, but can be easily changed using the MSI Truecolor software that comes preinstalled. The
Benchmarks and Performance
Being impressed by the laptop's size and weight, AND the fact that it comes with a GTX 1060, it was natural to wonder how the GS63VR Stealth Pro performs when it comes to gaming. As expected, the laptop exceeded our expectations (What?!) and proved to be powerful enough to run the latest games at ease. You can see the numbers below.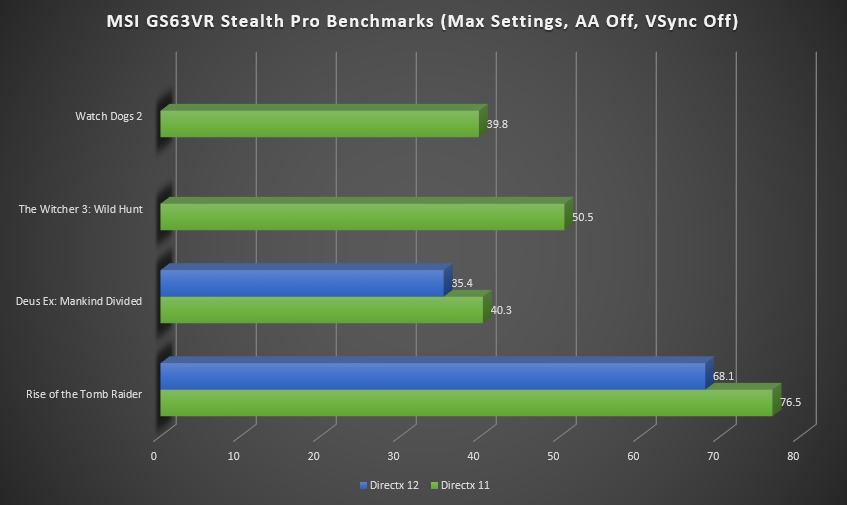 The first title we decided to test for the laptop's performance was Rise of the Tomb Raider. Running the game in Directx 11 at 1080p on Very High preset (AA off, VSync off), we got an impressive average framerate of 76.5 FPS, while the same settings on Directx 12 ran at an average of 68.1 FPS.
Next up, running the in-game benchmark for Deus Ex: Mankind Divided, the laptop gave about 40.3 average FPS on Directx 11 at 1080p Ultra preset (AA off, VSync off). Ultra settings on Directx 12, however, showed a lapse in performance, with about 35.4 average FPS.
For open world games, we decided to test The Witcher 3: Wild Hunt and Watch Dogs 2, both running on Directx 11 and Ultra preset settings with Anti-aliasing and VSync turned off. The colours and surroundings look amazing, with vibrant colours and sharp contrast. On The Witcher 3: Wild Hunt, we got an average of about 50.5 FPS, which again was quite impressive, while Watch Dogs 2 ran at an average of about 39.8 FPS, and a maximum of 52. You can rest assured that the small form factor doesn't have a bad impact on the performance.
Another question that begs to be asked about the GS63VR is the heating issue. The Cooler Boost Trinity design makes sure that you can game for hours without the laptop overheating. The max temperature that I observed was when the laptop touched 85 degrees after a continuous 4-hour long session of Watch Dogs 2. Of course, the laptop runs a little hotter than its bulkier counterparts, but it's been designed well enough to ensure that it doesn't cause discomfort to the user.
The keyboard has been designed by SteelSeries, as in the other high end MSI laptops. It comes with full macro functionality, and 16.8 million colour RGB backlight that can be managed using the SteelSeries Engine 3 software. You can also have custom per-key lighting, or assign colours to different zones. The touchpad is quite responsive and smooth as well, maybe a little too smooth for my liking. The three-finger gestures and scrolling perform well, but it's easy to end up scrolling to a different section of the page altogether with a small slip.
There are two speakers mounted on the bottom towards the front. They are relatively small, but sure pack a punch. However, I did encounter some issues with the audio being very shrill and uncomfortable. A driver update fixed the issue to some extent, but it seems to be an issue with the Nahimic audio management software that comes bundled in with the laptop. You can tweak around the settings to find one that suits your ears, or get rid of the software altogether to fix the audio issues.
The MSI GS63VR comes with countless preinstalled apps for customizatoin and fine tuning. There's the MSI Truecolor for display color settings, MSI SCM to provide you smartphone like shortcuts, MSI Battery Calibration to monitor battery usage and the MSI Dragon Center for an overall system-wide management of different settings. In addition to all this, you also get a year long subscription of XSplit Gamecaster to take care of all your recording and streaming needs.
When it comes to battery life, the laptop performs quite average, with about 4-4.5 hours of charge when under normal use, and about 2 hours of gaming on a single charge. However, that is to be expected as gaming laptops do trade performance for battery.
The Verdict
The MSI GS63VR Stealth Pro is a classy laptop in all regards. MSI has made sure that you don't need to compromise on anything that you're looking for. Whether it's performance or portability, this laptop combines the best of both worlds, and goes further. The steep price tag might be painful and the background apps may be annoying, but that's the trade-off for its power and finesse.
Register with us for the best in gaming, and join us for video game discussions on our forums.