The budget segment has seen some great options in the recent past, with NVIDIA's GTX 1060 and AMD's RX 580 and 590. While NVIDIA has upgraded their entry level cards to the latest Turing architecture with the GTX 16-series, AMD hasn't launched a 7nm Navi version of their low end GPUs, though the RX 5500 is on the way. Now, NVIDIA has added another card to their GTX 16 series line up, the GTX 1660 Super. How good is the card? Let's find out with the Inno3D GTX 1660 Super.
Design and Tech Specs
| | | | |
| --- | --- | --- | --- |
| Specs | GTX 1660Ti | GTX 1660 Super | GTX 1660 |
| CUDA Cores | 1536 | 1408 | 1408 |
| Base Clock | 1500 MHz | 1530 MHz | 1530 MHz |
| Boost Clock | 1770 MHz | 1785 MHz | 1785 MHz |
| Memory Clock | 12000 MHz | 14000 MHz | 8000 MHz |
| Memory Config | 6GB GDDR6 | 6GB GDDR5 | 6GB GDDR6 |
| Memory Bandwidth | 288.1 GB/s | 336 GB/s | 192.1 GB/s |
| Ports | DP, HDMI | DP, HDMI | DP, HDMI |
| Power Connector | Single 8-pin | Single 8-pin | Single 8-pin |
| Recommended Power Supply | 450W | 450W | 450W |
The GTX 1660 Super is a more powerful version of the GTX 1660. It has 1408 CUDA cores, same as the 1660, with the same GPU clock speeds as well. What's different, however, is that the 1660 Super has significantly higher memory clock speed and bandwidth. In fact, when it comes to memory clock, even the 1660 Ti is slower than the 1660 Super. This puts the 1660 Super in an interesting position, between the 1660 and 1660 Ti.
When it comes to looks, the Inno3D keeps things fairly basic, which is understandable as it is a budget model. There's a simple black shroud covering the moderately sized heatsink, along with two fans. The card has a dual slot design and is powered by a single 8-pin power connector. On the display front, it comes with one HDMI port and three full sized DisplayPorts.
Performance and Benchmarks
As we were expecting, the GTX 1660 Super sits comfortably in between the GTX 1660 and the 1660 Ti, though it does close the gap with the 1660 Ti in a few tests. So much so, that some numbers we saw were within margin of error. Comparing with the GTX 1660, the 1660 Super has a decent lead, performing anywhere between 5-10% better than the former. Take a look at the benchmarks yourself.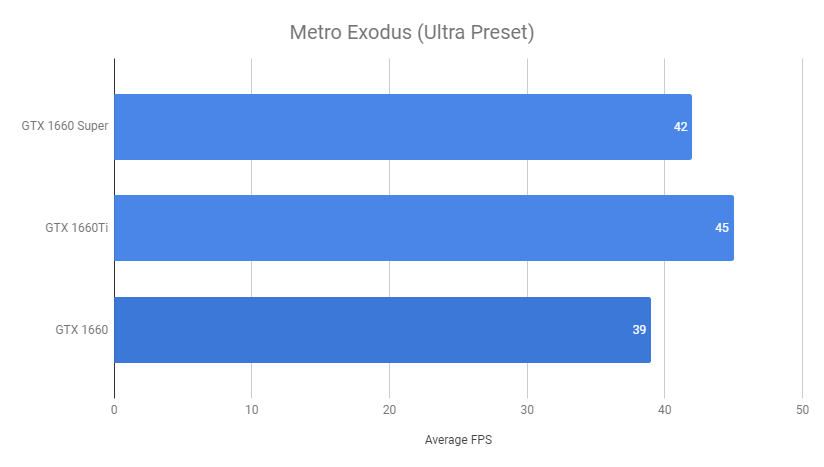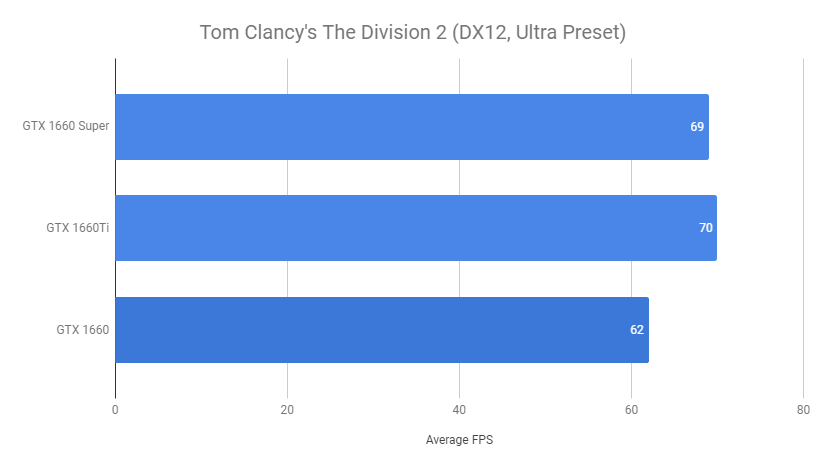 The card does pretty well when it comes to thermals too, with the maximum temperature observed during benchmarks reaching 74 C.
The Verdict
At the launch price of INR 19,000/-, the Inno3D GTX 1660 Super sure looks appealing. It can run pretty much whatever game you can throw at it comfortably at 1080p 60 FPS on a mix of high and ultra settings, if not the highest. Effectively, it means that in order to get a premium 1080p 60 FPS gaming experience, you don't need to spend over INR 20,000. Sure, the 1660 Ti has gone down in pricing since its launch, but it's still above the INR 20K mark, that makes a huge difference to people on a strict budget. What will be interesting to see is the effect it has on the positioning of the GTX 1660, which has been a pretty solid budget GPU itself. But for now, if you're looking to build a new gaming PC for 1080p gaming on a budget, this might end up being your wallet's best friend.
CLICK HERE TO BUY  –  Amazon , VedantComputers , MDComputers