In 2014 Casey Hudson had left Bioware to pursue some personal projects saying that he wanted – "some time off, needed a bit of change, and wanted to get involved in the new wave of emerging, disruptive technologies.". After having revolutionized the RPG genre with franchises like KOTOR, Mass Effect and Dragon Age, his departure was a loss of Bioware and it showed in Dragon Age: Inquisition and Mass Effect: Andromeda. Fans of Bioware were unsure of what the studio's future looked like, and even with all the positive buzz around Anthem, I was skeptical.
[interaction id="5971bc815ef522b21624db04″]
However, just yesterday news came of Casey Hudson returning as General Manager at Bioware, and Aaryn Flynn stepping down. He announced his return saying:
"The last few years have been transformative for me, from having time to reflect on what I most want to do, to working with new technologies at platform scale," he said. "And now, I'm thrilled to have the opportunity to return to lead BioWare – a studio that I think of as home.
"When I look at the stunning progress Aaryn and the team has made with Anthem, and the other projects in the works, I truly believe our best is yet to come."
Aaryn Flynn himself has quite the pedigree, having worked on games like Never Winter Nights, KOTOR and Jade Empire. Casey addressed Flynn's departure saying:
"I'd also like to wish my good friend Aaryn Flynn the very best in the future. Aaryn and I have worked together from the earliest days of Star Wars: Knights of the Old Republic, to setting the foundation for Anthem. We've been through a lot together, and we're all going to miss his presence at the studio.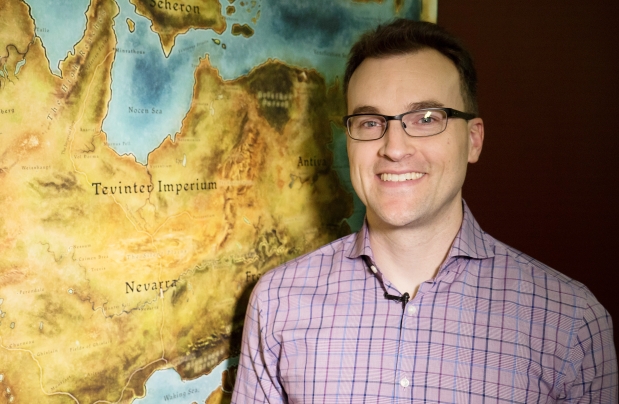 I think I speak for everyone who has worked with Aaryn – and our fans – when I say thank you for everything. BioWare continues to hold a special magic – full of profoundly talented people, and an inspiring creative energy. When I look at the stunning progress Aaryn and the team has made with Anthem, and the other projects in the works, I truly believe our best is yet to come."
Casey Hudson's return is a big win for both EA, Bioware and most importantly the fans. After being disappointed by Inquisition and Andromeda, I was skeptical of Anthem and anything EA laid their hands on. Casey's love for crafting well detailed worlds, strong narratives, and relatable characters is undeniable and his talent for the same is unmatched. His inputs at Bioware Edmonton is bound to improve anything they do next, and maybe Mass Effect and Dragon Age have a brighter future.
Casey deserves more recognition, he's one of the most important design talents of the post-Meier/Wright/Molyneux era. His (and his team's) work on KOTOR and Mass Effect was as important to that genre as Bungie's was to console FPS or Epic's was to TPS.
Anthem is the upcoming game by Bioware, and is competing with the like of Destiny and Division. However, Bioware's ambition for anthem is much bigger – the game was called Project Dylan before being revealed, indicating the studio's aim to make the Bob Dylan of video games. If there's anyone to do it right, Casey Husdon is the guy.
Register with us for the best in gaming, and join us for video game discussions on our forums.