The Logitech G213 Prodigy is an entry level gaming keyboard which aims to make your gaming experience more affordable. Sure, it's not a mechanical keyboard, but that doesn't stop it from getting the job done.
It looks much similar to an office keyboard when it's off. It has the standard full key layout with a numeric keypad on the right hand side and a row Fn keys (or F keys) at the top. Above the numeric keypad there is a set of dedicated media keys, along with a mute key and volume control buttons. A separate key is provided for turning the LED backlight on and off.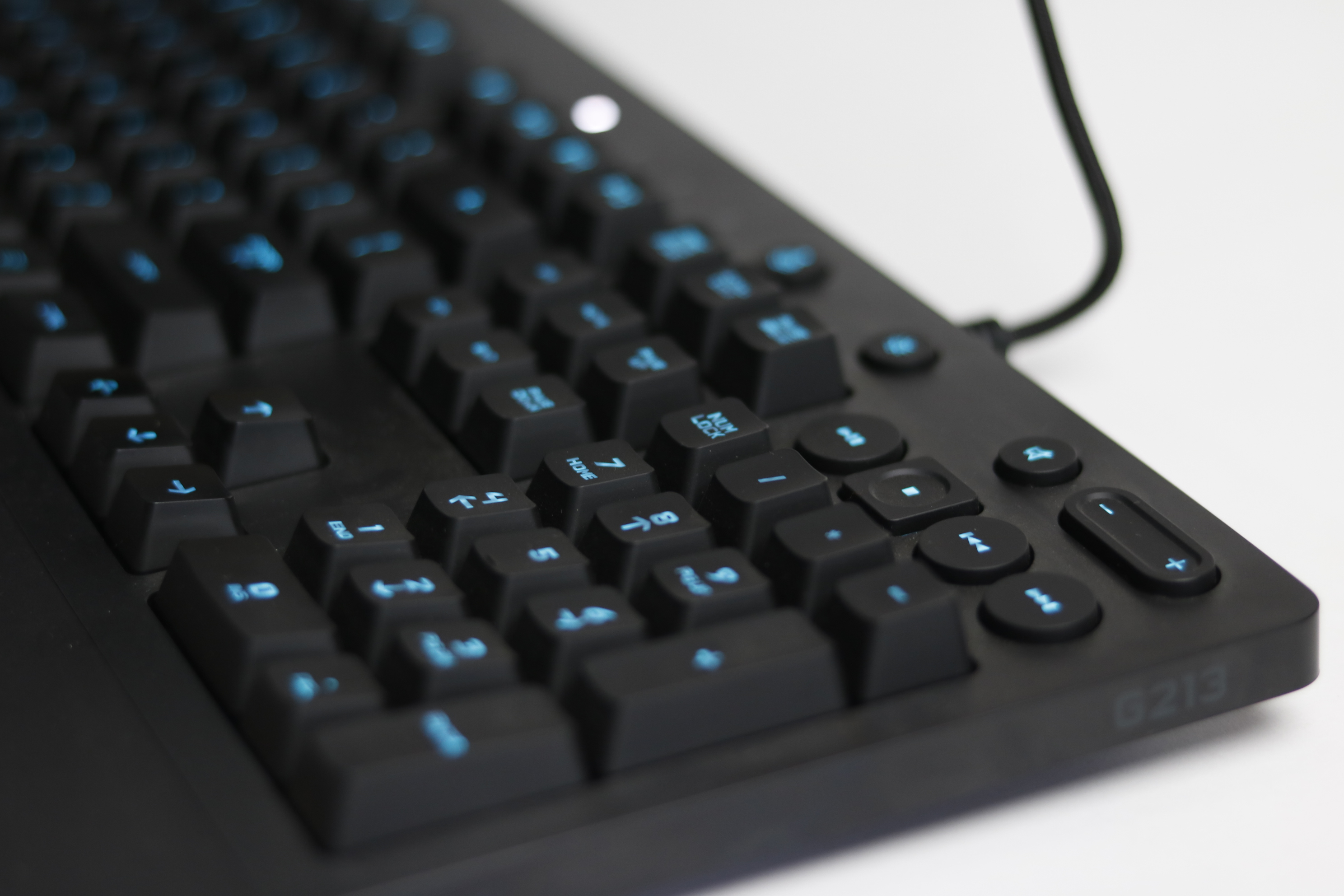 The keyboard has a full RGB 16.8 million colour backlight, meaning you can set it to any colour of your choice. There are a variety of LED customizations that you can apply; Static (set it to a single colour at fixed brightness), Colour Cycle (cycle through the spectrum of 16.8 million colours), Breathing Effect (for a single colour) and Colour Wave. You can also set the speed for these effects as per your liking. To do this, you need to use the Logitech Gaming Software. It lights up the keyboard beautifully, but the LEDs are a little dim for my liking.
There are a few other handy options as well, that set the Logitech G213 Prodigy apart from regular keyboards. There is a "Game Mode" key at the top using which you can disable a set of specified keys (like the Windows key) to make sure you don't end up back on the desktop if you press it by mistake while playing. The Fn keys can also be assigned Macro functions using the Logitech Gaming Software. However, unlike a full fledged gaming keyboard, Macro keys aren't provided separately.
The design of the keys make it seem like a mechanical keyboard, but the G213 Prodigy is a lower cost membrane keyboard. While makes the keyboard lighter and working on it a lot quieter, it also means you won't get that satisfying sound of pressing keys and premium feel associated with its mechanical counterpart.  However, cost becomes an issue where mechanical keyboards are concerned, and if you're not a hardcore PC gamer, a membrane keyboard will work for you just as well, and will end up saving some money too.
The Verdict
The Logitech G213 Prodigy gaming keyboard is a nifty little keyboard designed with those in mind who are looking for an enjoyable gaming experience on a budget. It is one of the few membrane models that offers extensive RGB backlighting customization, and the keys, while being as great as mechanical, are still pretty good for both heavy gaming and working. The option to turn off the Windows key using the Game Mode is convenient as it is quite easy to hit that key instead of the Ctrl or the Alt key while playing games. If you're heavily into PC gaming and have the money so spend, by all means go for a mechanical keyboard. But for all the others, this is a pretty sweet device that can last you for a long time.
Register with us for the best in gaming, and join us for video game discussions on our forums.