A couple of months ago, HP debuted its gaming line up under the banner of Omen, to an overwhelming response by the audience. Comprising of a range of high performance laptops, desktops and accessories, the Omen series focuses on gamers and VR enthusiasts, coupling its powerful internal specs with cutting-edge design. Today we check out the Omen 870-260in Desktop PC, a mid-tower gaming rig.
Tech Specs
| | |
| --- | --- |
| Operating System | Windows 10 Home 64-bit |
| Chipset | Intel Z170 |
| Processor | Intel Core i7-7700K (4.2GHz, Boost up to 4.5 GHz) |
| Memory | 16 GB DDR4-2133 SDRAM (2 x 8 GB) |
| Storage | 2TB 7200 RPM SATA and 128GB SATA SSD |
| GPU | NVIDIA GeForce GTX 1060 (3GB GDDR5) |
| Optical Drive | DVD-Writer |
| Wireless | 802.11a/b/g/n/ac (2×2) and Bluetooth® 4.2 M.2 combo |
| Expansion Slots | 1 PCIe x1; 1 PCIe x16; 2 M.2 |
| Network Interface | Integrated 10/100/1000 GbE LAN |
| Ports | 6 USB 2.0; 4 USB 3.0; 1 headphone/microphone combo |
| Audio | DTS Surround Sound |
| Power Supply | 500W |
| Weight | 10.52 kg |
Design
The front of the tower is clad in brushed aluminium with gun metal silver finish. It features the Omen logo and branding towards the lower side, separated by a shiny black strip, which also houses the DVD writer. The black strip has RGB lighting on both sides, which is customizable in three modes: Static colour, colour show and CPU Temp, suiting to your style and choice. The top has a glossy black enclosure, which houses the various ports provided on the cabinet, including the 3.5mm jack and a USB Type-C port. The left side of the case is quite simple, with a minimalistic black panel, while on the right side there are some openings that can facilitate heat dissipation.
Performance and Benchmarks
At its core, the HP Omen 870-260in is powered by a 7th gen Intel i7-7700K processor and an NVIDIA GeForce GTX 1060 3GB. The i7-7700K is the gamer's benchmark processor, with 4 cores/8 threads, and the GTX 1060 3GB goes nicely with it to provide optimum gaming performance. Though we think the 6GB variant or a GTX 1070 would've been a much better fit, this particular GPU is enough to get the job done. We start off with a few CPU benchmarks before moving on to the PC's gaming benchmarks.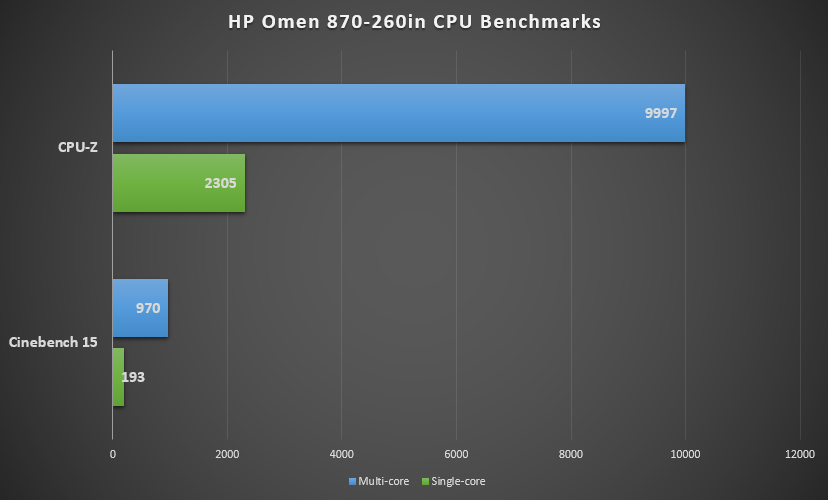 The Intel i7-7700K does incredibly well in single-core performance tests, which translates to the gaming performance as most titles do not make effective use of multiple CPU cores at present. The multi-core performance numbers lack a bit, but as long as you're focused on games, that shouldn't make a lot of difference.
To test the GPU's performance, we selected different games across multiple APIs. For DX 11, we tested Witcher 3: Wild Hunt, while for Vulkan performance we ran DOOM. In order to test how the desktop performs in DX 12, we tested Rise of the Tomb Raider  and Deus Ex: Mankind Divided. Note that all titles have been tested at the highest quality preset (Ultra/Very High), with AA and VSync turned off. All tests we performed at 1080p.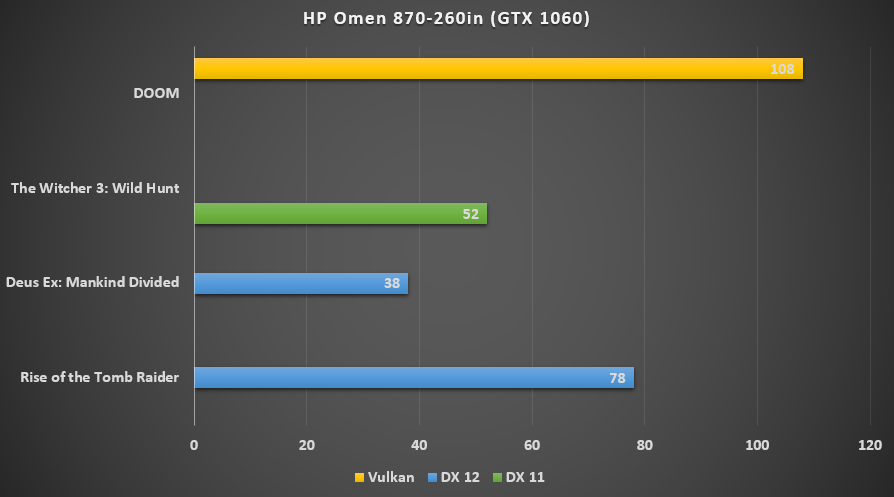 As you can see, the card's performance is impressive and it manages to provide smooth playable framerates in all tested titles. But, it does struggle a bit in Deus Ex: Mankind Divided at the highest settings. Also, as all the games were tested at 1080p, it becomes important to note that as you move on to newer titles and higher resolutions, 3GB VRAM will not be enough to run the games at optimum settings. This poses a question as to how 'future-proof' the setup is.
The Verdict
Seeing HP enter the hardcore gaming market in India is quite a pleasant sight, considering how popular the brand is with the consumers in general. The HP Omen 870-260in Desktop is quite an impressive machine, that combines great design with powerful internal specs to offer a great gaming experience. There are plenty of options to customize it the way you like, offering you a chance to experience it however you may want. The 7700K processor is best-in-class when it comes to gaming and is well complemented by the accompanying GTX 1060. However, at a price point of INR 1,39,990 (HP Website), it comes off a tab bit expensive. But hey, if you want a premium experience, it doesn't come cheap.
Register with us for the best in gaming, and join us for video game discussions on our forums.