It's been a long time coming, but HP is finally making its foray into the Indian gaming laptop market with their Omen range of products. In general HP laptops are popular amongst Indian consumers, so it's natural to wonder about how they're gaming counterparts would perform. Today we have with us the HP Omen 17 gaming notebook, that comes with a GTX 1070 AND a 4K display panel. Let's dive right in
Tech Specs
| | |
| --- | --- |
| Processor | Intel Core i7 6700HQ |
| Chipset | HM170 |
| RAM | 16 GB DDR4 |
| Display Size | 17.3 inches |
| Display Resolution | 4K (3840 x 2160) |
| GPU | NVIDIA GeForce GTX 1070 8GB |
| Storage | 256GB SSD + 1TB HDD |
| Battery | 6 Cell 95 .8 Whr |
| Weight | 3.35 kg |
| Connectivity | RJ45, USB 3.0, HDMI, MiniDP, SD Card Reader |
| | |
This specific model of the HP Omen 17 comes with an Intel Core i7 6700HQ processor, coupled with a GTX 1070 and 16 gigs of RAM. There's a 256GB SSD that has enough space for an OS and a couple of games, and for the rest of your storage needs, an accompanying 1TB 7200RPM HDD does the job. Add to the mix a 4K display, and this thing is a powerhouse. Not only that, it looks slick as well. It has a textured mesh finish on the top lid, with the metallic tribal looking Omen logo shining in bright red. The black and red color scheme is quite commonplace when it comes to gaming laptops, but HP still manages to make the Omen feel fresh. The lid is held in place by two shiny hinges, which are place on top of the rear exhaust grills. The laptop weighs a little over 3kg, which isn't bad per se, but still puts it on the bulkier side.
The Omen 17 comes with the standard number of ports, on the left side you can find a USB 3.0 port along with 3.5 mm jacks for the headphones and mic. There's also another exhaust on this side, which is quite convenient. On the right, there are two more USB 3.0 ports, an HDMI port, a mini DisplayPort, a LAN port, the charging port and an SD card reader slot. Upon opening the lid, you see the sexy carbon fiber finish and the keyboard. The speaker grills are towards the top near the screen, in a triangular grid-like fashion.
A good keyboard is a must for me, and unfortunately, the HP Omen 17's keyboard does not feel up to the mark. Don't get me wrong, it's quite easy to get used to, but the typing experience doesn't feel great. Also, the up and down arrow keys are kinda crammed together, so it's really easy to press the wrong one by mistake.  There are no macro keys either. On the plus side, it does come with a numpad and has red LED backlight that looks cool. The track pad feels slightly better and more convenient to use. It doesn't have separate buttons for left and right clicking, but the large size of the trackpad makes it work comfortably.
Performance and Benchmarks
The HP Omen 17 has incredible performance. As it comes with a 4K display, we naturally, included that in our in-game benchmarks as well, and needless to say, the GTX 1070 powering the laptop is quite impressive. Though you won't be running the games at Ultra settings on 4K at 60 FPS, with a little bit of tweaking, you can easily achieve 4K 30 FPS gameplay. For our benchmarks, hoewever, all the games were tested at the highest settings.
First up, like always, was Rise of the Tomb Raider. Testing the game on Very High Preset with AA and Vsync off, we were able to get an astounding 97.6 FPS on DX 11 which went up to 105.6 FPS on DX 12. The 4K benchmarks provided an average framerate of 36.5 FPS on DX 11 and 36.7 FPS on DX 12, showing that the GTX 1070 is fully capable of running the game at a good 30 FPS on 4K even at the highest settings.
Next we tested Deus Ex: Mankind Divided. Now this title is generally one of the most taxing when ran on Ultra preset, for the Omen that wasn't a big deal. With AA off, we got an average 57 FPS on DX 11 and 58.7 FPS on DX 12 at 1080p. On 4K these numbers were considerably lower, about 20.9 FPS on DX 11 and 20.8 average FPS on DX 12. So, if you want to play comfortably, you might need to lower your settings to reach 30 FPS. Also, notice the very slight drop in performance when switching to DX 12 on 4K, while on 1080p DX 12 works better than DX 11.
The results for Ashes of the Singularity were equally good. Running the game on the Crazy preset, at 1080p we observed an average framerate of 49.5 FPS on DX11 and 50.6 FPS on DX 12. Here we notice a similar drop in performance between the two APIs on 4K, with 35.2 FPS on DX 11 and 33.4 FPS on DX 12.
The fourth title we ran was the open world RPG The Witcher 3: Wild Hunt. The game looks absolutely stunning on the Omen 17's display, with vivid backgrounds. The GTX 1070 was able to provide an impressive framerate of 60.4 at 1080p, which on 4K was 28.8.
Finally, we concluded out in-game benchmarks with GTA V. The tests ran at a nice average of 62.6 FPS at 1080p and at 45.1 FPS on 4K. Note that both FXAA and MSAA were turned off during the tests.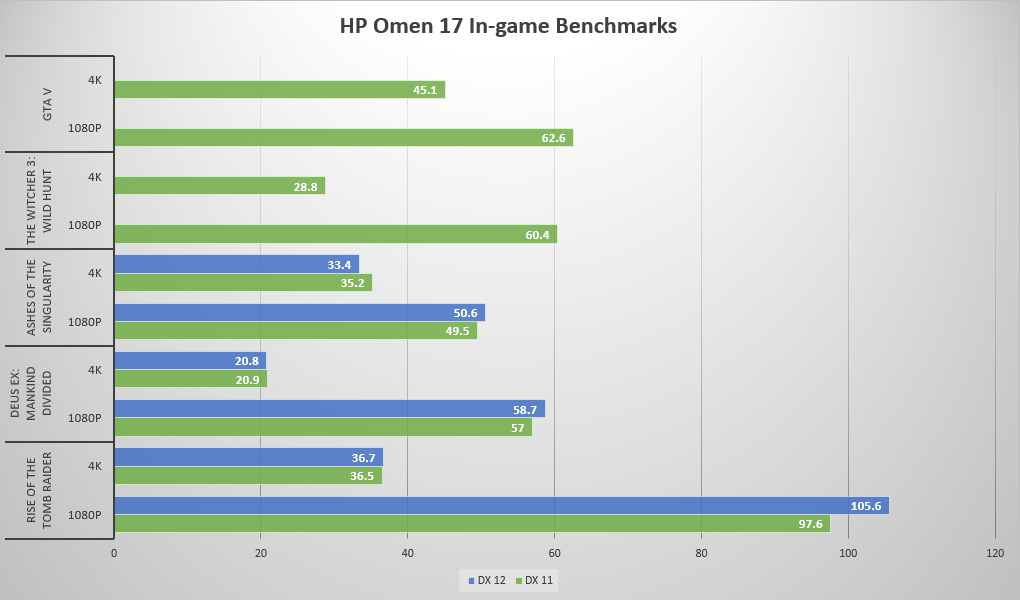 One area where the Omen 17 truly shines is its display. It's a 17.3-inch 4K UHD IPS panel, with an impressive colour reproduction and a 338 nits brightness. It is G-Sync enabled as well, which helps reduce tearing and stuttering when you're running a game at high framerates. And as the numbers show, the games will be running amazingly well. Though it doesn't come with a software that can let you tweak and have different presets for display settings, even on default the screen has great visuals, with vibrant colours and contrast.
Gaming laptops aren't really known for their battery life, but this is another area where the HP Omen 17 is ahead of its competition, On a single charge, the laptop lasted well over 5.5 hours of average use, and even while gaming we were able to use it for about 2 hours without needing to plug in the charger. That is almost twice than the average gaming notebook. Another advantage is that it doesn't run very hot either. The max temperatures that we observed was close to 71 C during heavy gaming sessions.
HP has made use of Bang and Olufsen speakers for the sound system, and they are impressive. Though I generally prefer to use earphones while gaming, the Omen's speakers do absolute justice to the games' sound. Mind you though, the bass is a bit on the lighter end. However, the overall sound is well balanced in the music mode (which it uses by default), which is much better than the other modes.
The Verdict
If you're on the lookout for a gaming laptop with solid performance, the HP Omen 17 makes a great choice. HP has priced it quite competitively, and though you'd be making some compromises in terms of weight and keyboard, the trade-off is incredible. It has one of the best displays you can ask for in a gaming laptop and the performance benchmarks speak for themselves.
Register with us for the best in gaming, and join us for video game discussions on our forums