Dell has updated their Inspiron 15 7000 series of gaming laptops with NVIDIA Pascal GPUs and Intel 7th gen Kaby Lake processors. As part of the new line-up, we have with us the Inspiron 15 7567, an entry level gaming notebook with a GTX 1050Ti. The specs are pretty impressive for the price, but does it perform as well in reality as it does on paper? Let's find out.
Tech Specs
| | |
| --- | --- |
| CPU | Intel 7th gen Core i7 7700HQ |
| Operating System | Windows 10 |
| RAM | 16GB DDR4 |
| Storage | 256GB SSD + 1TB HDD |
| Display | 15.6″ TN Display |
| Resolution | 1920 x 1080 Full HD |
| Graphics Card | NVIDIA GTX 1050Ti 4GB |
| Weight | 2.62 kg |
| Battery | 74 Whr, 6-cell |
| | |
The Dell Inspiron 15 7567 comes with the latest Intel Core i7-7700HQ Kaby Lake processor along with the Geforce GTX 1050Ti GPU with 4GB VRAM. It also has 16 GB of DDR4 RAM, along with a 256GB SSD to take care of your OS and some games. There's a secondary 1 TB hard disk drive to make sure you have enough space for your additional storage needs. The display comes is a full HD 1920 x 1080 TN panel, which we found to be a bit disappointing. But more on that later.
This notebook is probably one of the best devices in its price range when it comes to looks and feel. Dell has tried to make sure to provide a premium body to the entry level notebook, and has succeeded. Agreed, the red and black colour scheme has sort of become a norm for gaming laptops these days, but it's still great. The laptop has a look that's both sharp and curvy (yes, I know what I'm saying), and as interesting the mix is, it works out well for the device. Most of the laptop is covered in black, with a red logo on the lid and metallic grey finish on the rear side. The exhausts, one on each end of the rear, are covered by red grills and provide the laptop with a rather cool look.
While the laptop gives you plenty of connectivity options, I am beginning to notice that three USB ports (provided in a majority of gaming laptops) are not enough. On the left side, there's the charging port, a USB 3.0 port and an SD Card reader. On the right, you have two more USB 3.0 ports, an HDMI port, a LAN port and a single headphone/mic combo 3.5 mm port. The front side has a sharp edge like the rear, which means that holding the laptop in a horizontal position would get uncomfortable, but you know, looks comes at a price.
The Inspiron 15's keyboard is certainly one of the better ones in the entry level segment. The keys are well placed, easy to reach and feel quite comfortable for both gaming and regular use. While there's no RGB to jazz up the keys, the red LED backlight seems to get the job done well enough. Plus, the WASD keys have marked borders on the top, setting them apart from the rest of the keys for that gamer-y look. The trackpad is responsive and works great as well, which again is a huge positive point for people who travel frequently and may not always have an external mouse at their disposal.
Performance and Benchmarks
Even though the Inspiron 15 7567 is essentially an entry level gaming notebook, it's hard not to be impressed by the power under the hood. The Kaby Lake i7-7700HQ and the GTX 1050Ti, along with the 16GB RAM are enough to take care of almost all your gaming needs. Mind you though, you won't be playing all the latest games at Ultra high settings. Still, the numbers are great, and you can take a look at them below.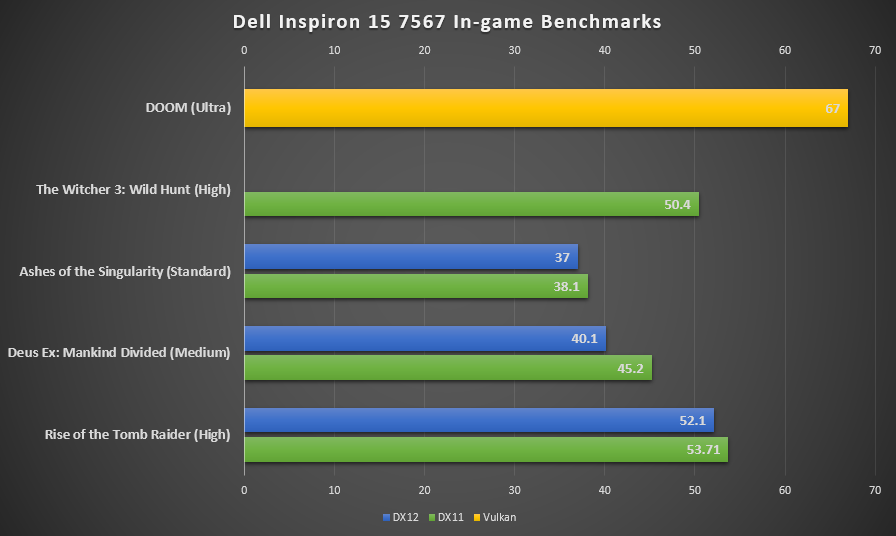 We tested our usual set of games to see the laptop's gaming performance. Starting off with Rise of the Tomb Raider, we were able to obtain an average framerate of 53.71 FPS in DX 11 on the High preset at 1080p, while on DX 12 it dropped to 52.1 FPS. Vsync and AA were turned off, like in the other in-game benchmarks.
We also tested Deus Ex: Mankind Divided. It's quite a demanding title in terms of graphics performance, so we had to turn down the settings to the Medium preset and we able to obtain a nice framerate of 45.2 FPS in DX 11, and again observed a drop in performance when switching to DX 12, with an average of 40.1 FPS. Ashes of Singularity showed a similar performance difference, where the notebook gave an average 38.1 FPS on the Standard preset in DX 11, dropping down to 37 FPS upon switching to DX 12.
We also tested The Witcher 3: Wild Hunt, running the game on the High Preset. We had to turn off NVIDIA Hairworks, and were able to obtain an impressive average framerate of 50.4 FPS. DOOM was equally impressive, with the Vulkan API giving an average 67 FPS on the Ultra preset.
As much as we were impressed by the laptop's performance, the display was equally disappointing. Witcher 3 has absolutely gorgeous visuals, which were undermined by the lack of good colour reproduction and contrast. The brightness is decent and TrueColour software comes preinstalled to make the colours a little better, but it's simply not enough. The poor viewing angles don't help either, and can make viewing something on the laptop an annoying experience.
The display might disappoint, but the battery life certainly doesn't. Dell has managed to provide an amazingly long-lasting powerhouse that can put most of its high-end competition to shame. I was able to use the notebook for an ENTIRE work day without needing to plug in the charger. It was mostly for day-to-day work, with internet browsing, YouTube streaming and music, but to see the laptop last over 6-7 hours on a single charge was jaw-dropping, to say the least. Gaming laptops aren't known for their long battery life, but this is one area where the Inspiron 15 7567 blows everything else out of the water. It runs pretty cool too, as the maximum temperatures we observed were just a little below 70 C while gaming. The keyboard can get a little hot, though, but not enough to cause any discomfort.
The Verdict
The Dell Inspiron 15 7567 is indeed one of the best entry level gaming laptops in the market. At a price point of about INR 114,000, it provides an amazing balance between style and performance, and a battery life that is better than best in class. The only disappointing thing about the otherwise all-round impressive laptop is the display. When the gaming world is moving towards better graphics and visuals, the TN display offered in this model simply doesn't cut it. However, if that's not a deal breaker for you, and you need some great value performance, this is it.
Register with us for the best in gaming, and join us for video game discussions on our forums