MSI has recently announced their latest range of gaming laptops powered by the GTX 10-series graphic processors, and everyone has been waiting to see them in action. Today, we review the MSI GT72 VR 6RE Dominator Pro, which features the latest Intel i7-6700HQ processor the the GTX 1070. Let's get started with the specs first.
Specifications:
| | |
| --- | --- |
| OS | Windows 10 |
| Display | 17.3″ FHD (1920×1080), IPS-Level 17.3″ UHD (3840×2160), |
| CPU | 6th Gen. Intel® Core™ Processor |
| Chipset | Intel® HM170 |
| Graphics | GeForce GTX 1070 with 8GB GDDR5 |
| Memory Type | DDR4 |
| Number of DIMM Slot | 4 Slots |
| Max Capacity | Max 64GB |
| SSD | 1x M.2 SSD Combo (NVMe PCIe Gen3 x4 / SATA ) |
| HDD | 1x 2.5″ SATA HDD |
| Optical Drive | DVD Super Multi |
| Webcam | FHD type ([email protected]) |
| Keyboard | Backlight Keyboard (Full-Color) |
| LAN | Killer Gb LAN |
| Wireless LAN & Bluetooth | Killer ac + Bluetooth v4.1 |
| Speaker | 2x 3W |
| Woofer | 1x 5W |
| Audio Jack | 1x Mic-in 1x Headphone-out (SPDIF) 1x Line-in 1x Line-out |
| Type-C USB3.1 Gen2 | 1x |
| Type-A USB3.0 | 6x |
| RJ45 | 1x |
| Card Reader | 1x SD (XC/HC) Card Reader |
| HDMI | 1 x HDMI (4K @ 60Hz) |
| Mini-DisplayPort | 1x (v1.2) |
| Battery (Cell) | 9-Cell |
| Battery (Type) | Li-Ion |
| AC Adapter | 230W adapter |
| Dimension (WxDxH) mm | 428 x 294 x 58 |
| Weight (kg w/ Battery) | 3.78 |
| Battery (Whr) | 83.25 |
The laptop comes with a 17.3″ FHD display with a native resolution 1920 x 1080. The screen has a refresh rate of 60 Hz, but it also has a 120 Hz variation. It has 16 GB DDR4 RAM installed by default, with an option of expanding it up to 64 GB, with 4 DIMM slots. It has a 256 GB SSD for the operating system and an additional 1 TB HDD for all your storage needs.
Talking about first impressions, the MSI GT72 VR 6RE looks bulky, and you can tell it packs a punch. Once you open it up, you're greeted by a full QWERTY keyboard with the numpad, made by Steelseries. The keyboard has RGB backlighting, offering you a plethora of customization options. It has a standard trackpad with a RGB backlit border, and the same RGB lights greet you on the front of the laptop. All these lights can be set to an individual colour and setting, or you can have the same throughout.
The notebook offers a ton of options for connectivity as well. You have 4 USB 3.0 ports on the left, one on the right and one USB Type C port on the back. it has an optical drive on the right side as well. There are four 3.5 audio ports, two for headphones and two for mics. There's also an HDMI output port on the back, along with an RJ45 connector for LAN. Along with the power button, you can also see four different keys, each with their respective function: one for the customization by SteelSeries, one to control fan speed, one for display and one for media.
It also comes with Tobii eyetracking technology, meaning the cursor will follow your eyes on the screen. It's a nifty piece of tech that comes in handy when playing games, but personally I found it a little annoying because you can inadvertently keep moving the cursor as it tracks your eye movement, and that can get a little frustrating when you're working.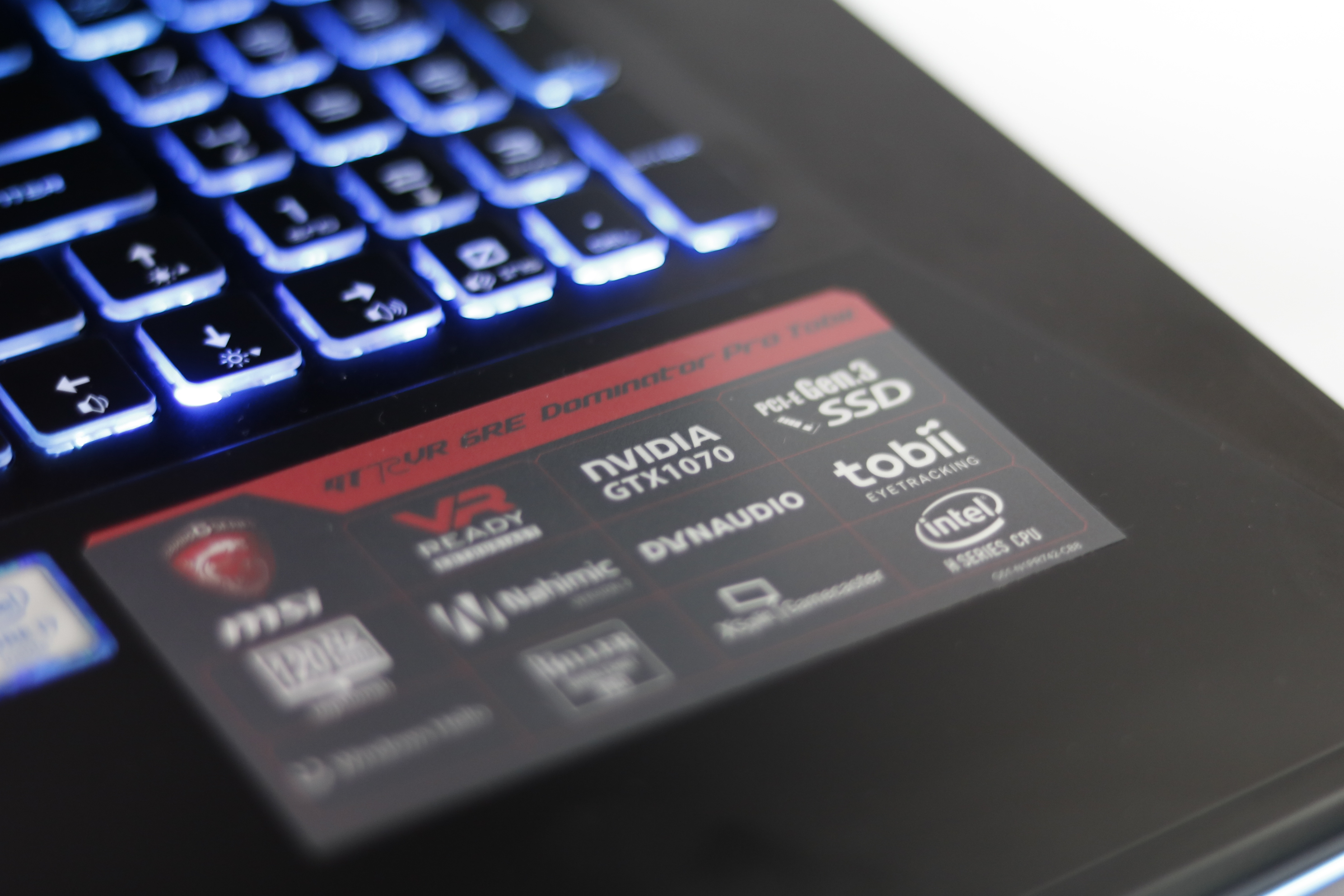 The laptop has a 9-cell battery which adds to the bulk, making the laptop weigh about 3.8 kg. To keep it up and running, you get a 230 W power adapter with flat pins on the plug. That's probably enough about the tech specs, let's dive into the experience.
Watching movies and listening to music is a bliss. The speakers are made by Dynaudio, which is known for is exquisite sound quality and clear effects. The IPS display offers crisp and polished colours, which also makes gaming on this beast a great experience. Talking about gaming, the laptop is powered by a GTX 1070, meaning you can run most of you latest games at ultra settings on 60+ FPS. It is also VR ready, meaning you can just plug the a VR headset in the laptop and get started (IF you have a VR headset, that is). For better clarity, let's take a look at the benchmarks.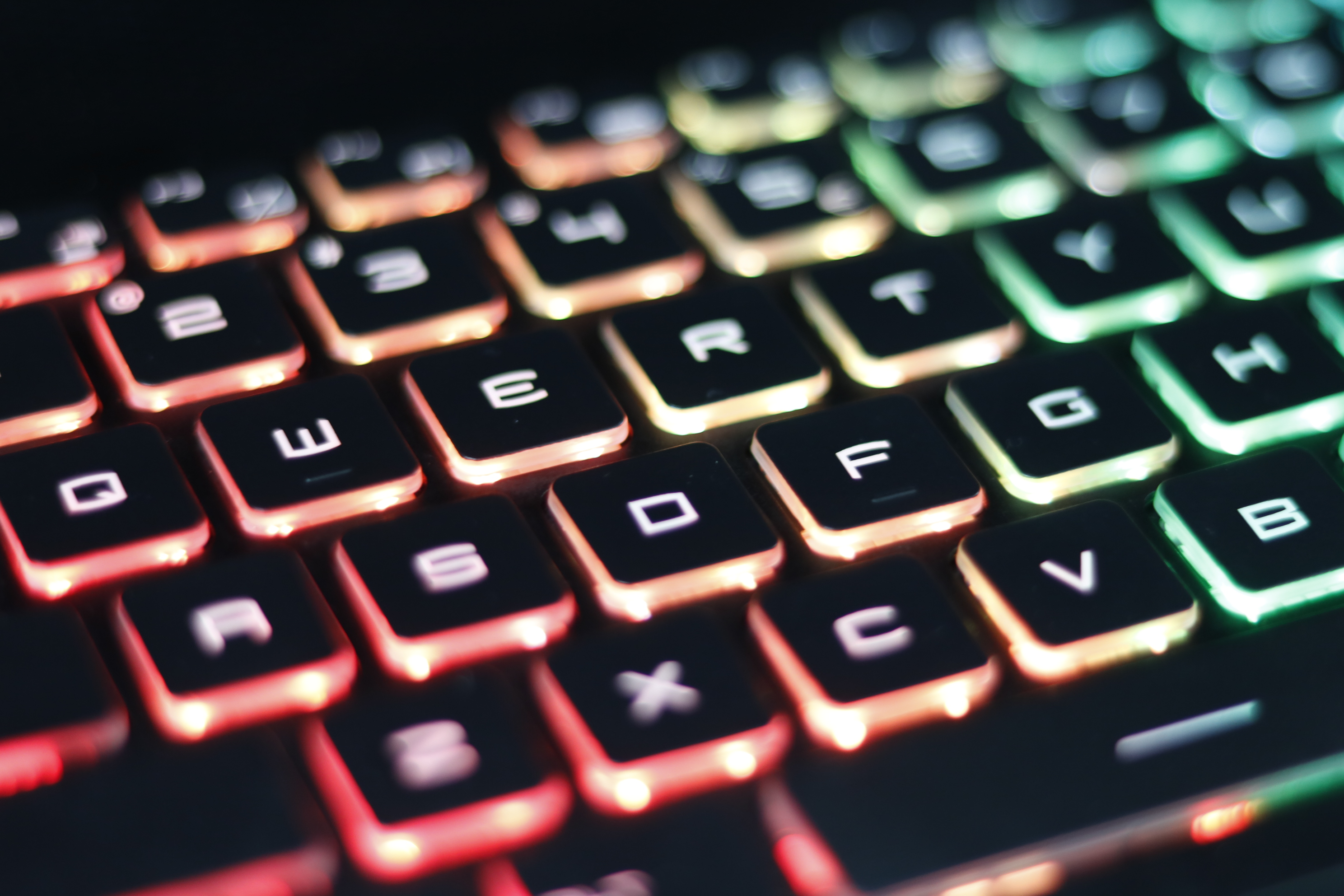 In-game Benchmarks
We started off our benchmark test with Mafia III. Running on the High preset with AA and VSync off, the laptop performs quite impressively, with an average framerate of 54 FPS.
The GTX 1070 shines in performance when running Witcher 3: The Wild Hunt, with an average FPS of 60 throughout the benchmarking process, with breathtaking textures and environment rendering. The badly optimized NVIDIA Hairworks turned off, of course.
To compare the laptop's performance in DX 11 and DX 12, we tested three titles: Deus Ex: Mankind Divided, Rise of the Tomb Raider and Ashes of the Singularity. The MSI GT 72 VR 6RE provides an average of 99 FPS in Rise of the Tomb Raider when running in DX 11, and about 106 FPS in DX 12, showing off the optimzation of the Pascal architecture when it comes to the latest API.
A similar trend is seen in Deus Ex: Mankind Divided and Ashes of the Singularity, where the laptop performs at about 65 FPS in DX 11 and 68 FPS in DX 12 for the former, and an average framerate of 45 FPS in DX 11 and 49 FPS in DX 12 on the latter. It does struggle a bit in Ashes of the Singularity at times with a framerate drop, thanks to the sheer number of units on the screen.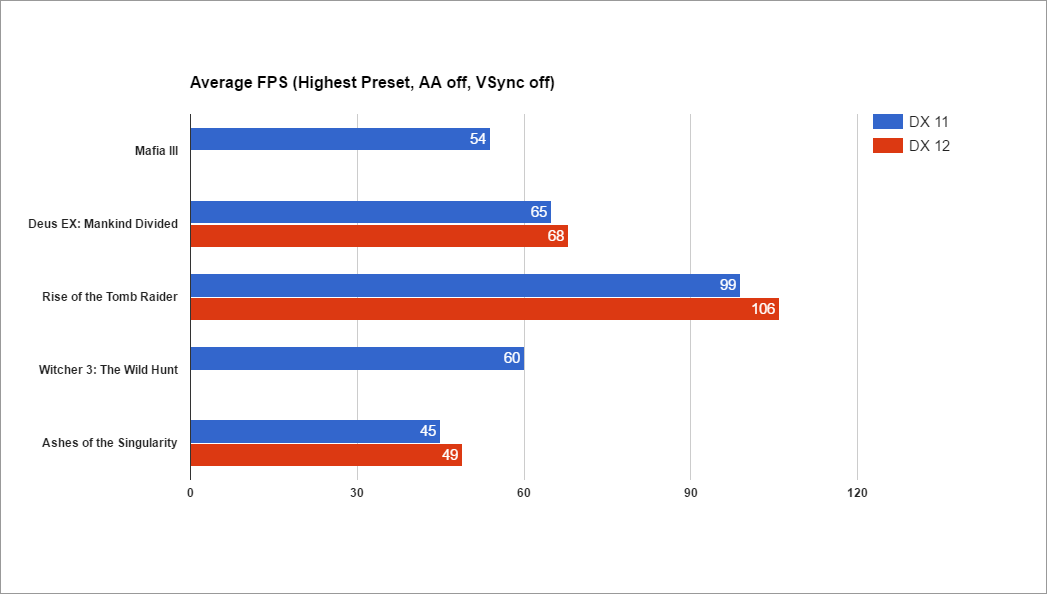 The MSI GT 72 VR 6RE also comes with a horde of pre-loaded softwares that help you to customize the way you want to use it. To manage your LAN and Wifi settings, there is the Killer Network Manager software which helps your keep a track of data usage of the various apps installed and the processes running in the background.
You can switch the display mode using the MSI TrueColor app, which has optimized modes for Gaming, Media, Office and Designing. The Steelseries keyboard settings can be managed using the SteelSeries Engine 3 Client.
To manage the audio settings, it comes with Nahimic audio manager pre-installed using which you can enable the audio tracker overlay. The laptop also has Xsplit Gamecaster for the YouTubers and streaming enthusiasts. In order to manage all these different apps, there is the MSI Dragon Center. Mind you, though, because the LED settings in the Dragon Center will override the SteelSeries Engine Client settings.
The Verdict
The MSI GT72 VR 6RE Dominator Pro is an absolute beast. Whether it's gaming or video editing or multimedia, it is well suited to take care of all your needs, and will make the perfect companion for the hardcore gamer who wants a compact setup. However, at a price point of more than INR 2,00,000, it is definitely bound to make a dent in your savings. Also, it is somewhat bulky which might pose a problem for someone looking for portability. So if you don't like to compromise and have the money, this laptop is bang for buck.
For more news and reviews, keep checking back at Gaming Central.