Sleek, sporty and sexy – these are probably the three words that best describe the new MSI GE73VR 7RF Raider. With a design inspired by sports cars, the notebook boasts of great looks and performance. Let's get started with the specs, shall we?
| | |
| --- | --- |
| Processor | Intel Core i7 7700HQ |
| RAM | 16GB DDR 4 |
| Display | 17.3 inch FHD 1080p 120Hz IPS |
| Graphics Card | GeForce GTX 1070 8GB |
| Storage | 256GB SSD + 1 TB HDD |
The MSI GE73VR 7RF Raider comes with the Core i7-7700 HQ processor along with a Geforce GTX 1070 8GB GPU. It also has 16 GB of DDR4 RAM which can easily be expanded up to 32 GB. There's a 256 GB SSD for loading and booting up your OS and games while a secondary 1 TB hard disk drive is provided to take care of all your storage needs. The display is a 17.3-inch IPS FHD panel with a refresh rate of 120Hz. Not to mention the device weighs less than 3Kg, making it much lighter than its 17.3-inch competitors.
In terms of looks and design, the GE73VR is quite alluring. It has a black brushed metal finish, with the backlit MSI Dragon logo on the lid, sitting between two red stripes. The red highlights are found in the USB ports as well, with them being lit by red LEDs. This is surely fascinating and not something I've seen in an MSI laptop before. However, it is quite easy to leave fingerprints on this one, so be careful with that.
Opening the laptop greets you with the signature MSI look, with the full-sized RGB backlit SteelSeries keyboard and trackpad. It's similar to other MSI laptops in this sense, but it goes one step ahead. The keyboard in this device has per-key lighting. Combine that with the numerous lighting effects at your disposal, and you actually have full control over how you want to set things up.
The left side of the laptop accommodates an Ethernet port, a MiniDP, an HDMI port, one USB 3.0 port, one USB Type-C port and the 3.5mm jacks, while the right side has the SD Card Reader and two more USB 3.0 ports. Like I mentioned before, the USB ports are lit by red LEDs which comes in handy when you're looking to plug something in the dark. Unfortunately, the laptop is missing out on a Thunderbolt port which is a downside considering this is a premium gaming notebook.
Benchmarks and Performance
So we know the laptop packs a 7th gen i7, a GTX 1070, 16GB RAM AND comes with a 120Hz display. Sounds kinda perfect, doesn't it? You'd be happy to know that it is. Check out the benchmarks below.
The first title we decided to test for the laptop's performance was Rise of the Tomb Raider. Running the game in Directx 11 at 1080p on Very High preset (AA off, VSync off), we got an impressive average framerate of 98 FPS, while the same settings on Directx 12 ran at an average of 108 FPS.
Next up, running the in-game benchmark for Deus Ex: Mankind Divided, the laptop gave about 58 average FPS on Directx 11 at 1080p Ultra preset (AA off, VSync off). Ultra settings on Directx 12, however, showed about 59.7 average FPS.
For open world games, we decided to test The Witcher 3: Wild Hunt. The colours and surroundings look amazing, with vibrant colours and sharp contrast. We got an average of about 61.3 FPS, which again was quite impressive.
We also tested Ashes of the Singularity which showed equally impressive results. Running the game on the Crazy preset, we observed an average framerate of 49.8 FPS on DX11 and 51.1 FPS on DX 12.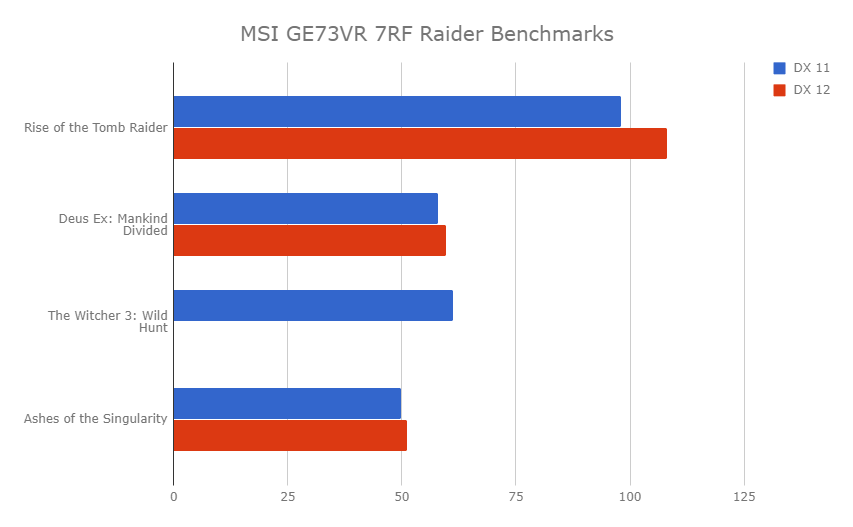 The keyboard is quite comfortable to use, with large and well-spaced keys. I have some issues with the trackpad not being as good and responsive as some of the other MSI laptops I've used, but considering that you're mostly going to use an external mouse, it shouldn't be a deal breaker.
While the 120Hz IPS display results in a vibrant, smooth gameplay experience, the brightness might be a consideration for some. It's not as bright as its other counterparts and hence darker areas on screen can lack detail. But on the plus side, the laptop comes with MSI TrueColor which helps you tweak the color and display settings according to what your needs. Apart from this, there's plenty of other preinstalled software as well, including the MSI Dragon Center which sort of acts like a control center for most of your laptop settings.
The laptop also comes with Giant Speaker by Dynaudio, which, needless to say, adds an extra oomph to both your gaming and multimedia experience. There are two speakers and woofers, enough to fill the room with the booming sound of explosions from Battlefield 1, or the mellow music of Porcupine tree. The sound has clear vocals, and a rich deep bass. Using the Nahimic software, you can customize the levels according to what suits you the best. And the results speak for themselves, even watching movies with the speaker audio is incredible.
One major issue when it comes to gaming laptops is battery life, and here the MSI GE73VR Raider's performance is just as average as any other gaming laptop. The notebook lasts about 4 hours of normal usage, including web browsing, music and video playback. While gaming, this time drops down to a little under 2 hours. The laptop doesn't suffer from any heating issues as such, and the maximum temperature that we observed while gaming was about 87 degrees.
The Verdict
The MSI GE73VR 7RF Raider is a lean, mean gaming machine. Whether you're looking for a good design or incredible performance, it can offer you both. Agreed, a price point of INR 1,85,000 (Amazon) might seem steep to some, but you're getting a powerhouse that will last you a decent amount of time before you need to start looking for an upgrade.
Register with us for the best in gaming, and join us for video game discussions on our forums.