Retro Kicks!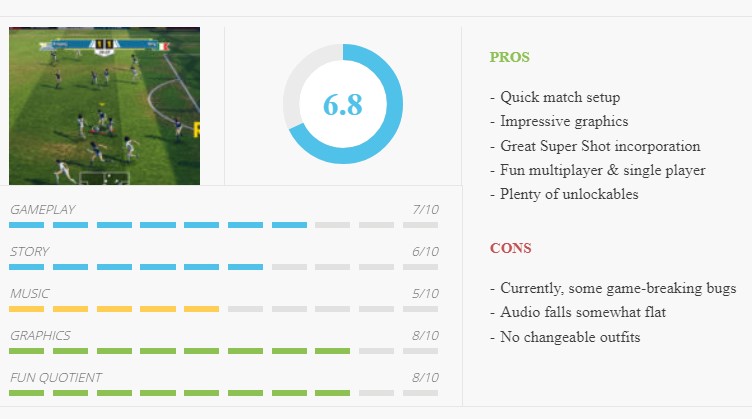 Legendary Eleven gives a new face to arcade style home console football gaming. It's an alternative to the more realistic football games. With a full roster of 36 national teams spread across 5 different cups the game holds a promise for many an hour of gaming and replay value, but does it hold up?
Football being my favorite sport I am always interested in picking up a new football game and giving it a go alone or together with a friend or family member. Seeing the announcement of Legendary Eleven got me exciting and I couldn't wait to get into it, digging in deep into the 70's, 80's and 90's with their characteristic styles and vibes.
Loading the game brings up the main menu with a great looking retro style background. With only two game modes there is not much to choose from – a friendly match or a cup; no training, online play, or art gallery – which Legendary Eleven definitely deserves. More game modes are currently in development which should be released at some later point in time and will flush out the game some more. Some useful on-screen tips demonstrating the controls of the game are turned on by default, which after mastering within no time given quite the standard button layout, become an unwelcome interruption when left on.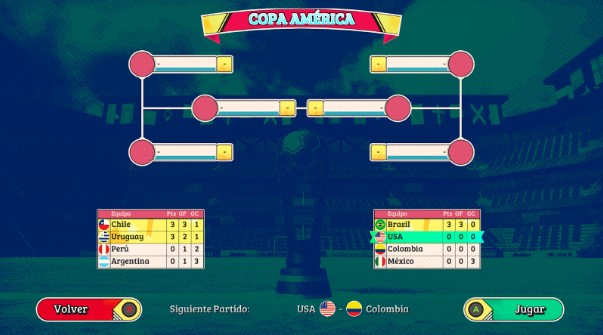 Choosing any of the higher rated teams to get started seems to work best, as features such as player rating and stamina don't seem to make much of a difference during gameplay while starting out with a lower rated team those features really kick in and makes the game feel much harder at first.
While being an arcade style game with simplistic controls and a very direct gameplay, it boasts some statistics worthy of mentioning. First, there is the star rating of the individual teams, based on such features as speed, defense, attack, and stamina. After choosing a team and going into the customization of the team line-up, one can compare the statistics of each player in the team, which won't vary all that much though. Swapping a player out with someone from the bench is straightforward, as is changing the overall formation.
"Time to fill up that album!"
What sets Legendary Eleven apart from its competitors is the workings of its stickers, which boost the performance of some of the team's stats, depending on the applied stickers. Having but a few of these at first, the player has the option to unlock more by playing through the game, something which makes this game somewhat of a collectathon, and nostalgically harkens back to the days when we used to collect physical stickers to fill those world cup albums. Apply the default or newly-acquired stickers prior to the matchup and bring home the victory. The texts printed on the stickers can be hard to read having but a very small font size.
Any match, being it single player, or local multiplayer is a quick setup, with very little lost time. The timer is ruthless, even while being in scoring position, once the timer reaches half time, or the full 90 minutes shows up the ref blows his whistle; no extra time is allotted here. With tight and responsive controls matches against the CPU feel balanced enough depending on the opposing team. While defending can be something of a skill to master in many a football game or something which can be utterly frustrating, Legendary Eleven features a very straightforward, direct way of defending which makes it much more forgiving and fun. Choose between a standing or a sliding tackle with the risk of being fouled and get that ball up the pitch quickly. It's good to see that the time-out penalty after a failed attempt balances the ease of defending. The referee is merciful and waves on most of the time, though the occasional yellow and red card will be handed out – a particular situation in which a certain sticker can help out. Once up the pitch scoring is one of the easiest things in this game and one shouldn't be surprised to count 5 goals or more per match; choose a corner, hold down the a-button long enough and release to see your shot fly past the goalie. Not able to dribble and pass your way into the penalty area? Try a long-range shot and surprise the goal keeper as defenders will stand nailed to the ground aghast.
"Bringing out the big guns!"
Want to go for something more sensational? Charge up the displayed meter and try a Super Shot from virtually anywhere on the opposing half's side. Once initiated, the Super Shot cannot be stopped by a defender, frustrating as it is being on the opposing side, it is an absolute thrill seeing that bicycle kick, or side volley slamming into the back of the net while the announcer reaches fever pitch – although I have seen one of my shots ending up bouncing off the side post. As easy as the goalies are beaten, once they come rushing out they are lord and master reminiscent of the goalies in Super Mario Strikers. Scoring from a free-kick or an awarded penalty, however, is a different matter entirely, which need a lot of precision and mastery to pull it off successfully.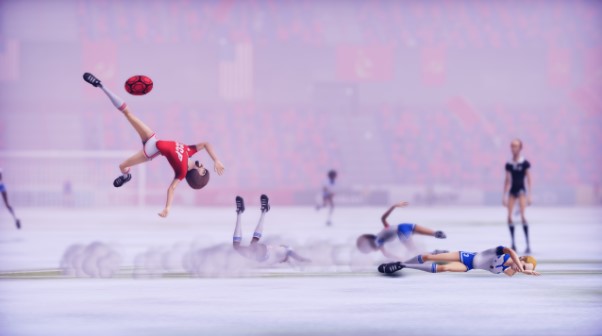 "Gooooooal!"
The audio of the game feels a bit lackluster, even though it is an arcade style game. The announcer, apart from the recurring lyrically ecstatic goal!, sounds quite flat and feels isolated in an otherwise relatively quiet setting, which cannot be mended by the grunting of players, the whistle of the referee and the life-threatening sliding tackles. The video quality is at par with what can be expected from an arcade style game, though the colors come out really nice with a retro glance and weather effects that change the look of the field. There are the occasional jittery glitches and bugs which I hope will soon be patched out. The replay feature is pretty standard with some control to change it up. The caricature-like players look great, with their retro moustaches, hairdos, massive side-burns and overtly short shorts that fit right in place. With no option to change the color of the players' clothing it can become a bit tough distinguishing them as they zip across each other unfortunately.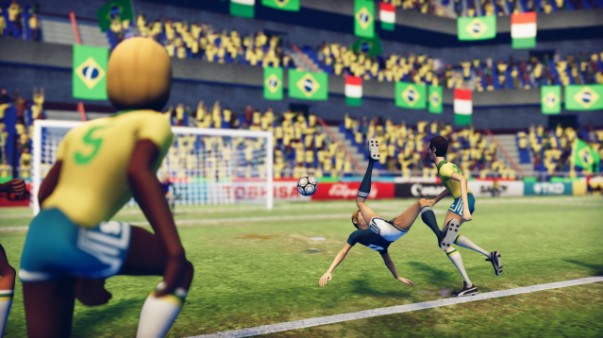 Apart from some game-breaking bugs that are unfortunately still present in the current edition Legendary Eleven is a lot of fun to play alone or in local multiplayer setting. The quick-and-dirty match setup works really well and the overall style of the game shows the passion that went into making it. For any of you longing for an alternative to FIFA, or for those out there just wanting to play some football that doesn't take itself too serious, this is the game for you.