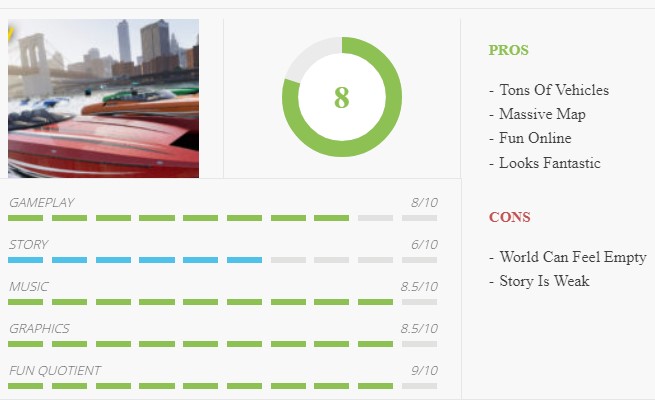 The original Crew had some really great ideas, but lacked in terms of execution. The idea of a seamless open world, with the entirety of America as the main map, appealed to me, and many others. Sadly, the actual gameplay was a bit weak, specially in contrast to some of the other racing games on the market. With its new sequel, The Crew 2 aims to fix those problems, while adding a lot more to the overall gameplay.
The first difference is the addition of new vehicles – you can drive cars, ride bikes, fly planes and sail boats – and all of them feel fun in their own way. The overall tone of the game has also changed with the plot. It's a lot thinner now, but that's actually a good thing. Instead of the ridiculous revenge or heist plot, it's a simple tale of a guy wanting to gain more followers on social media – just like real life. Honestly, ignore the plot, bring in your friends and just drive. The world is gorgeous, and packed with stuff to do.
All your standard variety of race types are here, and the addition of boats and planes brings some unique twists to the gameplay. The vehicles all handle fairly well, especially the plane. The bots can be kinda hit or miss, and were my least favorite part. I was just glad that the water looked real nice, so there's that. Flying or driving into the sunset is a visual treat, and there's a good variety in the landscape to keep you engaged for a good long time. Even outside of events, it;s fun to simply go around, complete random challenges and take in the sights. I only wish that they had added a little more life to the city, and made it feel a bit more lived-in, but since you mostly zoom past everything at high speeds, it's not all that noticeable.
Another aspect that sets the "fun" tone for this game is the ability to switch out vehicles on the fly. You can switch between a car or a plane or a bot on the fly, and it's a neat gimmick that doesn't get old. Imagine flying low over skyscrapers, switching to a car and dropping on to the highway, and then jumping off the pier into the sea while switching to a boat, and then switching back to a plane and taking off again. It's really smooth and feels great. The very fact they they don't add a lot of nuance and realism here, instead of choosing to keep it simple and fun for the players is really appreciable.
As you take part in races and events, you unlock upgrades that drop in the form of loot in the world. It's a familiar system that works well. The customization options are not too deep, but enjoyable to tinker with and get your head around.
Playing with friends is the way to go, and jumping into online events is easy. They do not have a PVP mode yet, but it's coming soon in an update.
The Crew 2 is a fun racing game with great variety, both in terms of vehicles and driving terrain. The online components are strong with more coming soon. If you are looking for a good racing game to get into with friends, The Crew 2 is worth a buy.