Transcend Information, Inc. (Transcend®), a leading manufacturer of storage and multimedia products, is proud to announce the release of its DrivePro Body 20 and DrivePro Body 52 body cameras. Both cameras feature 1080P Full HD video recording, a built-in Wi-Fi function, a snapshot button, long battery life, and non-removable 32GB internal storage with high-quality MLC flash chips. Transcend's DrivePro Body 20 and DrivePro Body 52 body cameras are both shock and IPX4 water resistant, ideal for military, government, law enforcement, and private security. In addition, Transcend is also releasing a 6-port docking station to streamline multi-camera management, file upload, and charging.
DrivePro Body 20 and DrivePro Body 52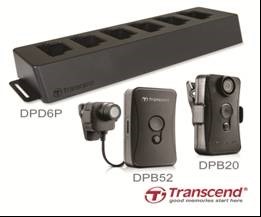 Designed for military, law enforcement, and private security applications, Transcend's DrivePro Body 20 and DrivePro Body 52 body cameras are the clear choice for rugged, secure, and dependable evidence collection with exceptional picture quality. Both cameras feature 1080P Full HD video recording, large aperture, wide-angle lens, and a convenient snapshot button. In addition, both cameras boast built-in Wi-Fi for live-streaming on mobile devices via Transcend's exclusive DrivePro Body app, available for both Android and iOS devices. The Transcend DrivePro Body 52 features a compact camera unit attached via a flexible 1.2 meter cable to the main unit, allowing for a wide variety of wearing options. A 360° rotating clip mount and a Velcro mount are bundled to accommodate multiple camera mounting requirements, and a high-quality belt holster is also included to hold the DrivePro Body 52's main unit.
Multifunctional Docking Station
For users with multiple DrivePro Body 20 and DrivePro Body 52 body cameras, Transcend's 6-port docking station offers an optimized camera management solution. The dock is equipped with an auto upload function*, capable of automatically uploading recorded files while charging. Users can also daisy chain up to 3 docking stations in series using just one USB port on a workstation, allowing up to 18 cameras to charge and upload at the same time, increasing efficiency and reducing downtime.
*DrivePro Body Toolbox is required to use this function.
Exclusive DrivePro Body Toolbox
Transcend's DrivePro Body Toolbox is exclusively designed for the DrivePro Body series, featuring a user-friendly interface to manage recorded videos and snapshots on Windows OS. In addition, Transcend's P-model body cameras—DrivePro Body 20P and DrivePro Body 52P—are advanced security models for applications that require stringent data security. For P-model body cameras, DrivePro Body Toolbox provides additional data security to prevent unauthorized access to or tampering of video recordings.
Warranty
Transcend's DrivePro Body 20A/ 20P, DrivePro Body 52A/ 52P, and 6-port Docking Stations are all backed by Transcend's Two-year Limited Warranty.
About Transcend
Transcend is a globally recognized leader in the manufacture of storage, multimedia and industrial products. Established in Taiwan in 1988, Transcend offers a full line of standard and proprietary memory modules, car video recorders, Apple solutions, flash cards, USB flash drives, portable hard drives, solid-state drives, digital music players, card readers, multimedia products and industrial products. Transcend has established offices in the United States, the United Kingdom, Germany, The Netherlands, Japan, Korea, China and Hong Kong. As a customer-focused company, Transcend has the ability to quickly respond to the market's changing needs. For more information, please visit http://in.transcend-info.com
And for more news and reviews, keep checking back at Gaming Central.