If you thought good games were exclusive to PC and consoles, you were wrong. Here's the Part 2 top 10 ten PC games you can play on your smartphone. You ca also check out the Part 1 here.
Superbrother: Sword & Sorcery  EP
Another action adventure game, with a unique art and sound design. Built in social media tools for getting help from friends adds an interesting layer to the game. Oh, and the music by Jim Guthrie is just fantastic.
Kathy Rain
As she investigates the death of her recently deceased grandfather, Kathy Rain, a young journalism major, gets pulled into a mystery involving her hometown.
Yesterday
As homeless people start mysteriously disappearing in New York, Henry White and John Cooper set about to uncover the truth. As their lifeless bodies start being discovered, while a Y-shaped scar appears on the hands of seemingly unrelated people, you cross paths with John Yesterday. With a dark tone, and unique presentation style, Yesterday tells a riveting tale, wrapped up in an excellent adventure style gameplay.
Banner Saga
An epic role-playing game set in the Viking lore, where you choices impact the story and your overall journey. As you make allies and choose who to help, you will be fighting a threat to the entire civilization. Not everyone survives the journey, but none will be forgotten.
Gemini Rue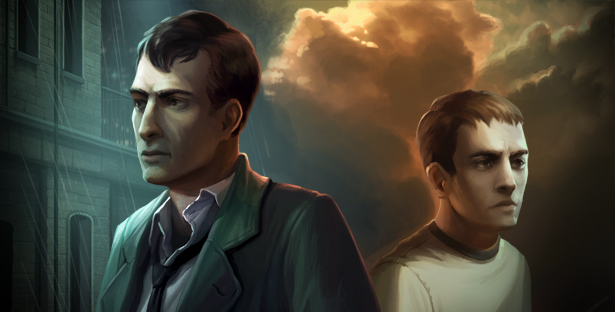 An assassin, a man with no memory, and a god forsaken planet. Things have gone horribly wrong, and you can't trust anyone. The fate of the galaxy depends on you, what will you do?
A Normal Lost Phone
You've just come upon a normal lost phone. As you go through the phone, and learn about the owner and their friends, and the mysterious circumstances under which they disappeared.
Planescape Torment: Enhanced Edition
Another highly acclaimed old-school RPG makes its way to smartphones. You play as the Nameless One, covered in scars and tattoos, without any memory of how you acquired them. Join companions, and set about uncovering the answer to a singular question – "What can change the nature of a man?"
Apollo Justice Ace Attorney
Set seven years after the events of the previous games, you play as Phoenix Wright, who has been stripped of his badge. Set about uncovering mysteries, and clearing your clients of their charges.
Bully Scholarship Edition
Ever wondered what would it be like if Rockstar made a game based on an average kid's school life? Well, it would be exactly what Bully is. Oh, and Jimmy is no average kid. Sit through classes, learn Maths, English, Science, and more. Stand up to jocks, get the girl you never dreamed of, and rise the social ladder of Bullworth Academy.
Invisible, Inc.
As agents for Invisible, Inc., you'll break into some of the world's most dangerous corporations. Tactics take priority as you use stealth, precision, and teamwork to your advantage.
Check out the Part 1 of Top 10 PC Games You Can Play On Your Smartphone. We have more games curated for an upcoming list, so keep an eye out for that.
Register with us for the best in gaming, and join us for video game discussions on our forums.