Whether you're lazing in bed, or sitting on the toilet, or waiting for the metro, there's nothing better than a few good video games to keep you company. Well, instead of just a few, here are the top 50 best smartphone games you should be playing right now. Also, this is Part Two of a five part list, and you can check out Part One here.
Old Man's Journey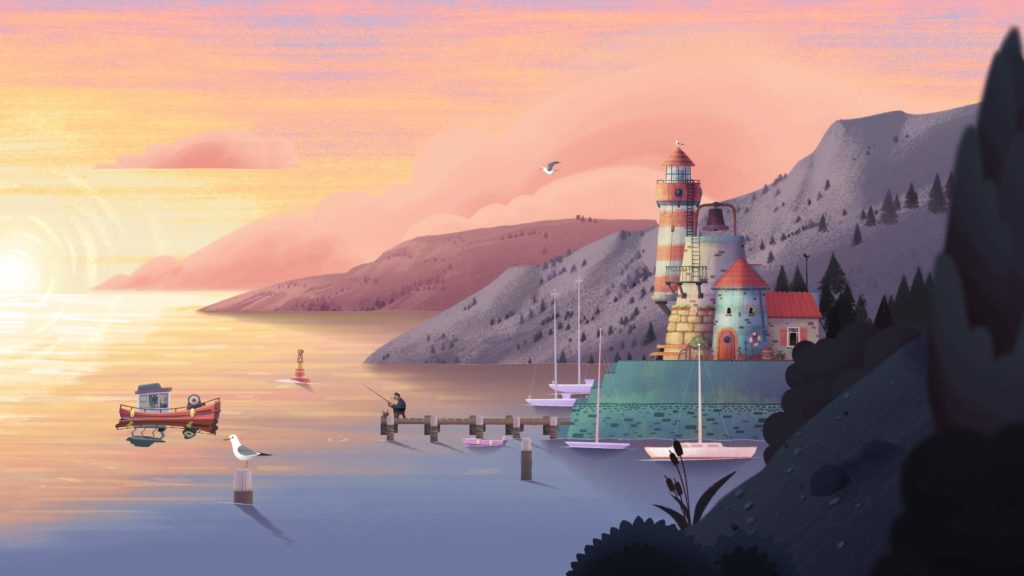 Immerse yourself in a visual narrative as you uncover stories of the old man's life told through beautiful vignettes of his memories. Interact with the serene, whimsical environment as you solve playful puzzles and shape the landscape around you, growing the hills to create the old man's path forward.
Oxenfree
Oxenfree is a supernatural thriller about a group of friends who unwittingly open a ghostly rift. Play as Alex, a bright, rebellious teenager who brings her new stepbrother Jonas to an overnight party on an old military island. The night takes a terrifying turn when you unwittingly open a ghostly gate spawned from the island's cryptic past. How you deal with these events, your peers, and the ominous creatures you've unleashed is up to you.
The Escapists
You've landed yourself in prison again, and your only chance is to engineer an escape by any means necessary. How you do it is up to you! Why not cause a prison riot? Or dig a tunnel right under the walls of the prison? Or even steal a guard uniform to blend in with your captors?
Slayaway Camp
A diabolical puzzle game that also happens to be a bloody tribute to the VHS era of videotape horror! No one is safe… no law enforcement enforces the law enough… and no animals or children are harmed… in the summer horror hit of 1984.
Reigns
Sit on the throne as a benevolent (or malevolent) medieval monarch of the modern age and swipe your royal fingers either left or right to impose your will upon the kingdom. Survive the seemingly never-ending gauntlet of requests from your advisors, peasants, allies, and enemies while maintaining balance between the influential factions of your kingdom. But beware; each decision you make might have implications and unfortunate consequences down the road that could put your reign and family's dynasty at risk!
The Pavilion
Pavilion, the fourth-person puzzling adventure from Visiontrick Media, throws you directly into its mysterious world without any text tutorials or beginning explanations. It is a puzzle game portrayed through exploration and audio-visual imagery. By interacting and observing you gradually, bit by bit, learn things about both the puzzling gameplay and the world itself.
Edo Superstar
Edo Superstar is a lightning-fast action-RPG set in medieval Japan. You play as a monkey named Masaru. Masaru is a small-town kid with big dreams. He wants nothing more than to become Japan's greatest star. At the start of the game, Masaru joins the Shiga Ninja Clan and learns to fight, hoping it will boost his reputation. However, he soon realizes that the Clan works only in secret; not a good fit for a star-struck monkey!
Spin Addict
Spin Addict is an electro-mechanical, painstakingly designed runner with unusual game mechanics. You'll have to literally constantly turn the world around to achieve your goals.
GlitchSkier
Glitchskier is the new action game by Shelly Alon, the developer who brought you Partyrs and Sputnik Eyes.
Causality
Causality is a puzzle game about manipulating time, altering the sequence of events and changing the outcome of each level. Set across strange and alien landscapes, help a group of stranded astronauts find a route to safety. Travel through time, work with your past selves and solve paradoxes as you take on this uniquely challenging puzzler.
Also, this is Part Two of a five part list, and you can check out Part One here.
Register with us for the best in gaming, and join us for video game discussions on our forums.