A desktop PC requires space, sometimes a lot of it. A desktop PC isn't portable, you can't carry it to your friends' places like you can do with a console or a laptop. But not anymore.Today we introduce you to the XRig X1 gaming desktop, which fits the high-grade performance of a PC into a compact form factor of a console, giving you the best of both worlds. Let's take a look at the specs.
Tech Specs
| | |
| --- | --- |
| Model | X1-01 |
| Processor | Intel Core i3-7100 |
| RAM | 8GB 2400MHz DDR4 |
| Graphics Card | GTX 1050Ti 4GB |
| Storage | 1TB HDD |
| Ports | USB 3.0, USB 2.0, HDMI, DP, DVI, LAN Port, VGA |
| PSU | 450W |
| Exhaust Cooling | Noctua 140mm 3000RPM fan |
| | |
The X1 PC comes in three variants, of which we have the X1-01 that falls in the entry-level segment. It is powered by an i3-7100 processor with 2 cores/4 threads, along with a GTX 1050Ti graphics card. There is 8 gigs of DDR4 RAM, and a 1 TB HDD to take care of the storage.
It's hard not to fall in love with the X1, thanks to the careful craftsmanship and the polished design. The silver looks are classy and it feels nothing short of a premium piece of equipment with its brushed aluminium finish with and the glossy XRig logo on the front. The system is highly compact and can fit in any small corner on your table. It also comes with a separate bag making it incredibly easy to carry around. Just pop it in, and off you go to a LAN party or a friend's place to have a good time. It is, however, a bit sharp around the edges, so you might need to be a little careful.
On the connectivity front, the X1-01 provides all the options you'd expect from a full-size desktop. On board, there are two USB 2.0 ports, two USB 3.0 ports, one LAN port, a VGA port, 3.5mm audio ports and two PS/2 ports (these things still exist?). The graphics card has one HDMI port, one Display port and one DVI port to power up the display. The front panel has one USB 2.0, one USB 3.0, two audio ports and the power switch that lights up. I would've liked to see a USB 3.0 port instead of the 2.0 on the front panel as it's easier access for external storage devices, but as this is an entry-level system, some compromise is expected.
Performance and Benchmarks
Now, with an i3-7100 CPU and a GTX 1050Ti, you can't expect to play all the latest games on the highest settings, but that doesn't mean it fails to impress in the benchmarks. Also, as this not a high-end system, it caters more to the people who like to play e-sports titles but have a tight budget. Take a look at the numbers yourself. Note that AA and VSync were turned off for all the in-game benchmarks.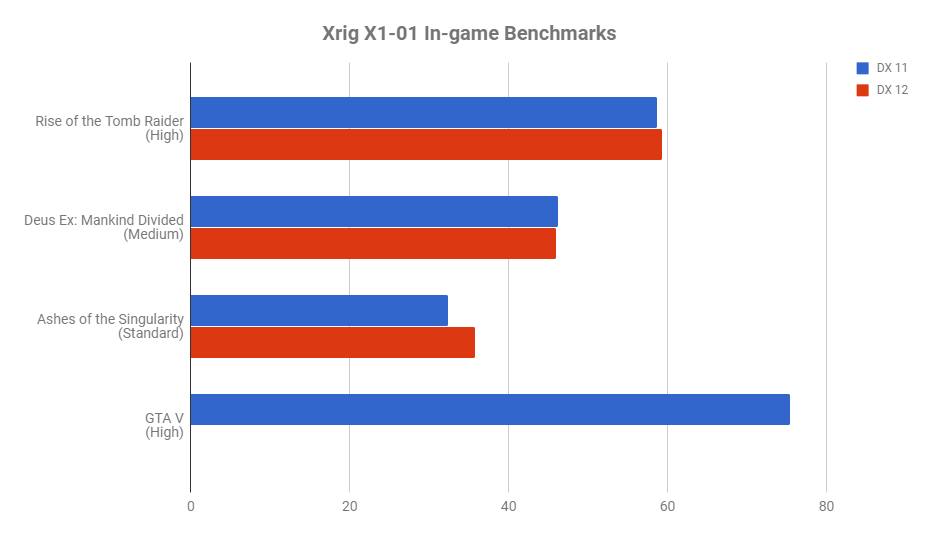 Starting up with Rise of the Tomb Raider, we obtained an average of 58.71 FPS while running the game on the High preset on DX11. Upon switching to DX12, there was a slight increase and the average framerate went up to 59.35 FPS.
Deus Ex: Mankind Divided gives the best of graphics cards a hard time, but we were thoroughly impressed with the X1-01's performance. Running on the Medium preset, we obtained an average framerate of 46.2 FPS on DX11 which dropped a little after switching to DX12, to 45.9.
Testing Ashes of the Singularity on the Standard preset, the system gave an average of 32.3 FPS on DX11 and 35.8 FPS on DX12. We also ran the in-game benchmarks for GTA V with almost all settings on Very High, and were able to obtain an average framerate of 75.34 FPS, though there were some texture pop-in issues in some areas. But the overall gaming performance of the X1-01 is commendable.
We also ran a bunch of other games, including CS:GO and DOTA 2 which run almost flawlessly on the system. Even in Destiny 2 we were able to obtain a stable playable framerate between 45-60 FPS on a mixture of Medium and High settings. Needless to say, when it comes to gaming, the X1-01 is a little more than just an entry-level PC.
The general performance of the X1-01 is great as well, with the CPU obtaining a result of 159 and 364 (single-core and multicore) in Cinebench R15 benchmarks and 401.8 and 1163 (single and multi-core respectively) in that of CPU-Z.
The biggest issue that one faces with such a compact form factor is thermals. But the 140mm Noctua fan on the base does a fine job of cooling the system, with the GPU temps sitting comfortably below 50C during all our in-game benchmarks. However, we did see the CPU temperatures approach 90C at a point while testing. You might be able to get more favourable results by tweaking individual settings, but the stock CPU cooler could be better. The system is not super silent under loads either, but the noise isn't high enough to cause any discomfort or problems.
The Verdict
At a price point of INR 51,990/-, the XRig X1-01 is a great custom PC that gives you good performance in an amazing form factor. The small size means you can set it up in almost any place in your home without a hassle, and move it around whenever you need to. It's perfect for those weekend FIFA sessions at a friend's house, or a CS:GO LAN party you may want to attend. Even while travelling to another city you can carry it without any issues. If you're low on room or budget and want a PC with looks as impressive as its performance, this is it.
Register with us for the best in gaming, and join us for video game discussions on our forums.