AMD has been creating a real hype with its Ryzen range of processors, and with our reviews of the Ryzen 7 series we found out that these are indeed a boon for content creators who want to use their PCs for more than just gaming. For anyone who's been living under a rock, here's a small refresher: The Ryzen CPUs are based on the new AMD Zen architecture and the AM4 socket, the direct successor to AMD's Piledriver based FX processors with the AM3 & AM3+ sockets released over five years ago.
Today we have with us the Ryzen 3 1300X and 1200, which complete the Ryzen circle, being the entry-level processors you can get on a tight budget. Both processors come bundled with Wraith Stealth coolers, so that's an added benefit.
Tech Specs
| | | |
| --- | --- | --- |
| CPU | 1200 | 1300X |
| Cores | 4 | 4 |
| Threads | 4 | 4 |
| Socket | AM4 | AM4 |
| Base Clock | 3.1 GHz | 3.4 GHz |
| Boost Clock | 3.4 GHz | 3.7 GHz |
| TDP | 65W | 65W |
| | | |
The Ryzen 3 1300X  of a base clock speed of 3.4 GHz with a boost clock of up to 3.7 GHz, while the 1200 has a base clock speed of 3.1 GHz and a boost clock of 3.4 GHz. The new Zen architecture makes use of the 14nm FinFET Technology, which is much more powerful than its predecessor's 32nm SOI manufacturing process.
The AM4 socket will feature about six chipset options, including the X370, B350 and X300 which will allow for unlocked overclocking of any Ryzen CPU.  Additionally, Ryzen finally brings DDR4 support for AMD CPUs, which remain to be dual-channel.
Test Setup and Benchmarks
Our test setup for benchmarking the Ryzen 3 1300X and 1200 consisted of the following components:
Motherboard: ASUS ROG Crosshair VI Hero AM4 AMD X370
Memory: EVO X Hardcore Gaming Memory DDR4 3200MHz
CPU Cooler: Wraith Stealth
GPU: NVIDIA GTX 1080 Founder's Edition
SSD: Samsung EVO 250 GB
The X370 is the most high-end chipset for the Ryzen processors, where the X stands for Xtreme. It supports multi-GPU rendering (Crossfire and SLI) with two PCI-E slots (Gen 3.0). It supports overlocking as well and is basically the chipset that corresponds to Z170, Z270 and X99 for corresponding Intel counterparts.  The mainstream version, the B350 chipset is a little more generalized, offering full performance, but less tweaking options. However, both of these offer support for the following, making sure both regular users and enthusiasts get the best out of their motherboards:
NVMe
Dual-channel DDR4 memory
M.2 SATA devices
PCIe 3.0 capability
USB 3.1 Gen 1 and Gen 2
CineBench R15 Single-Core
CineBench is a cross-platform benchmarking suite based on Maxon's animation software Cinema 4D. It's a comprehensive test that evaluates your PC's performance capability. The test uses of all of your processing power to render a photo-realistic 3D scene, making use of  different algorithms to stress all available processor cores. It consists of tests for both single-core and multi-core performance, and gives the final answer in the form of points, the higher the better.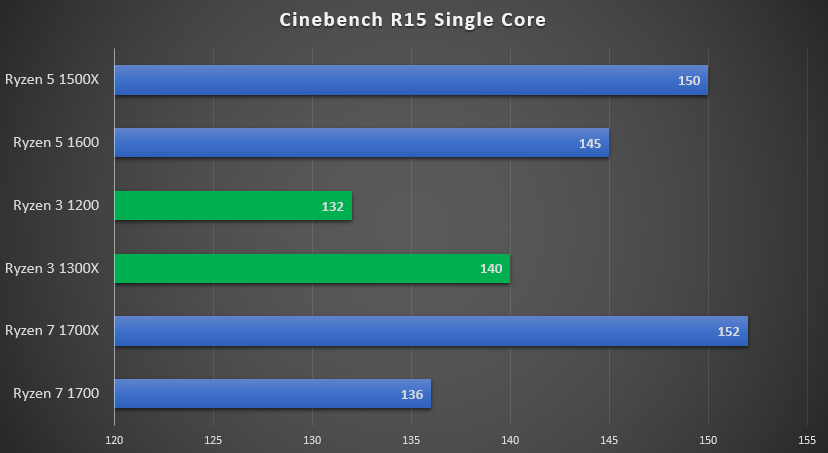 CineBench R15 Multi-Core
CPU-Z Single-Core Performance
CPU-Z is a simple and incredible tool that offers you information about your system and processor. Recently, it was updated with a benchmark tool, which is incredibly easy-to-use and tests RAW CPU performance, for both single-threaded and multi-threaded core performance. It's quick and and offers an easy way to view your processor's performance.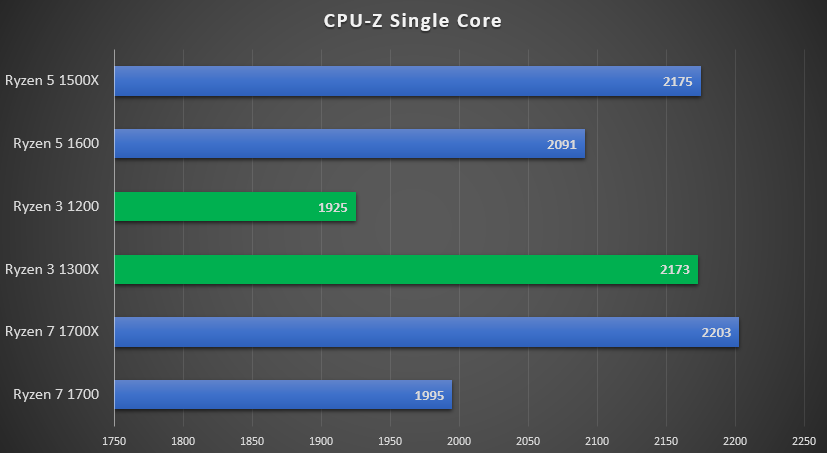 CPU-Z Multi-Core Performance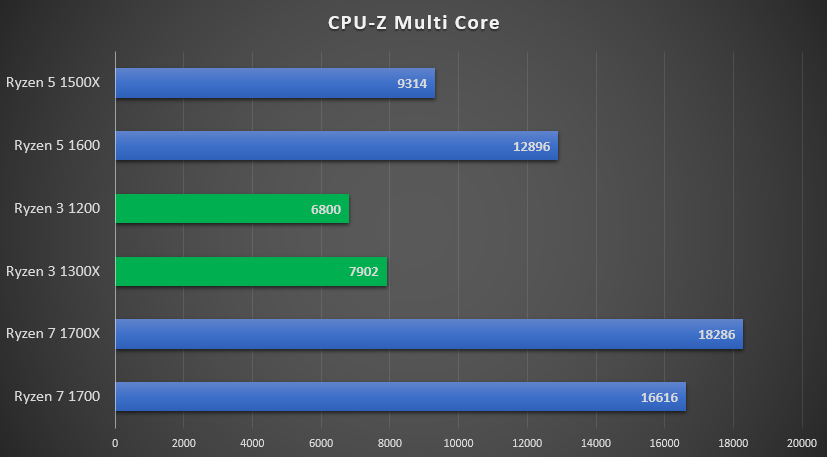 In-game Benchmarks
The following titles were chosen to test the processor's gaming prowess:
Watch Dogs 2
Deus Ex: Mankind Divided
Rise of the Tomb Raider
All the games were tested at the highest preset (Ultra/Very High) with AA and VSync off. The following benchmarks were obtained at 1080p.
The Verdict
While the numbers are impressive, gaming performance of Ryzen processors still leaves a lot to be desired. Not to mention that not all games have been optimized for the Ryzen processors and DX 12, which can lead to better utilization of multiple CPU cores. The Ryzen 3 1300X and 1200 make an excellent choice for people just looking to get started with PC gaming on a budget, as the performance is great and it doesn't put a huge dent in your pockets.
Register with us for the best in gaming, and join us for video game discussions on our forums.