The wait is over. NVIDIA's little brother to the GTX 1080 is out and we couldn't wait to try it out. The GTX 1070 is a little toned down version of the 1080, and hence more affordable as well. More and more people want to know about it as the GTX 1080 might shoot their budget out of the comfort zone, so here we are with a quick review for the GTX 1070.
| | |
| --- | --- |
| Streaming Multiprocessors | 15 |
| CUDA Cores | 1920 |
| Base Clock | 1506 MHz |
| GPU Boost Clock | 1683 MHz |
| Total Video Memory | 8 GB |
| Texture Units | 120 |
| Memory Clock | 4006 MHz |
| Memory Bandwidth | 256 GBit/s |
| Bus Width | 256 Bit |
| ROP | 64 |
| Manufacturing Process | 16 nm |
| TDP | 150 W |
Like it's elder counterpart, the GTX 1070 is based on the new Pascal architecture. But instead of 2560 CUDA cores, it has about 1920 cores. Add to that 6.5 teraflops of computing power and 8 GB of DDR5 memory, and you have a pretty powerful card. The card is roughly 27 cm in length, so it should be able to fit in any decent cabinet. It uses the conventional vapour chamber cooling. The heatsink is made up of cast aluminium and injection moulded magnesium alloy. In addition to being a good conductor of heat, it also helps in isolating noise.
The card looks quite great as well, with a similar design to previous cards. However, there a few subtle changes, with the cooler shell being decorated by triangles. The back of the card, as you can see, has a two-part backplate. Though we don't know what the effect this has on the heating aspect, we would've liked to see some meshes and airflow vents.
The card offers five display ports, out of which 3 are DisplayPort connectors, one DVI port and one HDMI port. It offers support for 4k display at 120 Hz and 5k displays at 60 Hz. Up to 4 display heads can be powered through a single card.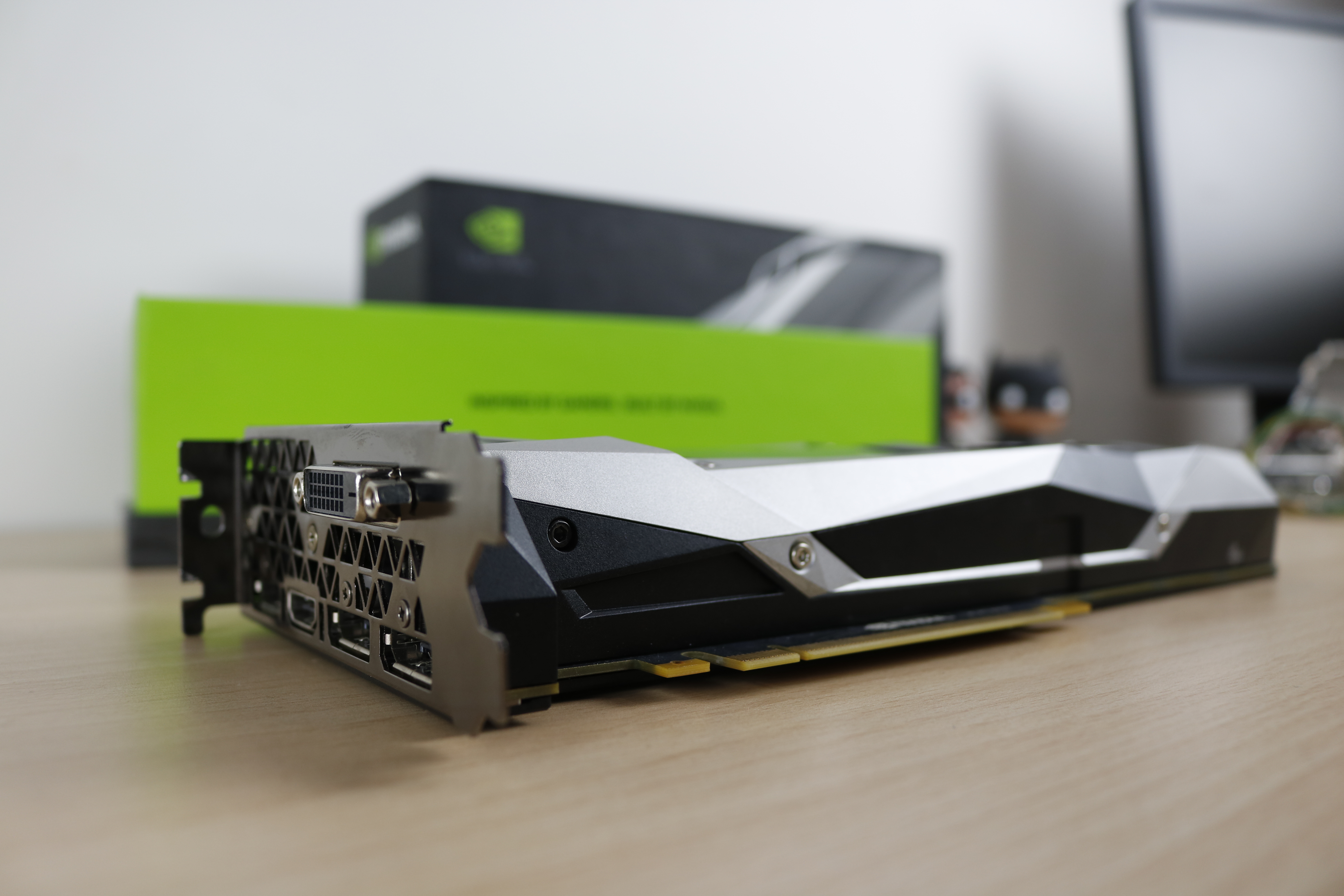 Talking about performance, the card certainly exceeded our expectations. For Fallout 4, the game ran at an impressive 129 FPS on 1080p, 85 FPS for 1440p and 46 FPS for 4K with all settings on max.
The performance in DOOM was even better with the card maxing out at 142 FPS at 1080p, 91 for 1440p and and 46 at 4K with all settings at ultra.
The card lacked a little oomph when it came to The Witcher 3: Wild Hunt, with framerates of about 83 FPS at 1080p, 65 at 1440p and 39 at 4k display with settings on max and the terribly optimized HairWorks turned off.
All in all, the GTX 1070 is an impressive card and makes the perfect successor to the GTX 970. So get ready for an amazing gaming experience. For people looking for a powerful GPU at a good price, it doesn't get better than this. Moreover, this is just the Founder's Edition. We'll also get to see more versions and designs of the GPU coming from Gigabyte, MSI, EVGA and the rest. With its impeccable performance and overclocking capabilities, the GTX 1070 will be the perfect addition to your gaming rig.  
For more news and reviews, keep checking back at Gaming Central.