VR is one of the biggest trends right now, and with great virtual reality, comes a greater wired connection. Fortunately, we are there's an emerging tech that aims to take care of these issues and make VR a less limited medium – VR backpack PCs. Today, we review one of the first such systems available for the enthusiasts, the MSI VR ONE. Let's take a look at the specs.
The highly portable backpack comes with an i7-6820HK processor and a GTX 1070 8GB graphics card. It has up to 32GB DDR4 RAM and a 512 GB SSD. With its light weight, shape and form factor, it seems much akin to a gaming laptop, but the lack of a display unit, trackpad and keyboard means that it's much closer to a desktop PC. It has two batteries which claim to give more than 1.5 hours of continuous VR fun when fully charged, which one more than enough time that anyone can spend without taking a break when using VR.
Virtual Reality has taken over the gaming and entertainment world by a storm, but it is still very limited in terms of space and usability. The biggest limitation faced by headsets like the HTC Vive or the Oculus Rift is the horde of wires that needs to be attached and maintained. VR is best experienced when it is room-scaled, and these wires tethered to your stationary system make it far from ideal. Sure, wireless VR is on its way, but who knows how long it will take before the performance is well optimized?
This is where these VR backpacks come in. They aim to provide you a close to ideal room-scale experience, one where you're not limited by the wires connected to your PC. However, with no integrated display or keyboard (or any other input device for that matter), the VR One is way different than an experience that you would have with a VR ready laptop strapped to your back.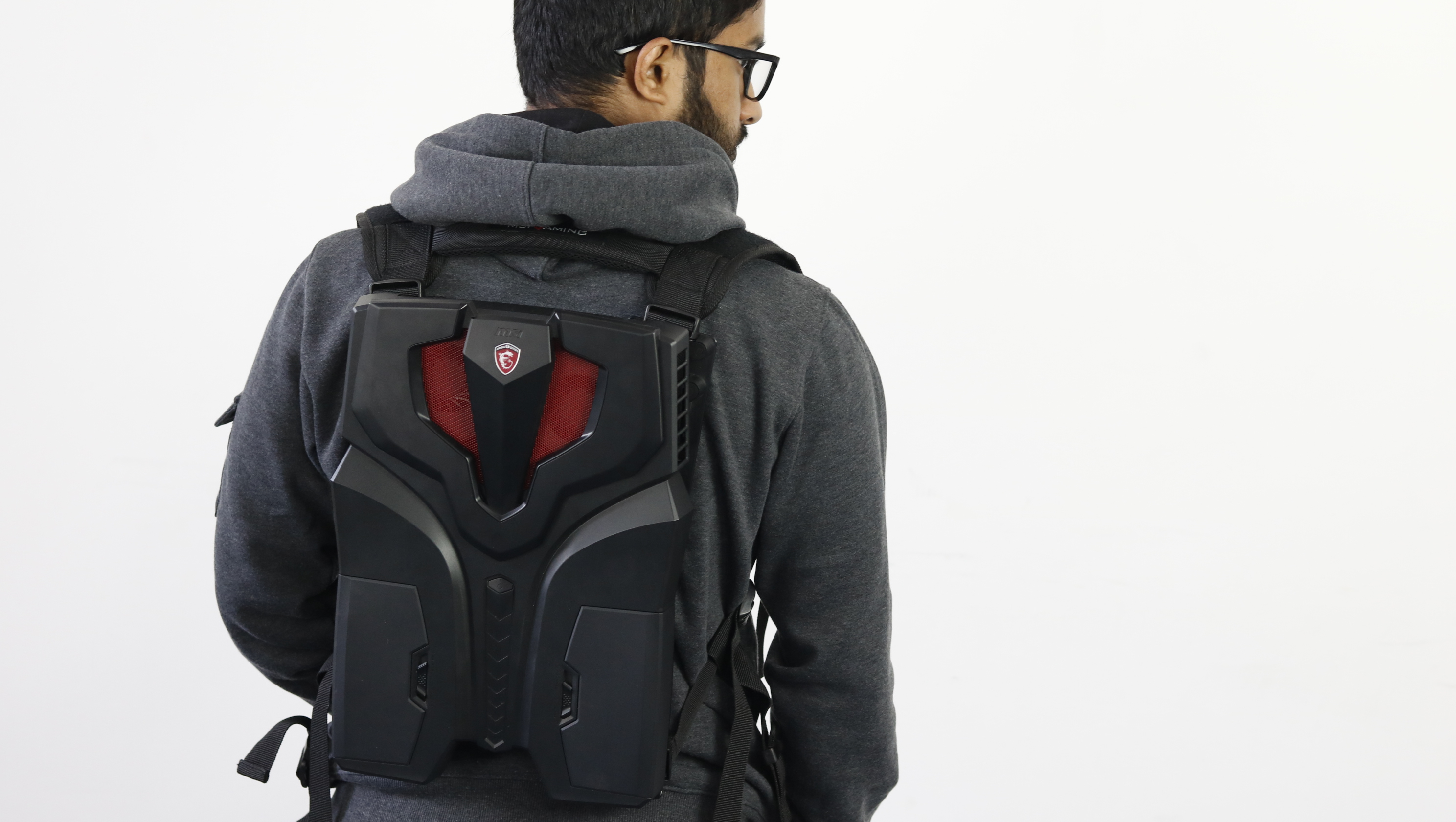 The VR One comes in a very convenient form factor with detachable straps. It weighs about 3.6 kgs with the batteries, and still remains very comfortable to use even for extended periods of time. The lightweight metal frame supporting the system and the straps help distribute the weight evenly. There's a fair gap between your back and the backpack itself to make sure your back doesn't get hot.
The backpack comes with a charger that can be plugged in to the bottom of the device. On the top you have four USB 3.0 ports, one Thunderbolt, one Mini DisplayPort, 3.5mm jacks and a power jack for the VR headset. Meaning? You can plug all of the Vive's 3-in-1 cable pack directly into the backpack. Here's to cordless VR! It lacks a LAN port, but has a Killer 1535 WLAN chip for wireless network access and bluetooth. If you desperately need to connect using LAN, you need to get a USB to LAN converter.
MSI VR One also boasts of dual batteries that claim to provide 1.5 hours of VR fun when fully charged. These can be hot swapped and charged using an external dock. However, this dock is not included in the box and needs to be purchased separately.  You can also get an extra set of batteries for extended usage.
First Time Setup
Like mentioned before, the VR One Backpack is much closer to a desktop in terms of operation, though it's shape and build make it more resistant to bumps than laptops. But setting this up can be a bit of a hassle. To do anything on the device that you can't do in VR, you need to plug and re-plug quite a bunch of stuff. Couple it with the fact that VR is still in its nascent stages and needs frequent troubleshooting, and you can begin to understand why it can get frustrating.
For first time setup, we had to connect the keyboard, mouse and monitor, boot it up, sign in to Steam and run Steam VR. Fortunately, we had the Oculus Rift, which is much easier to set up than the HTC Vive. Once Steam VR was running, we disconnected the keyboard, mouse and monitor and connected the Rift to start playing. But then we got an error. So we had to unplug the headset and reconnect all the other peripherals, only to change a couple of settings in Oculus and click OK in a few dialogue boxes. Then, we needed to disconnect the peripherals and connect the headset again. I think our patience was well tested.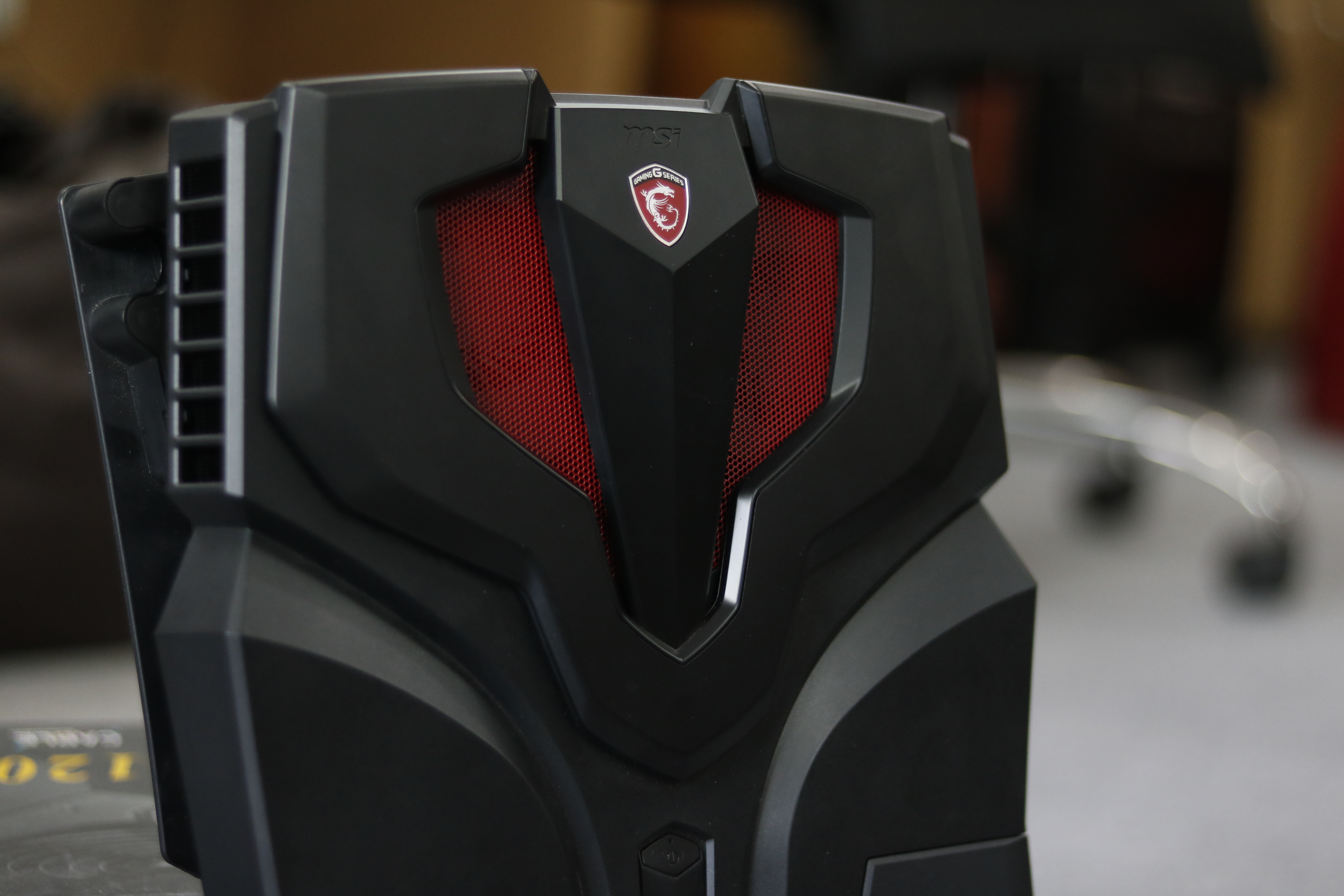 In order to use both a monitor and a VR headset simultaneously, you either need to get a Mini DisplayPort or set up Remote Access so you can troubleshoot using a second system.We opted for the latter, as we did not have a mini DisplayPort cable or adapter.
The good thing is, once you have the right tools, it's smooth sailing there onwards. Well, apart from the occasional trouble with the VR device. But the backpack itself is quite a remarkable piece of technology, as you will see from the benchmarks.
Benchmarks
The i7 processor and the GTX 1070 GPU make the VR One a powerful device, and if you get rid of the straps, you can also use it as a really cool looking desktop (it's almost like something out of a sci-fi movie, and we love it). Mind you, though, monitor and other peripherals not included in the box (drats!). Naturally, like a bunch of geeks we ran a few games to test the system's performance. I mean, it's a gaming computer. Come on.
First in line was Ashes of Singularity. Running the game on the Crazy preset (AA off), the backpack had an average FPS of 46 on Directx 11, while with the same settings on Directx 12, we got and average framerate of 48 FPS.
Next up was Deus Ex: Mankind Divided. We ran the game on the Ultra preset (again, MSAA off) and got an average 56 FPS on Directx 11. When we ran the game on Directx 12, the backpack gave an amazing average of 59 FPS.
We also tested Rise of the Tomb Raider on the Very High Preset with MSAA  and PureHair off. Here the GTX 1070 powered system ran the game with an average FPS of 100 on Directx 11. On Directx 12, the backpack left us thoroughly impressed with an average framerate of 109 FPS.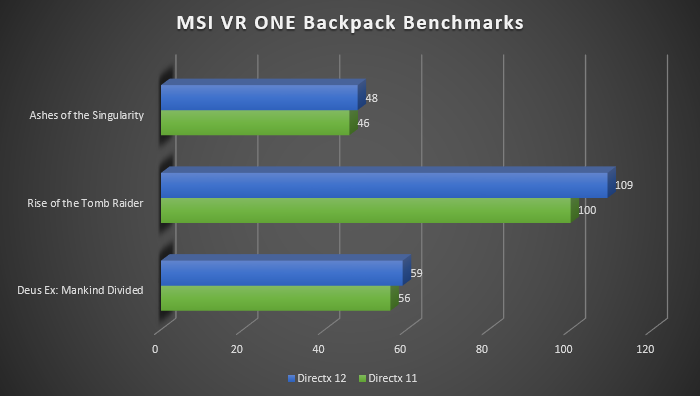 The backpack comes with all the ports needed to plug in the VR headset, so all your cables stay neatly tucked instead of dangling around, which ends up having a huge impact of the level immersion. We had access to an Oculus Rift (thanks to the good folks at G2A), although we think that the VR One's capabilities will better benefit the HTC Vive as it involves more movement. The cord-free experience that the backpack provides is exhilarating and it feels nice to have a near-complete freedom of movement. Couple that with the fact the the games run on the GTX 1070, and you can understand why Manas didn't want to let go.
In a trouble(shooting)-free world, the VR One would make the ideal device for all your VR needs. Nevertheless, whether your reality is virtual or otherwise, MSI's backpack PC is a very powerful device and packs much more than it shows.
The Verdict
If you go through the official MSI VR One website, you'll see that the applications listed for the device go far beyond gaming, and include online shopping and virtual tours as well. After spending some time with the backpack, it's hard to recommend it for just gaming. The cord-free VR experience is a delight, and it's fun to have room-scale VR without tripping over a wire every few minutes, but you need to keep in mind that the device, in addition to being wireless, is also screenless. For people who have the know-how for troubleshooting and are hardcore enthusiasts, this is a great piece of tech. But for someone who's new to the world of VR and is still learning the ropes, it might be a tad complicated.
However, the VR One could have could open up a world of possibilities for emerging VR businesses. Virtual Reality demos are gaining a lot of popularity, and this kind of backpack can give the sector a huge boost. Additionally, it can make things much easier for VR game and experience developers, giving them the much needed portability to showcase their work wherever they go. It also makes an excellent device for tech shows. With one person dedicated to controlling the system to launch games and troubleshoot through remote access, the user never really needs to take off the headset to do anything. That is where the VR One becomes highly appealing.
For more news and reviews, keep checking back at Gaming Central.