HP made finally launched the Omen series of gaming laptops last year. And while we reviewed the Omen 17 earlier, HP has refreshed the model with a new, better design, one that's bound to be much more appealing to gamers. Let's see how it compares, shall we?
Tech Specs
| | |
| --- | --- |
| Processor | Intel Core i7 7700HQ |
| RAM | 16GB DDR4 RAM |
| Graphics Card | GTX 1070 8GB |
| Display | 1920 x 1080 Full HD IPS 120Hz |
| Storage | 256GB SSD + 1TB HDD |
| Ports | USB 3.0, USB Type-C, 3.5mm jack, SD Card Reader, LAN, HDMI |
HP has upgraded the older model with a better processor, replacing the i7 6700HQ with the latest i7 7700HQ processor. Accompanying that is a GTX 1070 GPU along with 16GB DDR4 RAM. There's a 256GB SSD that has enough space for an OS and a couple of games, and for the rest of your storage needs, a secondary 1TB 7200RPM HDD does the job. Now, the model we reviewed earlier came with a 4K display, however, in this one we have a full HD 1080p panel with a refresh rate of 120Hz.
While the older model was a beast, its design and looks were more similar to an HP Pavilion series laptop. Well, that's no longer the case. The new model features a much more angular and cutting edge design, though it still retains the black and red theme. The lid has a hard textured matte in carbon fibre with the bright red Omen logo sitting in the middle, in a cross of red streaks. The two side hinges are replaced by a longer, central one with big exhausts on both sides. It still looks, and is quite bulky, but if you're going for a 17-inch laptop, that shouldn't come as a huge surprise.
On the port side things seem to remain mostly unchanged. On the left, there's an HDMI port, one MiniDP, the LAN port, one USB 3.0 port, one USB Type-C, two 3.5 mm audio ports and an SD card reader, while on the right you can find two more USB 3.0 ports along with the charging port. Now, one complaint I have here is that three USB 3.0 ports don't really seem enough, especially if someone wants to use an external gaming keyboard and mouse.
Another area of improvement is the keyboard. The keys are better placed and bigger, making the keyboard a delight to use. Moreover, the WASD keys are now highlighted and have a white backlight instead of a red as the rest of the keyboard. Clearly, HP wanted to go bold with the redesign, and it seems to have worked out quite well. There are additional macro keys on the left side of the keyboard which adds another layer of functionality. The trackpad is better as well, which comes with separate buttons this time making it even more comfortable to use.
Performance and Benchmarks
The Omen 17 is a beast of a laptop. The i7-7700HQ and GTX 1070 combination makes sure you can breeze through most of the latest games without a hassle. Take a look at the numbers for a better idea.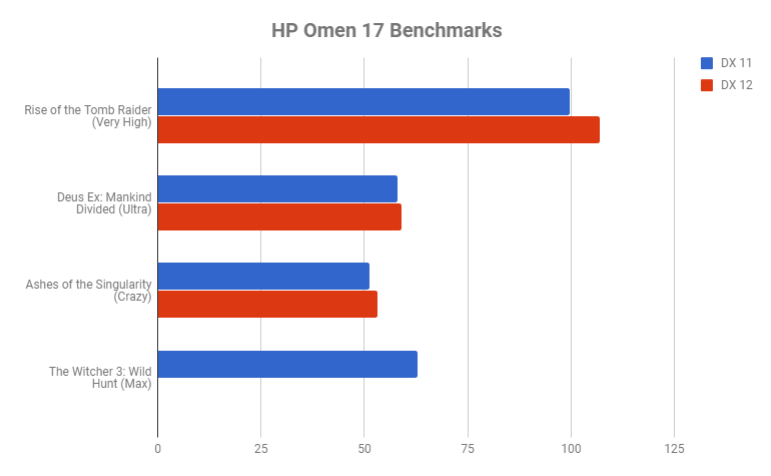 First up was Rise of the Tomb Raider. Testing the game on Very High Preset with AA and Vsync off, we were able to get an impressive 99.8 FPS on DX 11 which went up to 107 FPS on DX 12.
Next we tested Deus Ex: Mankind Divided. Now this title is generally one of the most taxing when ran on Ultra preset, for the Omen that wasn't a big deal. With AA off, we got an average 58 FPS on DX 11 and 58.9 FPS on DX 12 at 1080p.
The results for Ashes of the Singularity were impressive too. Running the game on the Crazy preset, at 1080p we observed an average framerate of 51.3 FPS on DX11 and 53.2 FPS on DX 12.
The fourth title we ran was the open world RPG The Witcher 3: Wild Hunt. The game looks absolutely stunning on the Omen 17's display, with vivid backgrounds. The GTX 1070 was able to provide an impressive framerate of 62.8 at 1080p.
The 120Hz IPS display panel does an amazing job of bringing the games to life. The experience is incredibly smooth and feels natural and exhilarating, irrespective of the game that you're playing. Even though I'd be more willing to go for a 4K display, over a 120Hz, it's hard to deny how amazing and immersive it feels when you take those slick headshots on the Omen 17's screen. The colour and contrast settings make the environments pop out vividly, which perfectly complements the tech that powers the laptop.
Battery life on the Omen 17 is okay, with the laptop lasting about 3.5 hours of average usage (including internet and multimedia playback). Considering that for gaming you'll anyway need to have it plugged in, it's actually not that bad for a 17-inch gaming laptop.
The Verdict
The redesigned HP Omen 17 is an improvement over its predecessor in almost every single way, and even though it's quite bulky for a laptop, most people who want to buy a 17-inch laptop wouldn't really be concerned about portability in the first place. The numbers more than speak for themselves, and the display hits you right in the sweet spot.
Register with us for the best in gaming, and join us for video game discussions on our forums