Dell has dominated the high-end gaming market for a long time with the Alienware range of laptops, but its offerings for the entry and mid-level gaming devices have also improved quite a bit with the Dell G Series gaming laptops. Today we're checking out the 2020 version of the Dell G5 laptop. Let's see how it holds up, shall we?
| | |
| --- | --- |
| Processor | Intel Core i5 10300H |
| RAM | 8GB DDR4 |
| Display | 15.6-inch FHD 1080 IPS |
| Graphics Card | GTX 1650 Ti |
| Storage | 512 GB SSD |
| Ports | USB 3.0, USB Type-C, HDMI, 3.5mm audio, LAN, SD Card Reader |
| | |
| | |
The Dell G5 15 packs an Intel Core 15 10300H processor and a GTX 1650 Ti inside, accompanied by 8 gigs of DDR4 RAM, and a 512GB SSD for your gaming and storage needs. The display is a Full HD 1920 x 1080 IPS panel working at 60 Hz.
It's quite a slim device, and looks great for a an entry level budget gaming laptop. Instead of the standard red and black color scheme we see in a majority of gaming devices, this one is covered mostly in black, with a glossy finish on the lid. It feels mostly plastic, which might be an issue for some people, but since this is an entry level laptop there's not much to complain, especially as it is quite sturdy and there is little to no flex. It features an angular design on the back, but keeps it simple, making it easy to use this laptop in an office setting as well. It's light, weighing about 2.3 kg, and fits easily in a backpack, which means you can carry it anywhere without any problems.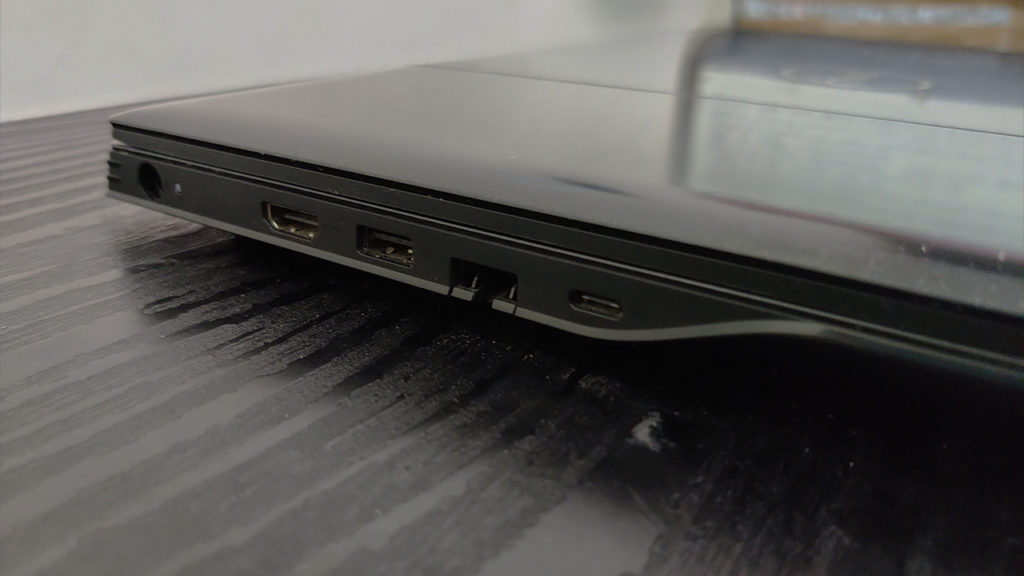 On the connectivity front, the Dell G5 gives you just about every option you'll need. On the left side, there's the charging port, the Ethernet port, one USB 3 port, one HDMI out port and one USB Type C port. On the right side, you can find two more USB 3.0 ports, one 3.5mm audio jack and one SD Card Reader.
Opening the laptop, you see the power button that also doubles up as a fingerprint sensor, sitting above the keyboard, which is certainly not the best in the market, but it's comfortable enough for use in both daily work and long gaming sessions. The keys are big enough and well-spaced, and are lit up by a Blue backlight instead of the standard red one, which can be a welcome change depending on your taste. The trackpad is decent and responsive too, and though it doesn't have seperate buttons for left and right click, pressing down on the trackpad to achieve the same function works just as well. Considering that most people will use an external mouse for gaming, it's not bad at all.
Performance and Benchmarks
With an i5 processor, a GTX 1650 and 8GB RAM, you certainly can't expect to play all the latest AAA titles at the highest settings, but that doesn't mean the laptop isn't powerful at all. You can breeze through your favourite esports and indie titles without any issues, and even run some bigger, graphics intensive games on a mixture of medium to high settings.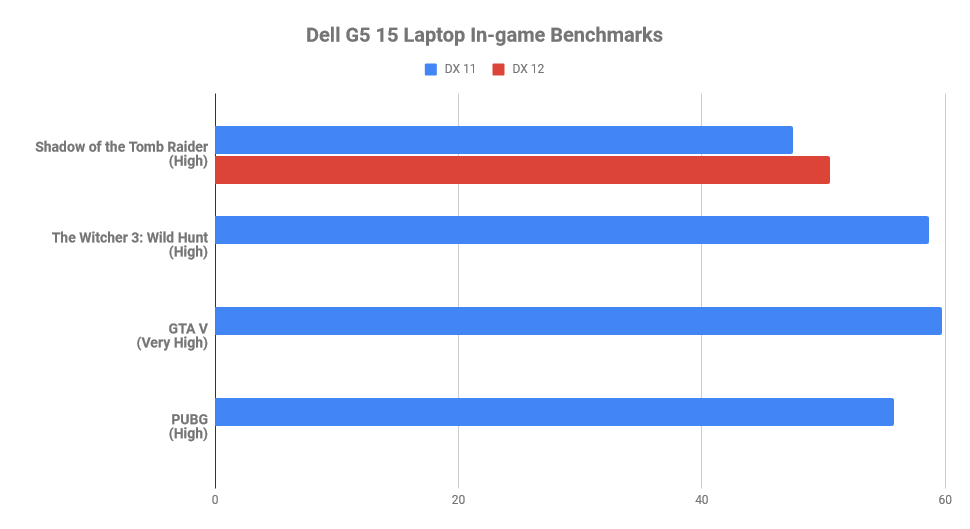 Talking about the screen, it is quite a joy to game on the new Dell G5. The IPS display offers a crisp experience, and does complete justice to the vibrant visuals of today's games. Colours are vibrant and the environments look really nice, the overall brightness and viewing angles are great as well, enhancing your entire notebook experience. Whether it's games or movies you want to view, you're not going to face any problems here. Battery life in gaming laptops has never really been anything groundbreaking, but on this laptop we were able to get 4-4.5 hours of average use on one charge, which is more than the average battery life on the majority of devices in the segment.
The Verdict
The Dell G5 is a great choice for entry level gamers looking for a balance between performance and affordability. At a starting price of INR 82,590 /- (including GST), it offers a wide range of options, ticking every box you need for a decent gaming experience. You would definitely need to invest in some kind of storage expansion if you don't want to switch between games by uninstalling one or the other. But looking at the SSD size, it's definitely not going to be enough for today's games, considering the sheer size of them.
Register with us for the best in gaming, and join us for video game discussions on our forums