We've seen a lot of gaming laptops over the past year, both entry level and high end, but we haven't come across one that caters specifically to people who love playing MOBAs, like DOTA 2. Thanks to the new Strix Hero Edition notebook, that's about to change. Let's take a look at what we have with us today, shall we?
Specs
| | |
| --- | --- |
| Processor | Intel Core i7 7700HQ |
| RAM | 16GB DDR4 RAM |
| Graphics Card | GTX 1060 6GB |
| Display | 15.6-inch Full HD IPS |
| Storage | 256GB SSD + 1TB HDD |
| Ports | USB 3.0, USB Type-C, 3.5mm jack, SD Card Reader, LAN, HDMI, MiniDP |
| | |
The ASUS ROG Strix Hero Edition comes with an Intel Core i7-7700HQ Kaby Lake processor along with a GTX 1060 inside, accompanied by 16GB of DDR4 RAM. Along with this, there's a 256GB SSD for your OS and booting while a secondary 1TB hard drive takes care of all your storage needs. The display is a full HD, 15.6-inch IPS panel.
The Strix Hero Edition is covered in the new Maya pattern which makes for quite an interesting design. Depending on the person, views are going to be varied, like I didn't bother about it much as I prefer a cleaner look with minimal markings. Still, it would be unfair to say that the laptop doesn't look good. Amidst the pattern on the lid sits the ROG logo which lights up when you switch on the laptop. The build quality seems sturdy, the screen doesn't wobble or shake a lot when you move the laptop and the overall finish does have a bit of a premium feel.
When it comes to connectivity, the laptop covers all the options you need. On the left side, you can find the charging port, an Ethernet LAN port, a miniDP, one HDMI port, two USB 3.0 ports and one 3.5mm audio jack, while the right side houses the SD Card reader, one USB Type-C port and two more USB 3.0 ports. The back side has two vents for airflow.
Upon opening the laptop, you can see the Maya design pattern near the keyboard area as well. The keyboard itself has RGB backlights which you can customize according to your needs. It is comfortable to use and quite responsive as well, with the keys being well-spaced and large enough. Instead of the WASD keys being highlighted as we see in a lot of gaming laptops, this one highlights the QWER keys, hence making sure you never lose focus during those intense 5 v 5 showdowns. The trackpad is fairly standard, and doesn't cause any discomfort either, though we suspect it'll see a lot of use as most games are played using an external mouse.
Performance and Benchmarks
Now just because the Hero Edition has some special features for MOBA gamers doesn't mean it can't handle the latest major titles. You will be able to run most of the games at the max settings with a comfortable playable framerate. Take a look at the benchmarks yourself.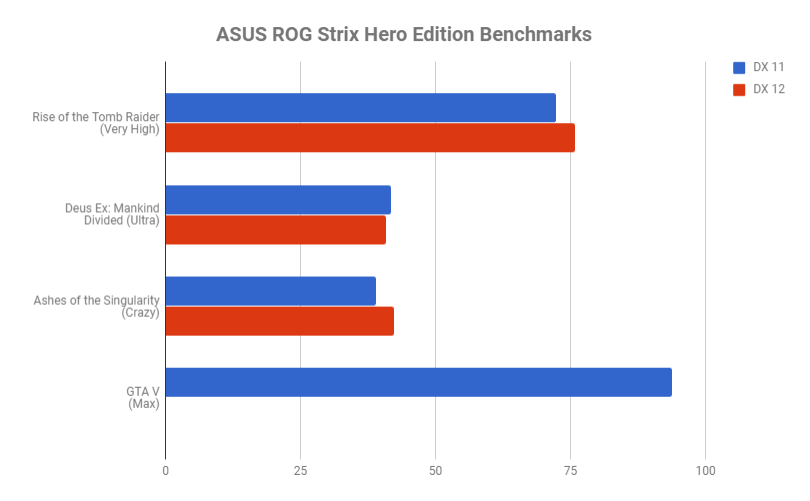 First we decided to test Rise of the Tomb Raider. Running the game at the Very High preset, the laptop was able to provide an average framerate of 72.3 FPS in DX11 and 75.8 FPS in DX12.
Next up was Deus Ex: Mankind Divided. Here we saw a decrease in the performance while switching, with the device running the game at an average 41.7 FPS in DX11 on Ultra settings, dropping down to 40.8 FPS after switching to DX12. Ashes of the Singularity showed an opposite result, where we got an average framerate of 39 FPS when running the game on the Crazy preset in DX11, which went up to 42.3 on DX12.
For open world titles we tested GTA V with most settings on Max. The laptop performed quite well here, with an average framerate of 93.8 FPS in the in-game benchmarks. And if you're a fan of DOTA 2, you're not going to run into any problems running the game at the absolute maximum settings. The laptop can handle it like a breeze.
The 120 Hz Full HD display on the Hero Edition is a charmer as well. The colours look crisp, with great contrast ratio and the 120Hz refresh rate makes everything twice as smooth. It has a response time of 3ms which is quite amazing for laptop catering to MOBA gamers.
While the cooling system does a great job of keeping the temperature under control, the noise is quite discernible. You might not notice it too much once you put on your headphones, but it's still not silent by any means. The battery life, however, impressed us. While we've seen gaming laptops last between 2-3 hours on a single charge, the Strix Hero Edition was able to give us over 4 hours of usage (including internet streaming and multimedia usage).
The Verdict
The ASUS ROG Strix Hero Edition is a pretty impressive device. With a starting price range of INR 92,999, it tries to bridge the gap between entry level and high-end laptops, giving gamers another option for their gaming needs. It has some nifty features for MOBA lovers, but even otherwise it is quite a well-rounded gaming laptop. It offers solid performance with a great display, and while personally we're not a huge fan of the design refresh, once you get in the game, you can see the magic.