Alienware has the reputation of making some of the sexiest looking gaming notebooks. Focusing on the high-end gaming market, Alienware products are known to be a little heavy, both in the tech and the physical aspects. The Alienware 15 R3, however, is a slim device that still offers beastly performance, if you have the money to pay.
Tech Specs
| | |
| --- | --- |
| CPU | Intel 6th-gen i7 6700HQ Processor |
| Operating System | Windows 10 |
| RAM | 16GB DDR4 |
| Storage | 512GB SSD + 1TB HDD |
| Display | 15.6″ 120Hz G-Sync |
| Resolution | 1920 x 1080 Full HD |
| Graphics Card | NVIDIA GTX 1070 8GB |
| Weight | 3.5 |
| | |
The Alienware 15 R3 comes with an i7-6700HQ and a GTX 1070 that is sure to run every game buttery smooth at 60fps on 1080p.  It also has 16GB of 2400Mhz DDR4 RAM so you can have all your chrome tabs open while you play. To make things faster it also includes a 512GB SSD which is plenty of room for your OS and a couple of games. To make use of that powerful GPU is a 15.6″ 1080p Full HD IPS TN Panel with a refresh rate of 120Hz for that silky smooth experience and also has G-Sync so even if you can't hit that framerate constantly there won't be any tearing and you'll hardly notice the frame-drops.
This laptop isn't a just a beast on the inside though, the whole look and feel of it exudes power.  The bold style was extremely satisfying to look at and made the laptop feel very badass. The LEDs on the sides gave it gorgeous aesthetics, accompanied by the backlit Alienware logo on the lid. The bling continues as you power up the laptop, as the power button lights up along with the keyboard, AND the trackpad. That's right, this one has a backlit trackpad too. The future is now, kids.
Speaking of the future, the Alienware 15's design is true to its form, both cutting-edge and futuristic, with aluminium finish body, and a soft matte finish on the inside. It comes with a bunch of connectivity options, including 1 HDMI port, 1 MiniDisplayPort, 1 USB Type-C, 2 USB 3.0 ports, and a Thunderbolt port. For such a powerful device, we do feel that it could use at least a couple more USB ports for the sake of convenience, but that doesn't mean the laptop falls short in any way.
The keyboard is the standard QWERTY layout, albeit it lacks the numpad, which I found to be both perplexing and disappointing. I mean, it is a high-end laptop that boasts of amazing performance. Not having a numpad makes things a little bit harder, but it's not a deal-breaker. The trackpad is quite comfortable and easy to use, with pretty a LED backlight that you can customize according to your liking. The keyboard and trackpad don't heat up while gaming as the GPU and CPU are well towards the rear, making sure you're comfortable during long gaming sessions.
Benchmarks and Performance
We've already established that the Alienware 15 offers beastly performance, thanks to the Skylake i7 and the GTX 1070. The 512GB SSD offers more than enough space for you to be able to boot your OS AND keep a bunch of games for faster loading times. Let's take a look at the in-game benchmarks, shall we?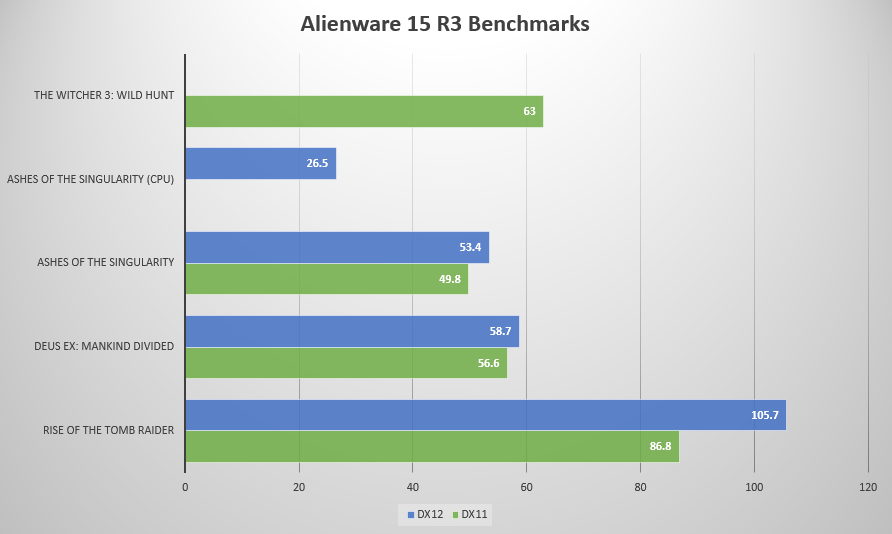 The first title we decided to test for the laptop's performance was Rise of the Tomb Raider. Running the game in Directx 11 at 1080p on Very High preset (AA off, VSync off), we got an impressive average framerate of 86.8 FPS, while the same settings on Directx 12 ran at an average of 105.7 FPS.
Next up, running the in-game benchmark for Deus Ex: Mankind Divided, the laptop gave about 56.6 average FPS on Directx 11 at 1080p Ultra preset (AA off, VSync off). Ultra settings on Directx 12, however, showed a lapse in performance, with about 58.7 average FPS.
For open world games, we decided to test The Witcher 3: Wild Hunt, running on Directx 11 and Ultra preset settings with Anti-aliasing and VSync turned off. The colours and surroundings look amazing, with vibrant colours and sharp contrast, thanks to the Alienware's amazing display. We got an average of about 63 FPS, which again was quite impressive.
We also tested Ashes of the Singularity, one of the foremost benchmark title for DX12 performance. On the Crazy preset, we were able to obtain an average framerate of 49.8 in DX11, while during the DX12 test the framerate jumped up to 53.4, consistently performing better in DX12 like in the previous benchmarks. The 120Hz G-Sync display works brilliantly, and the screen does a great job of bringing out the crisp images.
It's not just the gaming performance where the Alienware 15 shines so brightly. For people with a creative side, who are interested in 3D modelling and video editing, the device can be quite a boon. You can easily edit and render top quality high-res videos in short periods of time. As a budding Blender user (hence my annoyance with the lack of the numpad), I was able to drastically reduce my render times by switching to the GTX 1070. It doesn't matter whether you want to use it for gaming or work, it forms a formidable all-round device.
What compliments the impressive performance of the laptop is the equally impressive thermals. The laptop does run a tad bit hotter than its bulkier counterparts, but with the slimmer design, that's to be expected. When idle, the CPU runs at a cool 41 C, going up to a maximum 65C while gaming. The GPU is quite similar, with an average temperature below 45C on idle and going up to about 70 C under heavy gaming load.
Battery life isn't the best when it comes to gaming laptops, though this particular device manages to squeeze about 5.5-6 hours of average usage. It comes with a huge (but slim) 240W power brick to power the 99Whr battery.
The Verdict
The Alienware 15 R3 is an amazing balance between power and form factor, with looks to go with it. The price tag may be high, but Alienware makes sure you get an extremely premium device. It works equally well for both gamers and content creators, and makes an amazing choice for your next gaming laptop, if you have the coin.
Register with us for the best in gaming, and join us for video game discussions on our forums