Recently, we folks at Gaming Central came across a smartphone game, Quantum, which attracted us not only visually but also oiled and sharpened our brains as the game combined science with strategy. This addictive game eventually led us to reach out to the brilliant minds that developed this game, Pixel Drop, who kindly obliged and took out the time to tell us about their very first game.
Gaming Central: Tell us a bit about your game, Quantum.
Pixel Drop: Quantum is an elegantly designed game with minimalist, beautiful and evocative visuals based on the concept of chain reaction (think nuclear reactions!). You have to vanquish your opponents and occupy all their nuclei with the help of your electrons and save Quantum space. Your aim is to eliminate your opponent in a 4×7 grid made of empty atoms. You keep 'deploying' your electrons to these atoms. Each atom can hold different number of electrons. When maximum electrons are reached, the atoms explode and the electrons move to neighbouring nuclei. Strategically place your electrons to eliminate your opponent and make Quantum space your own. The game features a never seen before online mode that allows players to play up to 6 games simultaneously with dynamic and real-time updates of the player. You can track every move made, every electron won/lost, nuclei's spent, win/loss records and more.
GC: How did you come up with the concept of Quantum?
PD: It was in December 2014 that a cousin of Joseph (Thank you Celia) first introduced us to a game based on the concept of chain reaction. And we absolutely fell in love with the premise of the game. It was simplified chess for us (I suck at chess). And then it lay dormant at the back of our minds for quite some time.
Fast forward to February 2015. Joseph was giving an entrance examination, and ended up completing a three-hour paper in one and a half. He started doodling on the back. 30 minutes of adding lead to papyrus, he had inadvertently come up with the brief outline of Quantum. On paper it was just dots with concentric circles around them, but in his cranium his neural network was working at capacity – the chain reaction concept, electrons triggering off the reaction in unstable atoms, nuclei. The foundation was dug.
Immediately after the paper he contacted me and we rushed home to fill in the hole that was dug. We were on our Mac's till late in the night making grid of dots on an empty art board.
Next afternoon, we were again in front of the screen. Originally we planned on giving characters to all the atoms. The end result was way too messy (a bit creepy too). It went against the whole minimalist principle. So then we went back to the original idea of just dots and built from there.
GC: We love the look and feel of Quantum. Tell us what inspired you to give it such a minimalistic visual design.
PD: It was very important for us to get the colours, the visual style absolutely right. This is where the OCD for these sorts of things kicked in. We spent a couple of days just playing with the opacity of the rings, whether we should put rings at all in the first place, how thick the rings should be, so on and so forth. Usually you will find developers adding more colour options and "night mode" later as an update in the game but we wanted to go   all in at once. I wouldn't say that the art style is inspired by any particular project but rather a combination of works and styles we have grown to admire and love.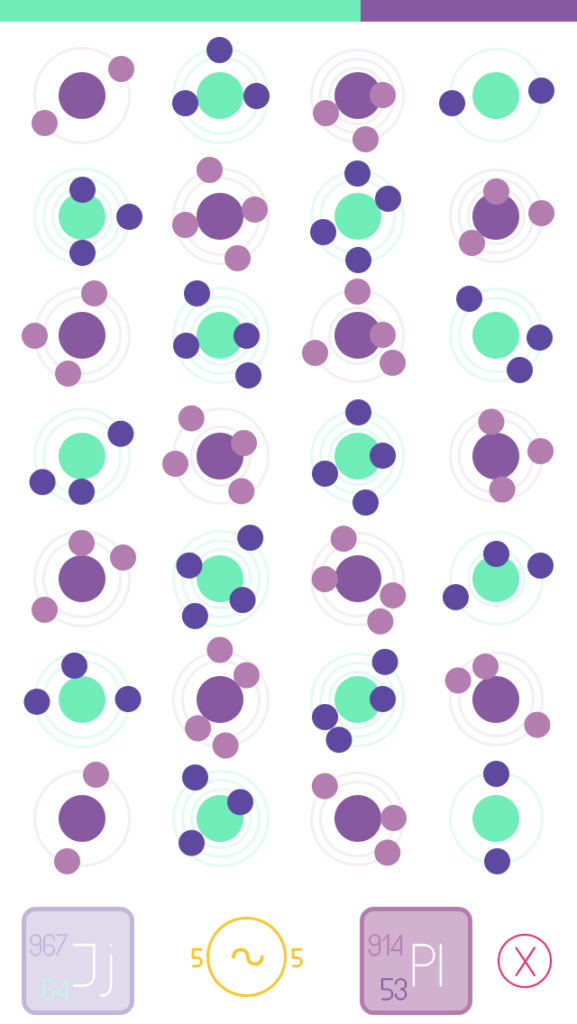 GC: What challenges did you face while developing this game and how did you overcome it?
PD: One of the main challenges we faced was to make Quantum a more universally appealing game. Going in with a science theme, you know your audience reach will be restricted. The idea of design and education always excited us. During research we read a lot about great scientists like Einstein, Max Planck, etc. These guys were the real rock stars. Our understanding of everything in life and universe is mainly credited to these geniuses and we took this as an opportunity to pay homage to them as well as pull in attention of the general audience. If
you see our social media pages, we have filled them with cute illustrations and doodles of these pioneers in our own style and now have even expanded to our very own Quantum Comic panels!
During development the main challenge was integrating with Game Center for multiplayer. Quantum allows you to have multiple games with different players simultaneously along with real time move tracking. Such a feature has not been implemented in games before and developing the algorithm proved to be a challenge.
GC: What is the USP of the game, Quantum?
PD: We never really wanted to build a typical mobile game but rather something competitive with a unique look and feel. Games nowadays on the App Store are fun and exciting at the start but players soon start to lose interest due to lack of replay value. We wanted to give something that would provide hours of fun and entertainment. Something that would hold the interest of the player for a long time in the form of a competitive multiplayer game model. We knew we didn't want to build a typical mobile experience either – something that was just as enjoyable to look at and listen to as it is to play. Quantum is an extremely addictive game that will provide hours of fun and entertainment and will remain with you forever!
GC: Let's talk about your studio and you. Tell us about Pixel Drop.
PD: Pixel Drop is an independent studio based out of Mumbai with a focus on building apps and software that enhance people's lives through entertainment and productivity. The company was started by me along with my best friend and partner Joseph Johnson, 2 years ago. Fresh out of college and bustling with the feverish energy of an idea a day we decided to start Pixel Drop.
Joseph is a professional architect and I am a professional Web/Graphic designer. We have been fortunate enough to come across some amazing individuals who equally share our vision and passion and are committed to producing quality apps for you to enjoy.
GC: When and why did you start developing games?
PD: Quantum is our first hand in games development. The first of many we hope. I personally always held a dream of becoming a game developer. I even got into Digipen Institute of Technology (the Harvard of game design institutes) in Singapore to study Arts in Game Design but unfortunately the course was cancelled due to lack of students (true story). This motivated me more. The idea of Quantum was just too exciting to pass. At the time    we had little to no experience in game development but continued to learn our way through.
GC: What kind of games would you like to develop next?
PD: We already have another game in the pipeline. Quote Codes is the next game that we launching by the end of this year. Quote Codes is a code solving game with beautiful dynamic animations and ambient sound design to provide a rich and fun experience. We are really exciting about this and would be sharing more information on it soon!
GC: What are your favourite games to play?
PD: My favourite genres are strategy and action adventure games. "Threes" "Letterpress" and "Dots" are games that you will always find on my phone.
GC: If you were to give some advice to budding developers, what would it be?
PD: I think the best advice I can give is to 'never give up.' The mobile app market is extremely competitive and challenging but the rewards can be equally satisfying. Launching your product for the entire world to see, judge and enjoy has its own rewards. So if you're extremely passionate about it, keep trying and keep building new things, success will follow!
To download the game Quantum, find it on the App Store here.
To know more about Pixel Drop, visit their site.
Like and Follow the game Quantum on Facebook and Twitter.
And for more news and reviews, keep checking back at Gaming Central.