The debate is settled. Pokémon GO is officially the biggest mobile game to exist in the U.S. history. Measued by daily active users, Pokémon Go surpassed the hit indie game Slither.io and Supercell's blockbuster game Clash Royale and became the biggest smartphone game of 2016, WITHIN 24 HOURS OF ITS RELEASE. 
What's more, is that within three days of its release, Pokémon Go has attracted more users than Twitter, reached the top charts if the App Store, earning devleopers Niantic millions of dollars and causing Nintendo's stock price to shoot up by about 25%.  As of yesterday, Pokémon GO had just under 21 million daily active users in the US, leaving Candy Crush saga in the dust and making it the biggest mobile game in US history. Tinder and Clash and Candy Crush are all in the past now. It's Pokémon all the way. The game has also resulted in Pokémon season 1 theme song streaming on Spotify.
Considering the present trend, Pokémon GO is predicted to surpass SnapChat in a couple of days on Android, and it may just be possible that the game might end up leaving behind Google Maps as the biggest user of Alphabet's Map data. Holy crap, right?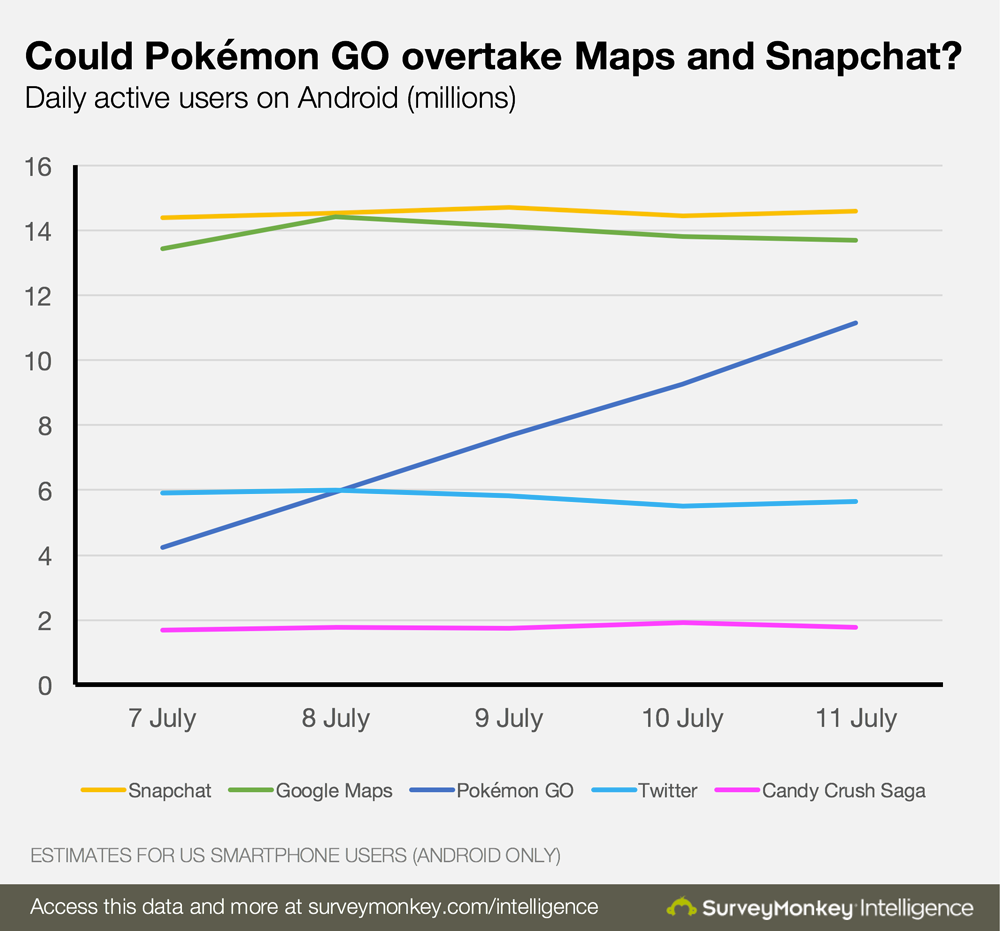 As big as it may be, it might be a little soon to say that the game will continue to sustain its present success. But who knows? With the next update rumored to add trading, and more Pokémon (hopefully) coming up in future updates, Niantic and Nintendo may have some tricks up their sleeves.
What do you think about Pokémon Go's quick rise to the top charts? Share your Pokémon Go stories with us!
Source: SurveyMonkey
For more news and reviews, keep checking back at Gaming Central.