When I was told that today morning that I had to check out this "mystery room" somewhere near Rajouri Garden, I was a bit bummed out. The first thing that came to my mind was that 'Bhoot Bangla' in Appu Ghar and those things were pretty pathetic. I'd heard of this concept and saw it on an episode of Impractical Jokers where Sal was made to pee his pants in one of these rooms.
For those who don't really know what this concept is about—it's basically a puzzle/situation you're put into and you have to find clues and figure your way out within a stipulated time. This video will clear up any doubts you might still have.
First of all, finding this Mystery Room, as cliched as it sounds was a mystery. One would assume this sort of a setting would be in a mall or something, instead it is tucked away safely in a residential colony. It's on your immediate left after getting off the Rajaouri Garden flyover (going from Punjabi Bagh to Cantt). There is a small board above the entrance indicating the same.
As I was waiting for the owners, I overheard some of the customers and made out that it wasn't their first time at this place. After talking to them I found out it was in fact their fourth time there, which I thought said a lot about the place if they have returning customers.
This particular facility hosts four different themes/situations you can choose from.
The Hurt Locker: A bomb defuse challenge
Lock Out: A prison break challenge
Abduction: A final horror
Cabin in the wood: The murder mystery
Here, I'll give you guys a clue and you guess which one of the above I went for. So I was handcuffed before I was sent into the room.
It's actually a bit hard to talk about the activity itself cause I don't want to give away any of the clues. But in terms of creating the ambiance and actually making you feel like you were in prison, I thought they did a good job. The one thing that impressed me was their attention to detail. The clues were a bit hard to put together but all rooms have a small screen that displays your one hour timer and gives clues in case you can't seem to get anywhere.
I made it till the last room before the buzzer ran on me, making me consider wanting to check my underwear for a shit stain. Apparently Lock Out was only level two difficulty, while there are rooms that go up to level four difficulty.
The place was packed by the time I was leaving, but those waiting were busy playing pool or eating snacks from the counter within the joint.
Before leaving I had a word with one of the owners, Shikhar who told me about the branch in Gurgaon, or Gurugram as they now call it and the two in Chandigarh and Calcutta. Shikhar was roaming around in China when he happened to see something like this and thought it would make a killing back home, and it did. Now he has plans to expand it to places like Pune and Goa.
Mystery Rooms poses as a great alternative to simply shopping or finding a eating joint that all your friends agree to. Honestly, it's just something new you can do in a city which everyone would have a good time doing.
You can go in groups of 2-8. The prices are mentioned below both for the weekdays and weekends.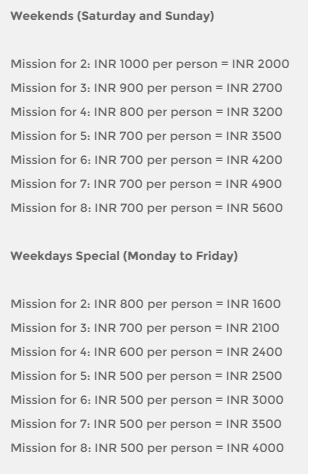 You can click here to book a slot  or just go through their website if you have any other queries.
For more news and reviews, keep checking back at Gaming Central.