While the time of Farmville and Words with Friends invites might be over, but Facebook is once again indulging in the economy of online gaming. This time around it's going to be simple. The "secret ingredient" or the key is the log-on-with-Facebook feature which allows publishers who use it to accept Facebook ads and as Facebook's ad revenue grows, so does the revenue for the gaming companies. It's a win-win situation!
Over the past five years, Facebook has invested $8 billion to its developers, a major chunk of this amount was palmed off to game developers. In the year 2015, game developers who used Facebook tools for web alone earned $2.5 billion. If this isn't enough, even the number of people who play games on or with Facebook has increased from 375 million in 2014 to 550 million in 2015.
375 Million Players in 2014 & 550 Million Players in 2015 on Facebook
It is clear that due to these above statistics, Facebook has realised the potential of online gaming and is willing to invest even more in utilising this social networking platform as a means to make money. According to Leo Olebe, Director of Global Games Partnerships at Facebook, "Our role in the overall ecosystem is, we help people build, grow and monetize their gameplay experiences. At the end of the day, gaming is about helping people find the stuff they're passionate about and enabling them to share it with their family, friends and whoever." Gaming is going to be a topic of discussion in its F8 Conference in April as an untapped market for advertisers.
How has gaming through Facebook helped development studios? In the case of Plarium, developers for games such as Sparta: War of Empires and Soldiers, Inc. the number of players from 2014 to 2015 doubled, organic channels, sharing of achievements, and Facebook conversions account for 50% of their revenue. They even found out that players who use the Facebook Login are 10 times more likely to make in-house purchases and that Facebook's mobile app Install Ads was responsible for 41% of traffic to their various games. The average retention rate from a player on Facebook for Plarium was 18 months.
There are several initiatives that Facebook provides game developers to encourage them to route their games via Facebook. These are mainly:
Facebook for Developers has tools to target audiences, understand their behaviour and find others that fit the profile of the gamer you want or need. The best part of Facebook is that its reach extends to mobile and for the mobile gaming industry dominated by the likes of Clash Of Clans and Candy Crush Saga, Facebook for Developers proves to be a great support.
Facebook Audience Network, the mobile ad platform launched in 2014, was created to reach an audience that relied on getting their news, playing games and social sharing on smartphones and tablets.
Facebook Login, as mentioned, before is the most convenient tool for both a consumer/player or a developer. Facebook Login helps create a customised experienced for the player.
Developers can also integrate Facebook ad network to their product, with the social media company handling the distribution among its partners.
App Events is another feature that allows developers to build custom audiences or lookalike audiences – a technique to target potential audience.
As we can see, Facebook is aggressively putting its eggs in the gaming basket and is willing to make this as user and developer friendly as possible, and finding a way to gain revenue in the process. The reach of Facebook doesn't just stop at a desktop, smartphone or tablet. There are over 33 million players who use Facebook Login on the PlayStation Network or the Xbox Live, according to Olebe.
But this is the current scenario, what about the future of gaming since Facebook has acquired the Oculus VR and the Oculus Rift has just been launched? In a post by Mark Zuckerberg dated back to March 26, 2014 (please refer http://bit.ly/1dttW1J), he claims that the first of the Oculus's mission was immersive gaming. Zuckerberg clearly states that developers are excited to create games for the virtual reality platform and Facebook is willing to extend their support to achieve this common goal. In an unboxing livestream of the Oculus Rift posted recently by Mark Zuckerberg himself, we can see that the Oculus Rift is inclusive of an Xbox controller. This clearly shows that Facebook is making serious efforts to take gaming to another level. If that is not all, Zuckerberg showcased the Oculus Touch controller, which is to be launched later in the year, which is clearly made for immersive gaming, with built-in sensors, allowing for interactive gameplay.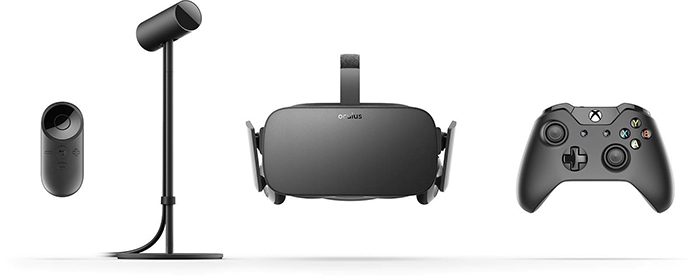 The Facebook CEO also speaks at length about the many games that are already available for the Oculus Rift VR experience. But since this is Facebook we are talking about, Zuckerberg also confirms that the "trippy" nature of VR in the Oculus Rift would include a "social experience" unlike that created by any traditional online video game.
It is clear from the above that the social media site has returned into the gaming economy with vengeance and pose a strong competition to the PlayStation VR and the HTC Vive. While we are excited to see what the Facebook acquired Oculus Rift has in store for us, we're also worried about the fact that we might have in-our-face Facebook ads that they are now planning to aggressively feature in order to make moolah. Nonetheless, we cannot deny that Facebook has made online gaming so much easier and we might just have to trust them to let us users and players ease into virtual reality gaming without allowing Clash of Clans Facebook ads to make our experience suffer.
Also game devs, need to up their game now. It is possible that with so much of investment going into gaming, there might be pressure from Facebook for better quality, as well as more quantity of games. This could also lead to an increase in the ever increasing audience that play games via Facebook. It could also tap into an audience which doesn't play games and open a new market altogether.
The fact that its not purely gaming like the PlayStation VR might work for Facebook as the Oculus Rift along with the Oculus Touch controller is literally an extension of oneself in the world of virtual reality – providing the user with a balance of being gamer friendly as well as socially interactive, just like how Facebook is as a social media site. We're looking forward to what more the Oculus Rift can offer.
And for more news and reviews, keep checking back at Gaming Central.