Realizing the potential gaming startups hold for taking the industry to the next level, Eximius Ventures, a micro VC that invests in pre-seed stage startups, is organizing a virtual 'Gaming PitchFest' exclusively for early-stage gaming startups. It will provide an opportunity to startups to pitch to leading investors and scale with the right guidance, capital and network support. Shortlisted startups will be mentored by leading gaming investors before proceeding to the final round. The winning startup will receive up to $250,000 in funding.
As the fifth largest in the world today, the Indian gaming industry is poised for progress. The pandemic-induced demand has further driven Indian gaming startups to innovate for the 433 million strong gaming user base. Investors too have been an integral part of this evolution, with capital poured into gaming startups reaching $1.7 billion in 2020 and 2021, twice the total amount invested between 2015-19.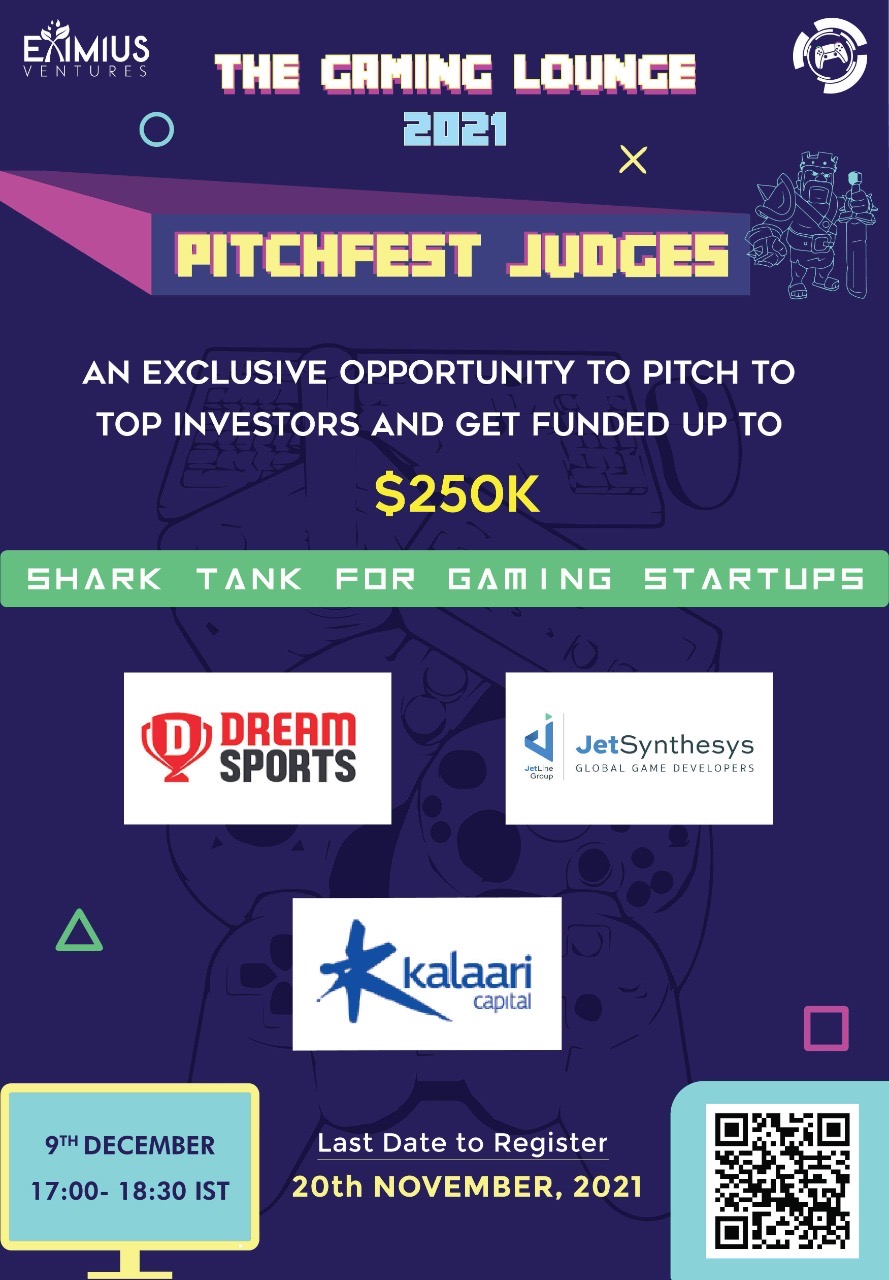 "While we have seen significant growth in the gaming industry in India in the last couple years, there still exists a supply-demand gap in the funding ecosystem. There are around 800 gaming startups in India, but only 80 of them are funded. The Gaming Lounge was launched to help close this gap," added Pearl Agarwal, Founder & MD, Eximius Ventures.
Registrations close on 20th November 2021 and selected startups will pitch to leading investors on 9th December 2021. The Gaming PitchFest is a part of 'The Gaming Lounge 2021' a 2-day global virtual event, featuring panels by industry pioneers, a BGMI Exhibition Match, and networking opportunities, along with the PitchFest.
For more details on the Gaming PitchFest, visit: https://eximiusvc.com/the-gaming-lounge/
About Eximius Ventures:
Eximius Ventures is a micro VC that invests an equity cheque of $150,000 to $300,000. It looks for startups bringing technological innovation, with a primary interest in gaming, fintech, and healthtech, and also gives precedence to female founders. Eximius invests in startups that have a minimum viable product (MVP) and have seen early traction. While it is an early-stage fund, it has reserved capital for follow-on rounds as well. Its team and partners have a cumulative experience of 70+ years in investing and building businesses, and leverage their expertise to help startups realize their potential, supported by a strong network of mentors, industry experts, and thought leaders from the ecosystem. Fund I investments include Eka Care and Jar. In addition to that, Founder and Managing Director Pearl Agarwal's personal portfolio includes EWar, BluSmart Mobility, inFeedo,
and Trell, among others. As a SEBI registered fund, Eximius ensures that its investments fulfil
compliance standards.