Gameloft seems to have a lot to offer its fans in the last month of the year. Just last week, they released Dungeon Hunter 4 for Windows Phone 8 and Windows 8. Dungeon Hunter is also one of 15 titles that Gameloft announced earlier this year in August.
Another among those titles and perhaps one of the more highly anticipated ones is Despicable Me: Minion Rush. People just love minions and go ga-ga over them, in other words, people adore these characters. And the love for these cute little capsule-look alike things is only gonna increase cause Minion Rush is finally available on Windows Phone 8!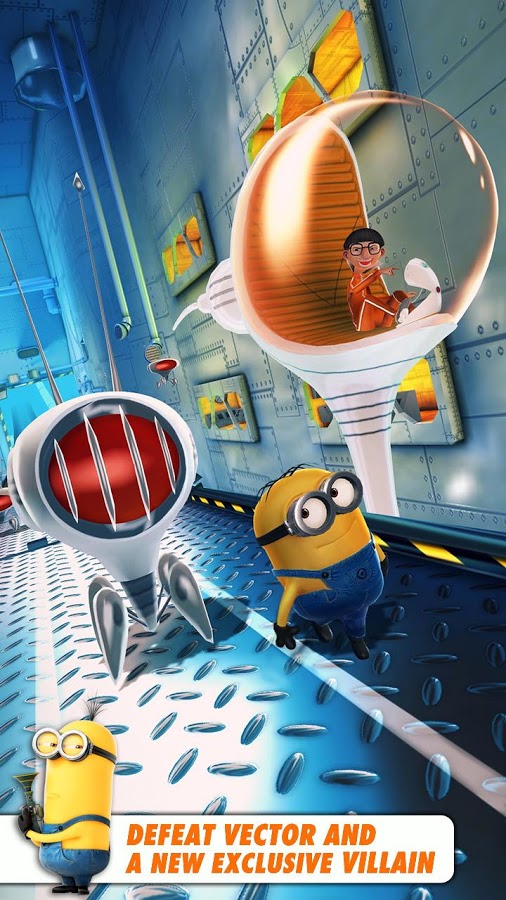 It come out on the 10th of this month, which also happened to be the day  Despicable Me 2 came out on Blu-ray and DVD. And as promised, the Windows 8 version of Minion Rush is also now available. Neither of the two Windows version has Xbox support, which is not a shocker cause  Dungeon Hunter 4 and Asphalt 8 released without it.
The game opens with a short trailer which quite obviously star the 'oh so loved' minions from the Despicable Me films. Minions only derive pleasure from trying to please their employer Gru. They one day discover that Gru has started a Minion of the Week program and the star minion is rewarded with a shiny trophy. Soon they all try to out do their peers in a series of obstacle courses.
People who play the Temple Run games shouldn't be too bad at this game. "Swipe left or right on screen to move around, dodging obstacles and collecting bananas. Swiping up dodges, whereas downward swipes slide. Spiral-shaped sections of the level require tilting in order to keep your minion balanced and on-track."
Minion Rush actually has some pretty good 3D graphics. The whole theme in general is quite similar to the movie, with bright and welcoming colors which only adds to the cuteness of the minions.
The Windows Phone version includes content from the first Minion Rush update that appeared on iOS and Android. This includes the unlockable "El Macho's Lair" environment. Other updates added Mall and Beach levels, but those haven't made it to Windows Phone yet.
Gameloft's press release suggested that Minion Rush would have an exclusive landscape orientation mode on Windows platforms. However, only the Windows 8 version supports landscape.
Minion Rush is free to play and supported by optional In-App Purchases. It runs on devices with 512 MB of RAM or more, so all Windows Phone 8 owners can enjoy it.
Despicable Me: Minion Rush – Windows Phone 8 – 46 MB – Free – Store Link
Despicable Me: Minion Rush – 8 – 141 MB – Free – Store Link
Source: Paul Acevedo