Cooler Master spent considerable time and effort on presenting the Mastercase series to journalists and the media at Computex 2015 and then once again at the Make It Yours Seminar in Delhi, India. As the product is at the core of their brand refresh and new alignment, it is supposed to be the driving factor behind making up some lost ground in this competitive market by offering a fresh, new approach that differentiates it from the competition.
Here is what Cooler Master has to say about their newest chassis:
At heart, the MasterCase 5 advocates a new relationship that binds component makers and users closer together. Its elegantly smooth, flexible FreeForm Modular System supports multiple outlooks, allowing you to upgrade rather than entirely replace your case as your needs change over time. Go with either basic dual top handles and standard door of the MasterCase 5 or an elevated mesh top cover of the MasterCase Pro 5.
Cooler Master is a very familiar brand name amongst enthusiasts. The company started off as a manufacturer of PC cooling solutions and quickly diversified towards cases and power supply units, to which they owe much of their current reputation. Today, the company enjoys global recognition and produces dozens of products, but they never cease to update and upgrade their catalogues either.
In recent shows they had discussed that in previous years their vision was perhaps a little unfocused, and at the time they were taking in comments from users and media as well as determining their overall direction, platform and portfolio in the second half of the decade. Today we are having a look at their latest creation, the MasterCase 5 – part of their refocus towards a more 'make-your-own' product philosophy.
Although the MasterCase 5 externally looks like just a tower case, Cooler Master is actually taking a huge bet with this product. This is their first case featuring the "FreeForm Modular System". Much like its name suggests, the company's aspiration is to make this the first truly modular case ever. Some extra parts and accessories were released alongside with the case but Cooler Master claims that many more are going to follow. We are having a thorough look at this new, unique design and some of its available extra accessories in this review.
Cooler Master ships the Mastercase 5 in a fully colored box. It comes with an image of the chassis on the front and a blow-up shot on the back. Here, you will also find some additional information on the enclosure. On one of the smaller panels, Cooler Master placed images of the three Mastercase 5 variants: the one we are reviewing today, the Mastercase 5 Pro, and the Mastercase 5 Maker. On the opposite side is also a list with all of the specifications.
The bundle consists of a basic manual, an extra mounting bracket for a fan, several simple black cable ties, two black Molex to 3-pin fan adapters and the necessary mounting screws and hardware. With the exception of the motherboard's standoffs, all of the screws are black.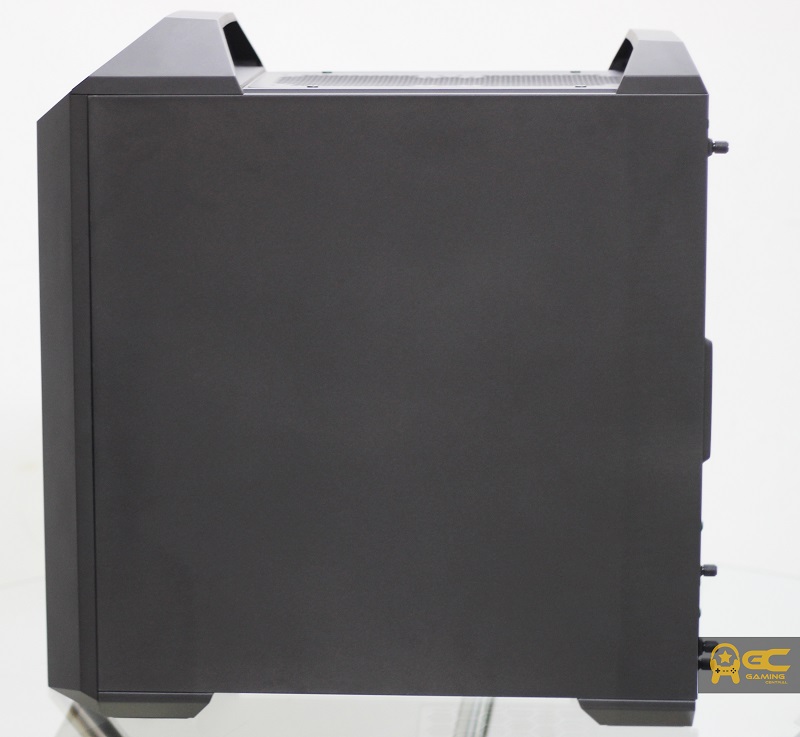 The MasterCase 5 is a modern design, based on simple shapes and geometric patterns. It appears based on the first Cooler Master Scout case, but it is more serious and elegant. The entirely of the case, metal and plastic parts alike, is sprayed with a satin black paint. Cooler Master did a fine job making sure that the paint is not significantly different between the plastic and metallic parts, creating a uniform, quality look. With a volume of 0.0659 m3 (65.9 liters), it is neither a small or large case as far as Midi-ATX towers are concerned, but do note that it is 23.5 cm (9.25″) wide, which is significantly wider than typical ATX designs. It also tipped our scale at 10.4 kg, making it a fairly heavy case for the size.
Much like the exterior, the interior of the MasterCase 5 is entirely black as well. Every part, with the sole exception of the motherboard's standoffs, is black. The metallic surfaces are sprayed with the same satin black paint as the exterior, while the few plastic parts are slightly glossy. A large rectangular hole is cut on the motherboard's tray to allow for the installation of aftermarket coolers without having to remove the motherboard.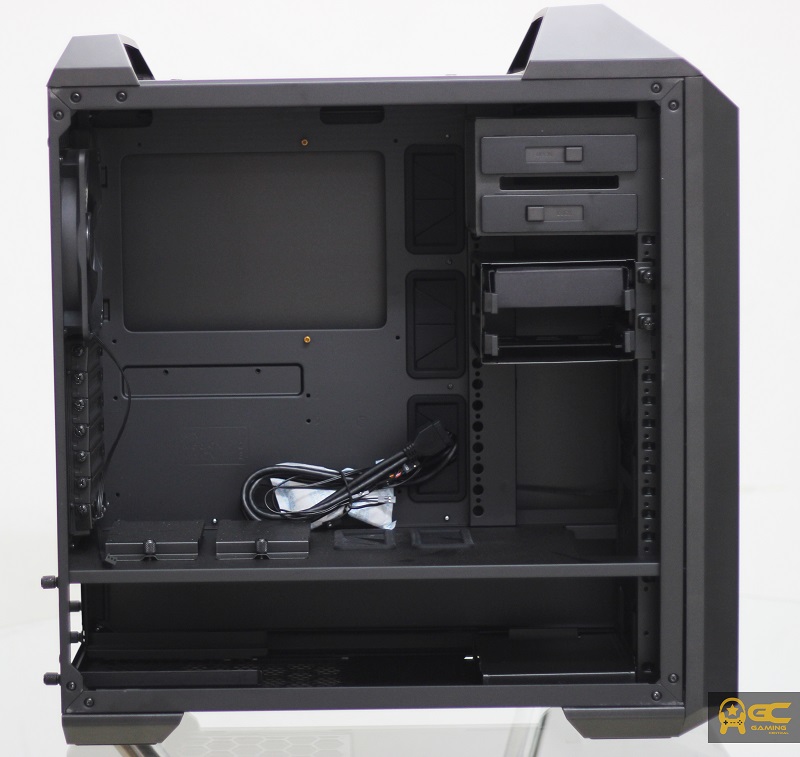 As far as functionality and quality go, MasterCase 5 can still hold its own as a good Midi-ATX tower case. Aesthetics are a subjective factor but we believe that Cooler Master did a fine job addressing the MasterCase 5's intended target group. The elegant design and all-black color create an attractive but not extravagant appearance for today's modern environments. It is not complex enough to stand out too much in minimalistic office/work environments either. Some people will definitely find it too much for use in a living room though.
Verdict: As far as quality goes, the MasterCase 5 is well made. We found no significant structural issues or flaws. Cooler Master designed a strong chassis that will not easily bend or twist and used high quality plastic for the top and front covers. Despite the great number of holes and openings, there are no sharp edges or corners throughout the case. The simplicity of the nylon dust filters may be troubling in terms of effectiveness but that type of filter also tends to last for a lifetime without issues. Cooler Master definitely designed the MasterCase 5 with longevity in mind.
For more news and reviews, keep checking back Gaming Central.