So here we are with another section of PC games that we need to look out for this coming year, this time up we're covering action games that you'll can spend endless hours playing. Let's get on with it–
Tom Clancy's The Division
Developer: Ubisoft
Publisher: In-house
Release Date: TBA
A disease spread on Black Friday decimates the US in five days. As part of the Division, your job is to save the remains caused by the epidemic. You'll be up against both AI and other players in Ubisoft's third person shooter MMO. Get ready for some really sick graphics thanks to the new Snowdrop engine, however we don't assume this game will be out any time soon, cause we last heard that Ubisoft recently delayed Rainbow Six: Patriots.
Watch Dogs
Developer Ubisoft
Publisher: In-house
Release date: Spring 2014
One of the most highly anticipated games of last year, which now got delayed to this year, Watch Dogs is the game to lookout for. Watch Dogs is about a hacker who fights the powers of a corrupt city and the company that controls it. Except some hardcore action with some sort of clever multiplayer/singleplayer crossover.
Grand Theft Auto 5
Developer: Rockstar
Publisher: In-house
Release: TBC
There's been so much news regarding the release of GTA V on PC even before it came out on the consoles. This game has a massive fan base that pertain to PC users. Its safe to say, that at least in India the majority of GTA players are PC users. Being one of the biggest releases of 2013, GTA 5 sees the player take on the role of three different characters making ends meet in Los Santos. We needn't go on about this game, let's just keep our fingers crossed and hope that Rockstar don't take their own sweet time on this one!
Mad Max
Developer: Avalanche
Publisher: Warner Bros
Release: TBC 2014
From the developers of Just Cause comes an open world Mad Max game. We know all too well the sort of fun one can have playing Just Cause. Although we don't know much about this game, but Mad Max seems to fuse the the go anywhere, grapple-hook anything attitude of the Just Cause series with brutal weaponry, ammo scarcity, added car customisation and a significantly browner colour palette.
Metal Gear Rising: Revengeance
Developer: PlatinumGames, Kojima Productions
Publisher: Konami
Release date: January 9 2014
The Metal Gear series has also been sorely missed on PC. Here comes Metal Gear Rising: Revengeance, then, to bridge the gap between Platinum and Kojima Productions and give us a dose of the expertise behind top console action games, Bayonetta and Vanquish.
You play as former boring soldier man and current high-tech cyber-ninja, Raiden, who has a katana that can cut through anything. That it self sounds like a hell of a lot of fun
Assassin's Creed: Liberation HD
Developer: Ubisoft
Publisher: In-house
Release Date: 15th January
Original Developer Ubisoft Sofia is undertaking the HD re-release and Ubisoft say that the visuals of Assassin's Creed Liberation HD have been updated to feature new shaders and improved textures and that all the animation has been improved.
The touchscreen elements have been taken out and the game will feature 15 new missions. The remaining missions have been done up again based on player feedback an Ubisoft adds that the game's free-running has been improved.
Ultra Street Fighter IV
Developer: Capcom
Publisher: In-house
Release Date: August
So your first questions probably is, what's new? Extra characters – Rolento, Elena, Hugo and Poison – along with extra stages and modes and every bit of costume DLC released so far. By the end, Capcom will have hopefully made enough money to work on Street Fighter V, Super Street Fighter V, and Mega Street Fighter V: Hyper Ultra Omega Arcade Edition.
Thief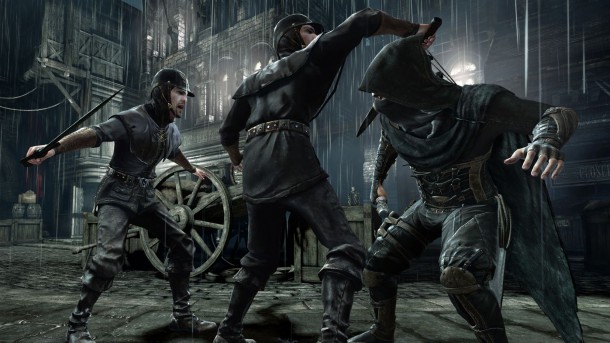 Developer: Eidos Montreal
Publisher: Square Enix
Release: 2014
Thief 4 was announced years ago to many a raised eyebrow. But over the years was something that was overlooked and put onto the back burner by Square Enix.The new Thief suddenly didn't seem very Thieflike at all. Thankfully, some of these features were later scrapped or further explained as optional systems, but we're sneaking into this one with a note of caution.
The Amazing Spider-Man 2
Developer: Beenox
Publisher: Activision
Release Date: Early 2014
Your friendly neighbourhood Spider-Man will be making an appearance on PC's before he hits the big screens. Hopefully the developers learnt a thing or two from the first game and will pick up where it left off. At the least we can expect a more detailed New York City and maybe even Stan Lee!
Let us know if you thought we missed out some important games in this section in the comments below