Dark Souls III released in April 2016 to much fanfare and huge expectations. The (proper) next gen debut of the souls franchise ticked all the checkboxes required from a souls game – precise and visceral combat, intricate level design, great boss battles and minimal hand holding. It met expectations a bit too well though, being too conservative at times, seemingly afraid step out of its predecessors shadow and afraid to tread new ground. Coupled with miscommunications about certain design choices (see Poise is working as intended only aggravated fan's discontent. So does Ashes bring anything new to the table and address long standing issues with the game. Let's find out, and bring your warmest cloth along.
A Cold Dark Place
Ashes of Ariandel takes place in the Painted World of Ariandel. Dark Souls 1 veteran's might remember the connection to the Painted world of Ariamis, which was an optional area in the first game. The DLC can be started unusually easily for a souls game, you just have to interact with a hard to miss NPC at the cleansing chapel. Soon, you are whisked away to a snowy land where brand news ways of dying await you.
Wolves, Giant fleas, Fire breathing Knights, even bigger knights impede you, as you weave through snowy slopes, rotted villages and crumbling towers towards a remote castle that seems to have some answers. From Software's expertise in level design really shines through. Bridges, lifts, ladders, one sided doors, illusory walls are all present. Bonfires are decently spaced apart, so unlocking shortcuts is as much a sign of progress as finding new checkpoints. Verticality is well utilised, and a boss awaits at either end of the map.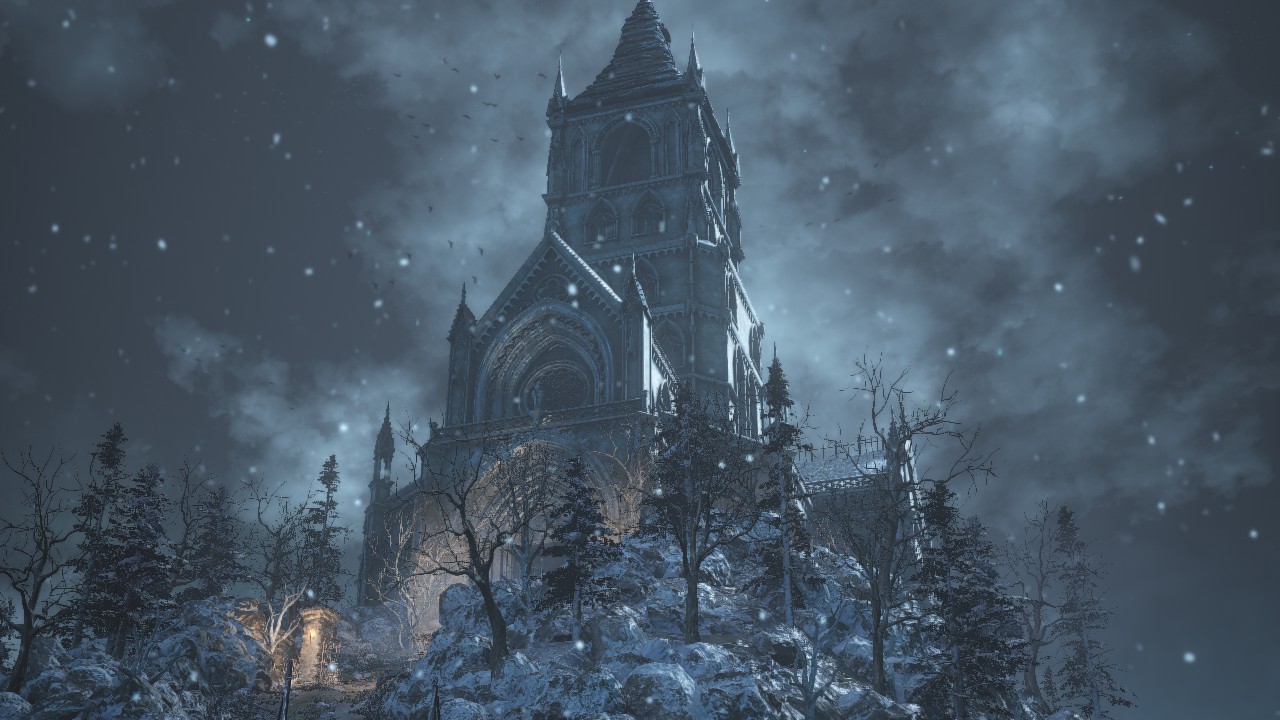 Is that it?
And that's where the DLC's Achilles Heel is exposed – it is too short. There are only 2 bosses. The main boss is an amazing challenge with an interesting twist. The other boss is an utterly forgettable encounter, and it appears that the developer's were intending something different with it. Maybe an Old Monk's style PvP fight was planned? The customary addition of new weapons, sorceries and miracles is not enough to mask the dearth of new content.
Lore wise, the DLC does not fit as neatly as The Old Hunter's and Artorias of Abyss slot into their respective games. It does, however hint at the origins of an important character and leaves enough tantalising hooks for fan to explore and theorise about.1
Even at a relaxed pace, anyone familier with souls franchise should be able to complete it in 5-6 hours. While that may seem like a decent content for any other game's DLC, we have been spoilt by the Expansion like nature of Artorias of Abyss for Dark Souls and The Old Hunters for Bloodborne. Even if we consider that it is half of the DLC Dark souls 3 will receive, it feels short. There is one thing though.
Multiplayer Arena
The one thing that has kept players coming back has been the PvP aspects of Dark Souls III. Multiplayer never seemed to get as much attention from the developers, leaving the playerbase to  come up with its own ground rules. So specific areas were selected for Duels and competitive multiplayer. Impromptu "Flight Club" would be organised, with de facto rules of No healing.
With Ashes of Ariandel, these receive official endorsement from the developers. An exclusive map, "Hollow Arena" has been added for multiplayer. Estus healing is barred or restricted according to the game mode. Players can compete in duels and Team Deathmatch style brawls. Fear of being jumped upon by "Gank Squads" as in the base game are banished here. In all, for any Souls PvP afficionado, this is an important Addition.
In Conclusion
Ashes of Ariandel is probably the most underwhelming Souls-borne expansions. It can't hope to compete with the sheer content and diversity of Artorias of Abyss and The old Hunters. Dark Souls II had similar sized DLCs, but there were three of them. Another Boss, and a more memorable second boss would have helped immensely. Eventually, Ashes of Ariandel's worthiness is down to how important the Multiplayer additions are to the player. Otherwise, it might be worth to wait out for the hopefully meatier second DLC that is due in 2017.
Register with us for the best in gaming, and join us for video game discussions on our forums.