When tasked with building a high-performance gaming rig for a premium 1440p experience, we decided to go all AMD, thanks to the wide range of consumer friendly products available in the market, especially when it comes to price-performance ratio. So, today we're going to show off our build with some gaming benchmarks to showcase what it's really capable of. Buckle up, because this will be a good one.
Build Specs
| | |
| --- | --- |
| CPU | AMD Ryzen 5 5600X |
| RAM | HyperX Fury 16GB DD4 3200 MHz |
| GPU | AMD Radeon RX 6700 XT |
| Storage | 512GB SSD + 1TB HDD |
| Power Supply | DeepCool 750W 80+ Gold Modular |
| Motherboard | MSI B450 Gaming Carbon Pro AC |
| Cabinet | Silverstone Seta A1 |
CPU: AMD Ryzen 5 5600X
With 6 cores and 12  threads, the Ryzen 5 5600X is hands down the best gaming CPU available in the market right now. If you don't believe us, all you need to do is take a look at the benchmarks.
Graphics Card: AMD Radeon RX 6700 XT
This right here is the heart of our high-resolution gaming PC, churning out frame after frame without a sweat. RX 6700 XT can easily hit 60+ FPS in any game at 1440p at High settings, no matter how resource-intensive it might be. In fact, the RX 6700 XT is sort of the minimum requirement you need to meet in order to run Cyberpunk 2077 at 60 FPS at 1440p High. And if it can handle a game like that, it's needless to say that other games are a breeze. Not to mention that pairing the Ryzen 5600X and RX 6700 XT gives you the advantage of SAM (Smart Access Memory), an AMD tech that lets the CPU have unrestricted access to GPU memory, increasing the performance. Take a look at the benchmarks yourself.
Motherboard: MSI B450 Gaming Carbon Pro AC
The MSI B450 Gaming Carbon Pro AC probably the best B450 motherboard on the market. It has plenty of USB ports to take care of connectivity and also Wifi support. The VRMs offer impressive thermal performance and it looks pretty great too. All in all, it's a solid choice to go with the Ryzen 5000 CPU and RX 6000 series graphics card.
RAM: HyperX Fury 16GB DDR4 3200 MHz
The HyperX Fury DDR4 RAM offers solid compatibility with all AMD motherboards and the 3200MHz variant is a great pairing option for your gaming and content creation needs.
Power Supply: DeepCool DQ750-M-V2L 750W 80+ Gold
Even though a 650W PSU would suffice for the RX 6800, going with a 750W leaves us more options for upgradability later on, so we picked the DeepCool DQ750-M-V2L. It's a modular power supply which means there will be no extra power cables to trouble us while taking care of cable management, and it's rated 80+ Gold, which ensures stable power supply to our precious parts letting us squeeze the best performance they can offer while keeping them safe.
Cabinet: Silverstone Seta A1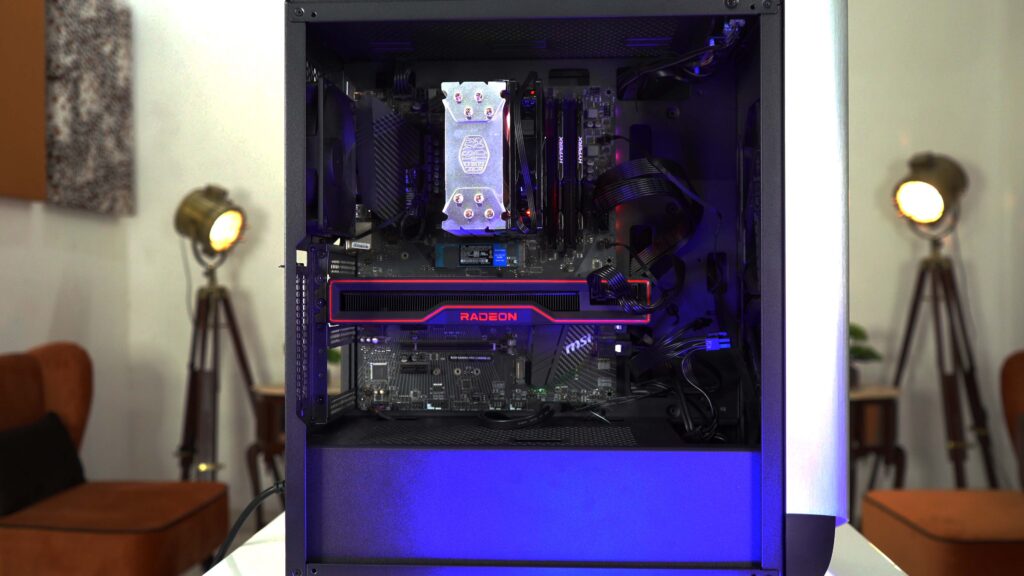 The Silverstone Farah R1 is not only a great looking case, but it's also an impressive one when it comes to performance. It has three RGB fans in the front along with a mesh to maximize air intake, and one rear fan for exhaust. There's plenty of room for our parts, and you can even fit a 360mm radiator in the front. It supports a CPU cooler of height up to 165mm and a maximum GPU length of 322mm, making it the perfect cabinet to go with our build.
Storage: WD Blue 500 GB SSD + 1 TB WD BLUE 7200RPM HDD
Not having an SSD in your PC build in 2021 doesn't make sense at all, so we picked a WD blue 500GB SSD to boot up our system and install some of our favourite games, and a secondary 1TB hard drive running at 7200RPM which will take care of the rest of our storage needs.
With this, our PC build is more than complete, and the performance it offers is nothing short of exemplary. Sure, it might cost a tad high, but it will easily last us 3-4 years without having to make any major changes. So, what do you think about the build? Let us know in the comments!